5
minute read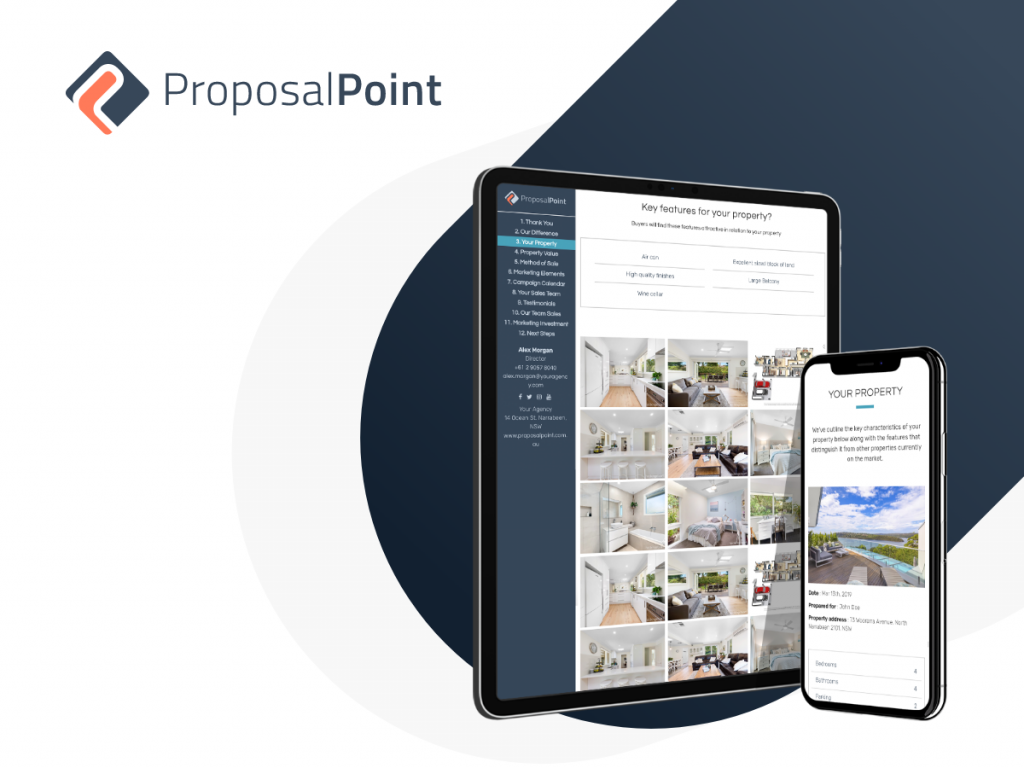 Product Summary
ProposalPoint mission is to transform the real estate profession through digital technology, particularly how real estate professionals present their service proposition to prospective clients by allowing them to create custom, modular and interactive digital proposals, which impress, build trust and ultimately win more listings.

Sectors
Agent Services & Marketing

Real Estate Categories
Residential Sales, Residential Lease, Commercial Sales, Commercial Lease, Short Term Rentals, Business Listings

Countries of Operation
Australia, New Zealand, United States

Example Clients
Real estate network groups including Elders, Colliers, RE/MAX, Stone Real Estate along with boutique independents like Morton, Nelson Alexander, McConnell Bourn, Upstate and smaller independents.

What Clients Say
Tavis Standen, Standen Group
I have looked at and used some other software packages for proposals over the years, however ProposalPoint is the only provider I have seen that allows our proposals to be built quickly and easily, are fully customisable and on brand every time!

David Newton, Newton Real Estate
Our agency has been very impressed with not only the professional design and function of the ProposalPoint templates but also the level of customer service provided by the team. ProposalPoint has given our agency a competitive advantage above other local agencies ultimately resulting in increased appraisals and listings.
Core Offering
ProposalPoint is a fully branded, interactive and customisable digital proposal solution which can be used by Sales Agents, Leasing Agents and Property Managers alike as an intuitive, fast and effective way to showcase their unique services and win more listings. The proposals are web-based and can be sent via a link or presented directly on a computer, tablet and phone, offering the perfect way to demonstrate value, differentiate services, impress leads and convert potential vendors and landlords into satisfied clients.

Product Benefits
A. Save time – ProposalPoint allows agents to save time by creating and delivering proposals for each client anywhere, in just a few clicks. Sales proposals can be time-consuming and tedious to produce, especially given an agent's busy schedule. ProposalPoints allows agents to save time by creating a proposal tailored to their clients in just a few clicks, and present it instantly.

B. Personalise for each client – Agents can easily personalise their proposals to the specific needs and attributes of potential clients, providing an enhanced, bespoke experience. Nothing concerns a potential client more than an agent who treats them like another number; and unfortunately, with paper-based proposals, there isn't much room for personalisation. Bespoke sales proposals are essential to impressing future clients and winning new business. ProposalPoint allows forward thinking agents to easily build each proposal to the specific needs and attributes of a client.

C. Stand out from the crowd – Agents can differentiate themselves from their competition with unique digital proposals that impress. With increased competition from other agents showing similar proposals, there can be a lack of a point of difference. ProposalPoint gives agents the technological edge to stand out from other agents, with bespoke and interactive digital proposals which win more listings.

D. Know when they're reading it – Agents instantly know when clients are viewing or sharing their proposals and can then follow-up at the most opportune time. A challenge with closing a new client is not knowing if they've read a proposal and if they did, when and what sections in the proposal they skipped or spent time on. With ProposalPoint, an agent will instantly know when clients are viewing their proposal, if they share it, what sections they looked at and for how long, so they can follow-up with the client in an effective and well-informed way.

E. Maintain brand consistency – An agent can create unique but consistently branded presentations across sales, marketing and HR. ProposalPoint allows an agent's team to create branded digital templates and control the elements that can and cannot be changed across all proposals and branded document produced by agents and staff.

F. Stay front-of-mind – Agents can automatically advertise their services across Google and social media to potential clients so they always think of the agent first. When selling their properties, homeowners will often get proposals from different agents, so it's important for them to remember agents throughout their journey. ProposalPoint allows an agent to easily set up automated ads across Google, Facebook and Instagram, to promote their services to homeowners who looked at their proposals so they think of them first.

Key Integrations
ProposalPoint integrates with leading technology used by real estate professionals, to build proposals quicker and with the most up to date, relevant data, including: Pricefinder and CoreLogic for the latest sales and for lease property information; RateMyAgent, TrustPilot and Google for agent reviews; DocuSign for digital signatures on all proposals sent; AgentBox, REX and other leading CRMs for customer and proposal information; Facebook & Instagram for automated proposal follow-up.
Note: ProposalPoint is a product owned and operated by NetpointGroup Pty Ltd the publisher of Business2.