5
minute read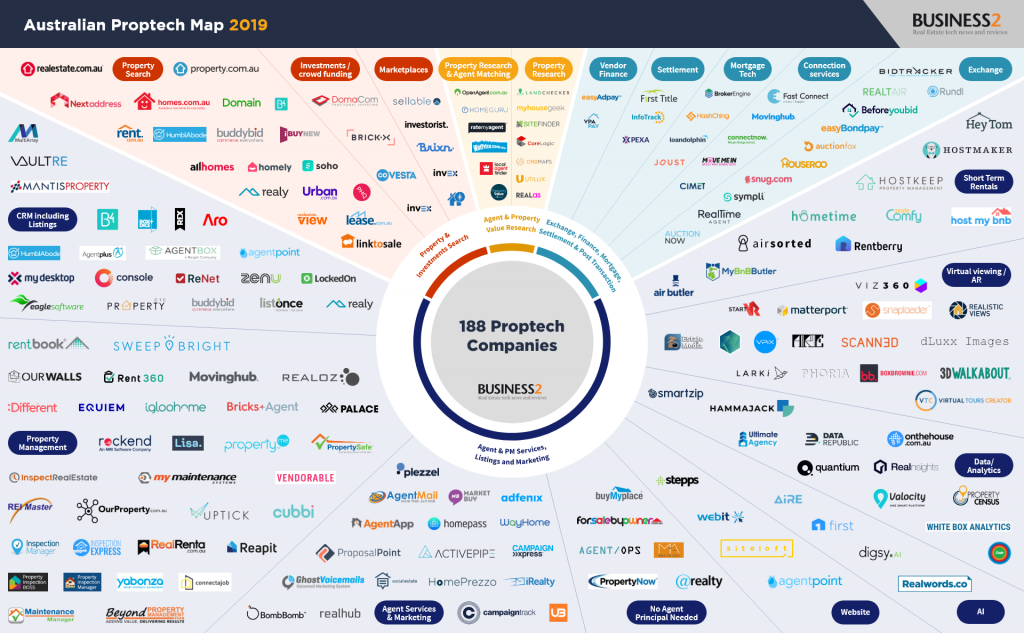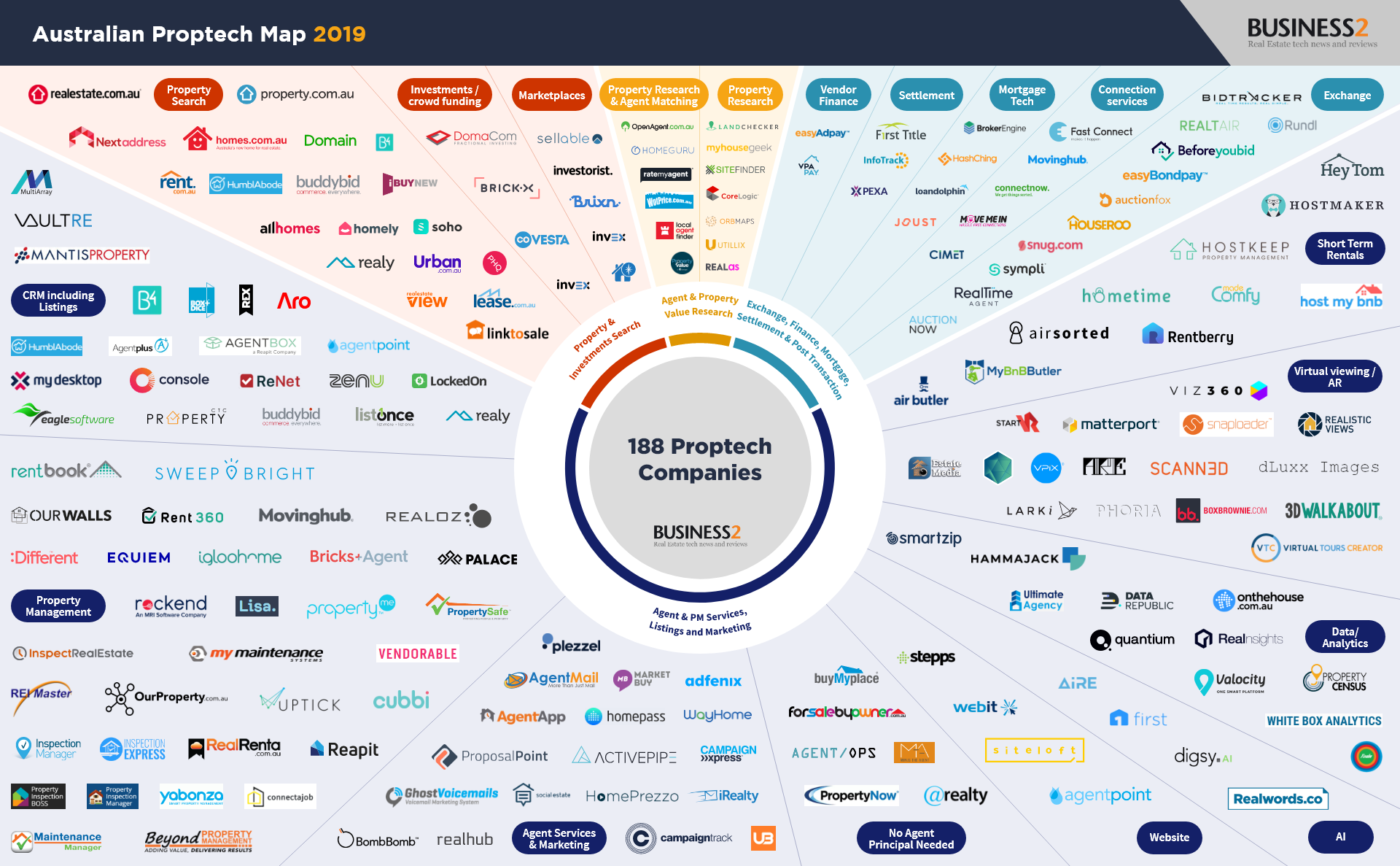 Australia's obsession with real estate – and the fact that the $7.8 trillion real estate market is our largest asset class – has spurred massive growth in PropTech across the industry. Highlighting this, data from Unissu indicates that there has been over USD$300 million in funding invested across the Australian real estate technology sector since 2011.
As you'd expect with that level of funding, Proptech startups are launching daily in Australia, covering the full, holistic circle of the property lifecycle. Whether it's renting, buying, management or selling, the domestic Proptech ecosystem is increasingly comprehensive – and competitive.
With the writing well and truly on the wall, having an understanding of how real estate is being shaped by the emergence of Proptech will help those in the industry get out in front and leverage it to their advantage.
Proptech Funding in Australia
According to data from Unissu, the amount of capital allocated to the Australian Proptech sector since 2011 has reached an impressive $339 million. Showcasing staggering growth, in 2018 alone there was in excess of $119 million invested across the space, equating to double the amount invested in 2017.
As the size and scale of these funding deals has increased substantially, the number of deals being done is decreasing. This means that the spend per deal is increasing, with the average deal amount in 2017 being $1.3 million while in 2018 it jumped to $10.1 million.
Where is PropTech Capital being Allocated?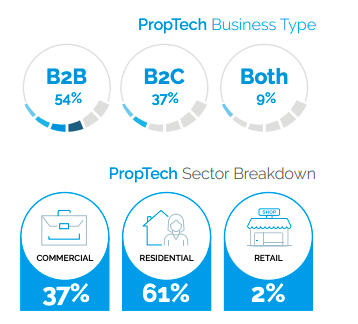 Protechs are focussing on both the B2C and B2B custom segments, with many startups gaining traction across both. Research conducted by Unissu shows that B2B startups are still attracting the bulk of the funding at 54% of the capital allocation. Meanwhile, when it comes to the residential and commercial real estate sectors, residential is attracting the majority of capital with 61% of funding.
Who are the PropTech Companies?
At Business2, we've sorted through the various providers in the domestic sector in order to develop a 2019 Australian PropTech Map.
In creating this PropTech Map, we have identified and positioned 188 companies within an ecosystem of 4 key categories that encompass the Rent-Buy-Lease-Manage property lifecycle.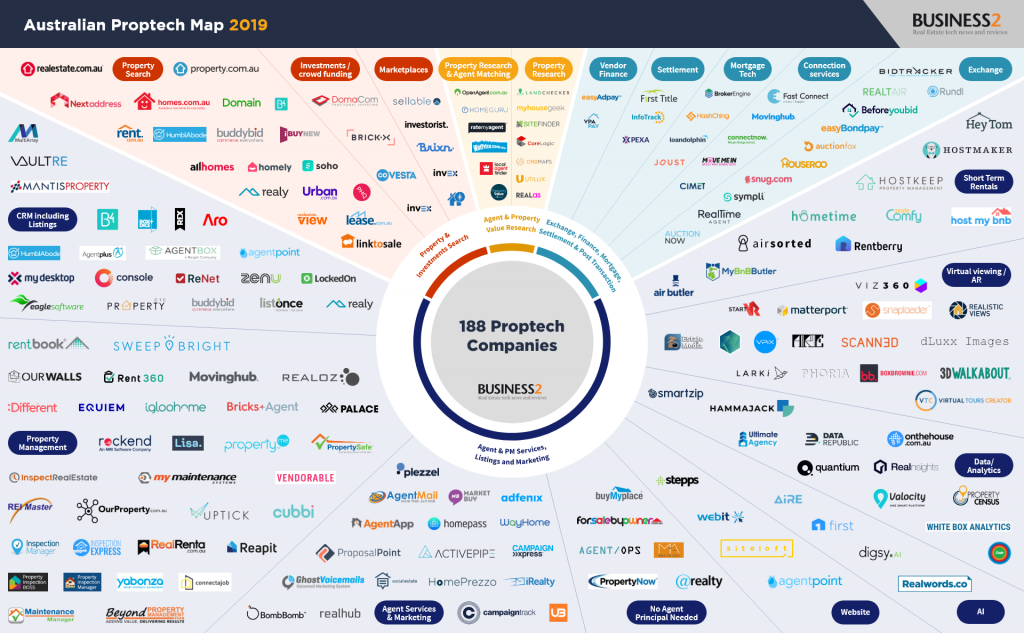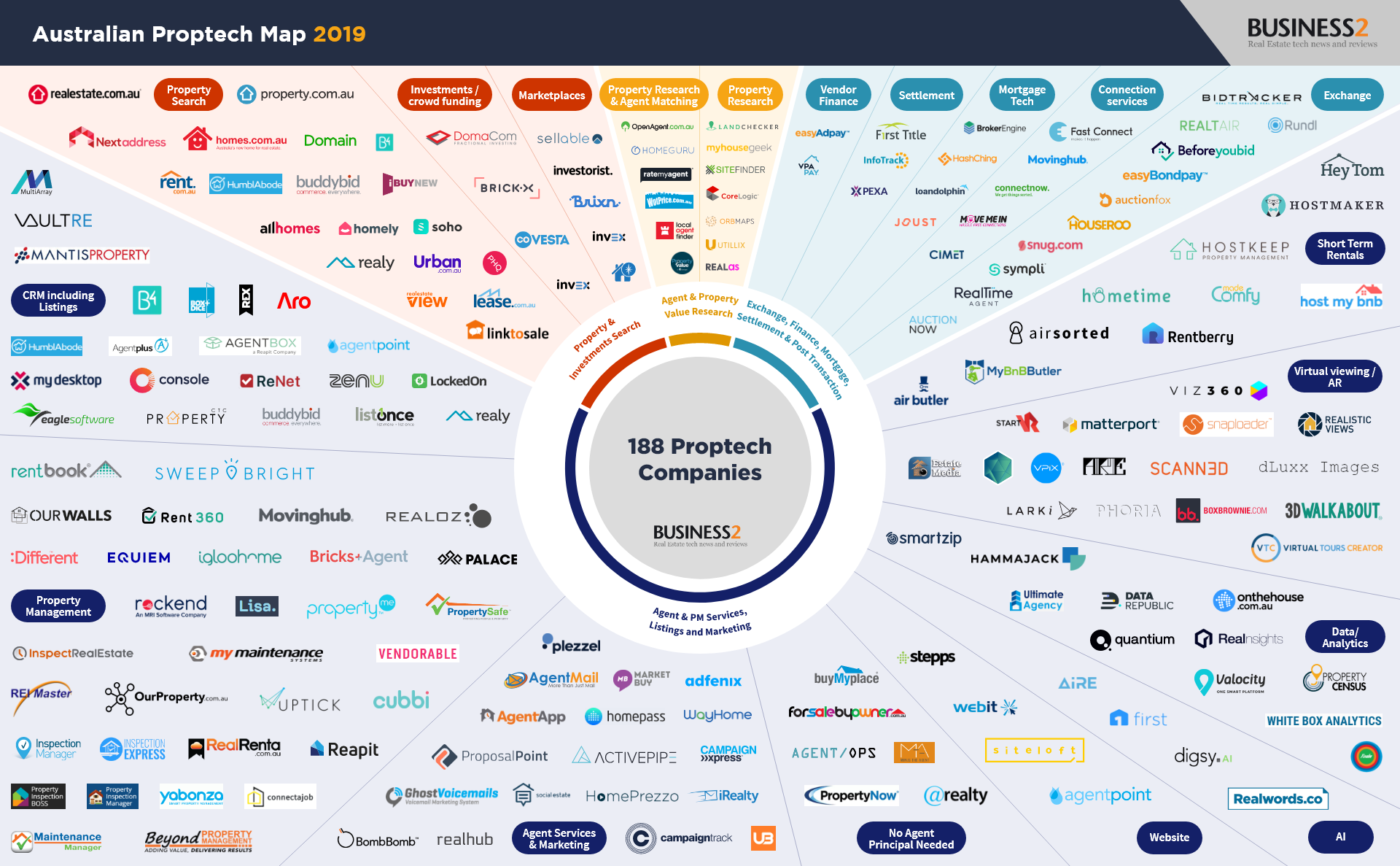 The Categories:
Agent & Property Value Research – For sellers and buyers this is the start of the journey towards a transaction as they perform their research. Most companies in this space are B2C.
Property & Investments Search – This is where the property lifecycle starts for tenants and where buyers and sellers will conduct transactions. Most companies in this space are B2C.
Agent & PM Services, Listings & Marketing – These are the tools agents and PMs use to perform their services, including managing properties. Most companies in this space are B2B.
Exchange, Finance, Mortgage, Settlement & Post Transaction – This category utilises technology to provide an efficient process when completing the transaction. Companies involved here are both B2C and B2B.
Our Australian PropTech Map illustrates that the Agent & PM Services, Listings & Marketing category is highly competitive and very saturated. Technology in this category is entirely B2B focussed and very well funded, due in large part to the push to help real estate professionals become more efficient and profitable.
Funding will continue to be allocated here, but the Exchange, Finance, Mortgage, Settlement & Post Transaction category has been gaining a lot of attention. This sector has largely been forgotten in relation to technological innovation and is still transacting the same way it was 50 years ago.
Startups like Amazon, Netflix and Uber have had an enormous impact on consumer experience and expectations. All indications signal that the consumer-focused trends these companies have sparked will spread throughout the real estate industry, making for a more streamlined, simpler and enjoyable customer journey.
What's Next?
Following on from this article, we will explore the PropTech accelerators across Australia to find out who is helping our real estate startups grow.