12
minute read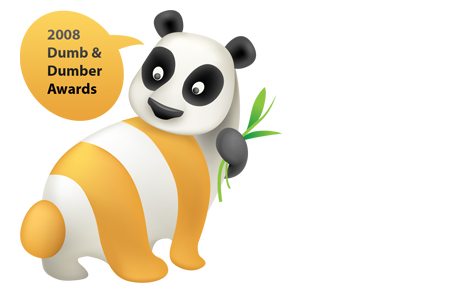 Well what a year it has been, with just about every major company in the real estate and classifieds market vying for entry into this years awards.
So how do you make our dumb and dumber awards? Well quite simply, you make a schoolboy mistake, try to cover something up or worse still knowingly do something that is so obviously dumb to everyone else aside from your inner sanctum.
So here is our list for this year, enjoy!
1. WINNER – REA Group – Realestate.com.au
What do you do when one of your email servers have hundred's of thousands's of property email enquiries stuck and not delivered for months and months on end to real estate agents battling through tough times? Well for starters some bright spark decided we will just deliver them to agents who had no clue of the age of the emails! Once the story broke here on business2.com.au REA then went into damage control and placed a note in agent admin and then later sent out an email explaining the situation to unsuspecting agents. This left agents embarrassed – their reputations tarnished and having to apologise to ten's of thousand's of enquirers.
REA offered a heartfelt apology, discussed compensation, but decided to just weather the storm and continue business as usual. REA's reputation for care has never been worse and will take a hell of a lot of work to win back agents trust. More price rises to come will not help their cause. Fluffy promotional emails will not do anything either, hard work, improved customer service and some humility will help.
2. RUNNER UP – PBL & Microsoft
Get a photo op with a bunch of Steve Jobs wannabes on launch, spend ten's of millions of dollars marketing a website with out-of-date and sold listings, less than 30% of your rivals listings (and the same data), do buddy deals with a handful of the major franchise groups along with the worst real estate interface to come out of the 21st century and what do you get? Well you get them running scared and selling it off in 12 months for less than 3% of what they put into it. Still it has to be one of his better deals since he took over from daddy. If you want to know how NOT to build and launch a real estate portal, note the myhome.com.au debacle. The new owners are trying their best and have really got back to basics. May be worth the try now!
3. Major Telcos
Put together pathetic customers service, disgraceful data plans, slow networks and you have yourself a major Telco. Telstra may have the best wireless Internet in Australia, but it has the most expensive – restrictive plans around and Optus is not much better. It pays big time to look around. Maybe Telstra should spend some time and money on the people that make them money rather than trying to protect their monopoly. Optus does not fare much better and you only have to look into the Whirpool forums to see how many people loath their Telcos.
4. The Financial Meltdown
Oh, how we were once impressed by our finance market friends driving their Maserati's and Porsches, how we listened to their amazing insights into how the money markets worked, how impressed we were about how they speculate and how their models make everyone rich and successful. Turns out they were all pretty much clueless, having fancy degrees on a wall means nothing if you don't have real world smarts. If making money is your only goal then you will eventually fail, problem is – this time around everyone suffered.
It is ok to strive for an open market economy, but should mum and dads around the world have to bail them out when it all goes pear-shaped?
5. Get it 'FREE' Mobile Domain
SMS property alerts on your mobile, great idea and absolutely free – well free as in 0.55 cents an SMS. Ooops sorry forgot to mention that! ACCC noted this and slapped Fairfax over the knuckles.
6. REA's Peak Industry Body
Way way back in March 2007 (nearly 2 years ago, REA setup 'The Peak Industry Body', this was no doubt an effort to 'connect' with you, 'Joe the Plumber', meeting 'at least' 6 times a year would equate to around 24 meetings so far. I think each meeting ended with a Hollowmen 'steady as she goes approach' because unless I am mistaken nothing has ever come out of this – except continual price rises 🙂
7. Internet Explorer
To every single software/website or so called IT expert that only works in Internet Explorer or in the latter case only only allows you to use IE6, hang your heads in shame. Every time I use Internet Explorer I am frustrated, whether it is testing sites in IE6 or 7 and now IE8.
The latest debacle for Internet Explorer came just a few days ago.
The vulnerability could allow remote code execution if a user views a specially crafted Web page using Internet Explorer. Users whose accounts are configured to have fewer user rights on the system could be less impacted than users who operate with administrative user rights. This security update is rated Critical for Internet Explorer 5.01, Internet Explorer 6, Internet Explorer 6 Service Pack 1, and Internet Explorer 7.
Basically anyone could access your PC and take anything they liked. Microsoft stated that it is always looking at ways to improve their product, no, they are always looking at ways to get it to at least work. One friend of mine lost $4,800 just yesterday and is scrambling to get it back because someone hacked their PC.
So free yourself from the train wreck of a browser which is Internet Explorer and jump with Firefox, Opera, Safari or Google Chrome and leave, buggy, slow, insecure software behind. If your software provider can't cut it, then leave them behind as well.
Note: Also read some reviews on anti virus software and get it installed on all pc's.
8. Why are we waiting?
Google needs to get its act together and release a solution that the whole market is waiting for. Every day I am asked the question and each day I have no answer. I know they are working on it – but come on guys and girls. Worldwide the advertisers market for a stand-alone real estate website from Google would be worth billions and billions of dollars of new advertising revenue.
9. Yellow Pages
Time to get a new advertising campaign, no one really cares about you any more and the campaigns warning us of impending financial gloom if we do not advertise with you just don't cut it any more. Rising costs, hundreds of thousands of books dumped in rubbish bins or left rotting in the rain – and a business model that just plain sucks. And don't get me started on Yellow Pages Online.
10. Newspapers
I love newspapers, I really do, they serve a great part of discussion in our community, but if you think articles about Nicole Kidman's lips or Brad and Angelina are going to lift your readership think again. Newspapers need to rebuild their classifieds to suit a new market. Once upon a time agents pushed newspaper advertising for them, only a few do now and the market is getting smaller by the day. Keep this up and classified newspapers are finished. Simple test, get two people, one in a newspaper and one online to find a 3 bedroom 2 bathroom property in Wagga Wagga.
Solution?
1. Rebuild your classifieds for ease of use.
2. Offer annual subscriptions at a loss to build base readership – $10.
3. Get into real property journalism that gets people talking. (not paid for fluff promos)
11. New Real Estate Portals
So you want to help agents get away from REA and Domain? No you don't, you want to make money and sell out to one or the other once you have some success. Oh and $10,000 you have committed does not build you a national portal – not even built off shore. So, stop telling me you care and how exciting your product is and do the hard yards, start local and build out, and your systems had better be good!
12. Kevin Rudd
Oh Kevin you had us all, you promised so much, you work long hours and impress us with grandiose words like 'education revolution'. Here's the thing, deep down inside you know you are boring, we do too, but we knew that already, we just want you to make a difference, we want some bold initiatives – not only for this industry but for Australia. In 2009 there is to be no more buck passing, no more 'we are not immune'.
We didn't know what cards you had, we thought it must have been good, 3 deuces in the hand? A straight? A full house? A flush? A straight flush? If we find out all you had was a piddly small pair – you will be out with the bathwater. So get down and dirty, make some bold reforms and get this country back on track.
13. Printed Local Property Guides
Every week about 24 local newspapers are dumped on our doorstep (we only have 12 apartments) and every week about 23 of them end up in the trash. You all thought it was a great idea to launch a property guide. How wrong it has all turned out to be. I will give you all less than 12 months. When vendors clearly say no to agents about advertising in local newspapers you know you are in trouble, my bet is that you will keep thinking you can turn it around.
14. Agent Websites
I spent a day trawling through agent websites randomly a few days ago. I looked at over 500 sites. Ouch, apart from seeing about 100 websites that are exactly the same (template sites), so many do not work in all major browsers. Here is a hint, if newspapers are no longer viable in this climate for marketing, where is your differentiator? Yes its your website! If you have a good one, then let every vendor know about it and ask them to compare. If you don't – then you only have yourself to blame.
15. Vanity Blogging
Everyone is getting into blogging and you should be too. However steer clear of chest thumping and telling everyone how wonderful you and your company are – because no one is listening. Write about what you know and your opinions on the market, promote local businesses and get everyone involved. Welcome dissent, as long as it is not abusive or profane – promote it.
16. Vanity Boards
If agents need a pointer as to why some people think sign boards at the front of homes for sale and rent are more about the promoting real estate agents than the properties they are promoting then look no further than those 'look at me boards' promoting massive pictures of agents and in most cases nothing about the property. Ok, we get it, you absolutely love yourselves and it is cheaper than billboards but just let it go, the will to want to do it, should be enough of a sign that you have lost the plot.
17. Channels 7, 9,10
So you have your own little ratings system which bears no semblance to actual figures (good to keep that ad revenue coming in) however you are all finished unless you adapt. Showing old series just doesn't cut it (a lot of people download the new series anyway), blatant chest thumping is so 1980's and no innovation means a slow grinding death. Think about digital, get together, innovate with set top boxes supported by all and create a new market for direct localisation of ad serving.
18. Advertising Agencies
If you want to know who NOT to listen to when it comes to marketing your products or services just look at advertising agencies. I had a taste of them in the late 90's and thought I would go through the process again, hoping they had learnt something about the Internet since then. I am not going to name the agencies, but if the group I met are any indication, stay well away, save your money and do it yourself!
19. James Packer
James oh James, what a business you inherited, tv networks, magazines, prime Internet locations, casinos and the list goes on. Here's an idea, lets build a business our family empire will be proud of, lets dump just about everything we have built over the years and just get into gambling. What a noble business to be in and what a time to do it? We never cared to much about how rich you were, we liked Kerry, he was like one of us, we loved his stories (even if they were myths) and we liked you. If all you want to do is make money – then good luck to you – but you only have a few billion left buddy!
20. Mobile Agents Angst
So you have a local competitor that does not have an office (road warrior) – get over it. This is the 21st century and mobile agents working from home or on the road are going to be a lot more common over the coming years. If you use your office as a springboard to connect with vendors and buyers then you have nothing to worry about.
21. Real Estate Institutes
Can someone tell me what these organisations actually do?
A Merry Christmas and a Happy New Year to all of our readers, see you all again in 2009!