5
minute read
Whilst there has been a great deal of discussion on the Google Real Estate launch here in Australia there may be an even bigger blow by the internet giant about to be delivered to our industry.
In March this year a strange thing happened in the US when searching on Google. Websites that have never ranked on the front page for highly competitive keywords started to climb the rankings and replaced sites that seemed entrenched in the top 10 results. You might think this happens all the time but it doesn't. Getting into the top 10 results for a competitive keywords takes a significant investment in SEO.
Using our industry as an example, ranking well for such highly prized keywords like real estate, property, homes for sale and other is not a very easy thing to do and the first thing you notice is that realestate.com.au is first for all three searches. However what a lot of people don't realise is that out of the 30 results across all three searches very little of them are taken up by any of the major real estate groups or their members.
Obviously some of the other portals were on the first pages for all three searches and they fill another 13 of the the 30 positions. This means nearly half of the premium spots are filled with what I call minor sites with very good, or very lucky SEO.
To give this some perspective the private sales website, PropertyNow.com.au ranks a very commendable 4th position for the term "Real Estate" for pages in Australia on Google. This is behind major industry heavy weights that don't even rank on the first page. In fact only the First National corporate website is the only group that appears on the first page as it comes in at number 6.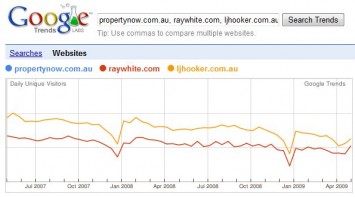 Using Google Trends to display their respective search traffic (http://bit.ly/qXF0k) we see that Propertynow.com.au is punching well above its weight. In fact it does not even show on the graph against Ray White and LJ Hooker even though they could only manage pages 2 and 5 respectively on the Search Engine Results Page.
In March Google rolled out what has been now called as Google's Brand Update in the US. What happened was well known and popular brands started to appear high in the search engines results replacing those smaller sites that have elevated their position due to clever SEO work.
In the past week Google has also rolled out these changes to the UK. This article has a great explanation of it all here –  http://www.seobook.com/google-branding and for a recent update on its rollout in the UK you can read this http://www.blogstorm.co.uk/google-brand-update-hits-the-uk/
It seems natural to assume that major brands are going to get a boost in search engine rankings at Google for Australian searches so pretty soon we are going to see a shake up in the traffic generated to the major real estate groups.
This spells trouble for the FSBO sites and other smaller property portals. Those members of major real estate group can probably see the upside of this article… but on the flipside I am sure the independents and those in smaller franchises and groups are probably seeing it in a completely different light.
When you start doing suburb and regionally targeted searches then the impact will really be felt by the independents and those in real estate groups not identified as being an industry brand. If the offices aligned with major real estate groups start to get a boost the traffic to many independent's website might start to slow up.
In spite of recent pressures on the major portals, something like this MAY make the role of the major property portals even more important especially for the independents which I believe make up the majority of the agencies in Australia….. Well that is as long as Realestate.com.au and Domain.com.au actually get the benefit of this change.
Nobody actually knows what Google is going to consider as a brand and how it ranks those brands. It is certainly possible that Google may not consider portals or data aggregators like realestate.com.au and domain.com.au as brands under real estate at all.
If google determines exactly what is an industry Brand based on what people search then all the portals may be in for troubled waters. Whilst they generate a lot of traffic very little of it would would be generated on searches by the public actually searching for them or about them. This post looks at the relationship to Google Brand Updates in the UK and what people actually search for http://bit.ly/1ap0Iy and if its right then the portals might be getting nervous.
To prove this I used Google Insight for the top two portals of realestate.com.au and domain.com.au and Ray white and LJ Hooker and you can see very view people actually search for the portals by name. See this http://bit.ly/mLNqx
If on the other hand they base it on how many visitors each website gets then you would have to think they will be considered as the industries top brands. One thing is for sure, there is going to be some nervous people at the portals until we find out just which side of the fence this is going to fall because this is the last thing they need.
Major real estate groups seem to be the only guaranteed winners and independents as the only guaranteed losers. With the UK update just released it will be interesting to see if any of the UK portals start losing traffic as this might be the best indicator of how the change will effect us once it arrives, as it surely will.