4
minute read
At 3.00pm today Google launched their new real estate search mapping tool which allows real estate agents to publish their listings for free and the public to browse listings.
The site has a number of new features. Users of the site can search for listings in a particular suburb and then refine the listings down using the various option, the map reloads and only the listings appear with your search (as little icons on the map). Users can then review property information via map pop ups and then go directly to the agents listing from there.
Currently there are a number of listings driven from Homehound, Harcourts and other groups, however Domain and Realestate.com.au have yet to send their listings through the free service from Google.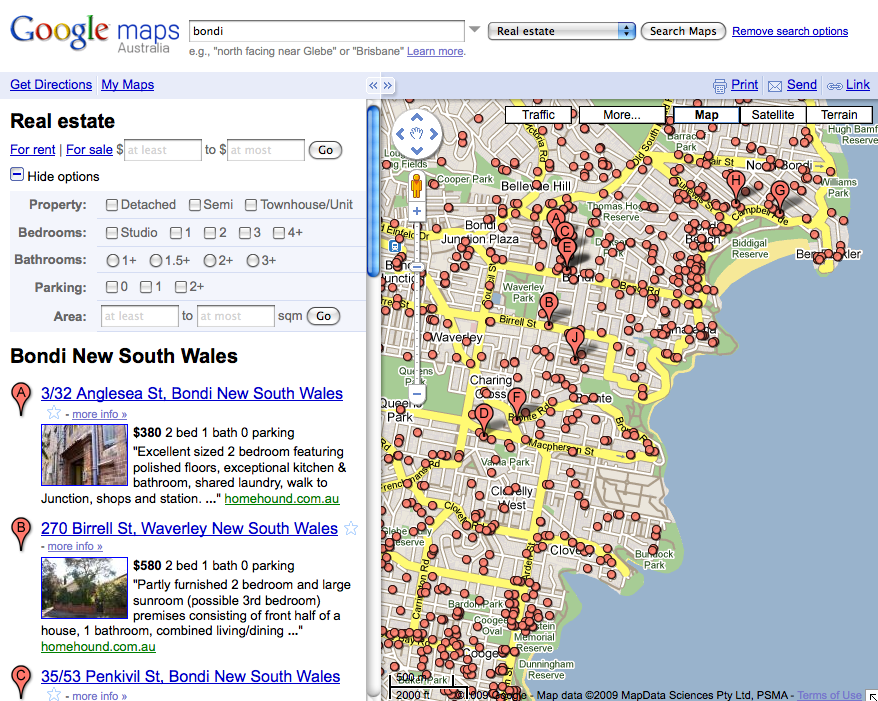 You can send feeds via the API or from a variety of Feed types and research this by clicking here. Talk to your feed provider about getting your listings on Google, its free and it should bring your business some pretty good leads as Google Maps has some pretty good research tools already built in.
Business2.com.au will write a review in next few days. Below is the press release from Google Australia.
Google today announced the addition of a real estate search feature to Google Maps in Australia. The new feature allows real estate agents, franchise groups and portals alike to upload their listings directly to Google Maps at no cost, making them more easily discoverable by the millions of Google Maps users in Australia.

Increasingly, people are starting their search for a new home online – Nielsen research shows that 87% of Australian home buyers use the internet to research properties*. Google saw more than 35% growth in real estate-related searches from Jan/Feb 2008 to Jan/Feb 2009**.

"We know that many Australian home buyers already use Google Maps to help their house-buying and renting decisions, especially driving directions and Street View, and by making real estate listings available right in Google Maps we can drive qualified buyers directly to listings," says Andrew Foster, product manager, Google.

"It's a simple and free way for real estate companies to make their listings even more discoverable, and have them seen on an easy-to-navigate map."

Real estate agents can visit http://maps.google.com.au/realestate to find out more information about how to work with Google to have their listings appear on Google Maps.

The new feature lets potential home buyers enter a city or suburb and see available listings represented by markers or small circles on the map. They can then refine their search by price, type of property, bedrooms, bathrooms, and parking. The map will automatically update with relevant listings when panned or zoomed to another suburb, and when the search criteria is changed. Clicking on a marker or a small circle will provide more information about the listing, as well as the contact details of the listing agent and a link to their website.

President of the Real Estate Institute of Western Australia, Rob Druitt, said agents and property managers in WA would welcome the opportunity to have their listings searchable on Google Maps.

"The real estate profession, perhaps more than many others, has become strongly focused around IT and the use of websites over the last decade. The evolution of the internet has transformed the sector, such that buyers, sellers and renters are much better informed and have easy and quick access to images and contacts. Indeed, this is now the high expectation with property consumers.

"Agents are keen to embrace this, as they are always looking for new and different ways to increase exposure of their listings without runaway expenditure. The opportunity presented by Google can only help in this regard," Mr Druitt said.

The original Google Maps prototype was invented by four engineers in Sydney: Lars Rasmussen, Jens Rasmussen, Noel Gordon and Stephen Ma, all of whom still work in Google's Sydney engineering centre. All over the country, Australians use Google Maps to find addresses and local businesses, see satellite imagery, obtain driving directions, and create and share personalised maps, making it the most popular online maps site in Australia according to Nielsen NetRatings (May 2009).
Note: Google Australia will answer all reasonably related questions if you clearly include them in comments below.