10
minute read
Realestate.com.au released their statistics on the prior month as they always do but something was different this time. It wasn't that it was a record month, they have claimed many records in past fact sheets.. highest visitors, highest gap, highest percentage… You name it – they have found every way to claim they are number 1.
What is interesting is in this latest email they have ONLY compared themselves to Domain.com.au. In the past they have always included at least one and sometimes up to to 3 and 4 other real estate portals. Here is the last 5 months results but everyone I still have access to is the same.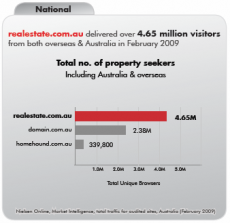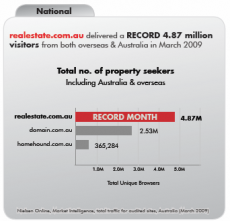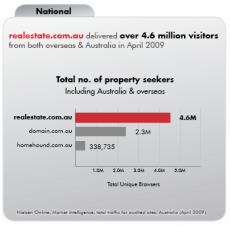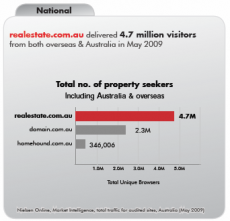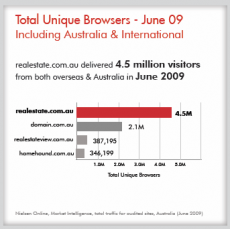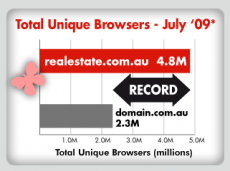 You would have thought that Google's entry to the market is the hot topic so they would have tried to claim a dominance over those that uploaded to Google rather than pick on their old foe.
Why is this so significant? Because realestate.com.au and domain.com.au are the only significant sites not uploading to Google Real Estate and that has been the "new phase" over the past month.
Could it be that some of those portals that jumped on the Google opportunity have started to show results already and they don't want to flash it around?
Unfortunately I don't have access to any July stats  so lets just a take a look at June on Google Trends.

As you can see realestate.com.au has remained fairly flatline. This is typically what you would see over any 30 day period as trends in website traffic are normally more evident over longer periods but lets take a look at myhome.com.au

There is a clear trend upwards here so they entered July on a significant increase in the prior 4 week period. The beginning of the month the average was about 2.4k unique visitors per day and by the end of the month the average was about 3.3k unique visitors per day. This would represent an increase of 37.5% in just a few weeks. I am not aware of any special campaign or promotion that myhome.com.au has been running so this must be a natural increase as myhome gains further popularity.
Now Realestate.com.au is going to argue that their traffic is massively larger and increase or not it does not matter to them. It certainly is but you have to view everything in perspective. Their traffic is certainly about 40 to 45 times greater but they have to share that amongst far more properties and far more agents. Now realestate.com.au claims that Google has only 20% of the total listings available in Australia. When you consider that Myhome is only one uploader to Google they obviously have far less than 20% of the property numbers of realestate.com.au.
So if they have 1/40th of the traffic being distributed amongst just 1/5 of the properties it means that your traffic per property is at least around 12.5% of realestate.com.au. That gap is actually not as far away as REA would have you believe and if Myhome can continue that sort of growth then it will close significantly. If all of the free options start making up ground its going to make an interesting marketplace over the next 12 months.
It will be interesting to see what adding the Google factor into July's results did for Myhome but since REA did not want to share, we will have to wait a month.
On an associated matter, I really cant stand the use of the word property seekers. It implies individual people which in turn implies that nearly 5 million Australians looked at realestate.com.au. In fact nothing could be further from the truth. Their monthly statistics are formulated by adding the daily unique visitors. If somebody checks realestate.com.au every single day from their home computer whilst they are looking to purchase they could represent as much as 31 of these "Property seekers". If they check it from home and from work then they could represent as much as 62 of these property seekers. Since it is daily uniques that is what they should quote. If they want to quote property seekers for a month then they should quote unique monthly visitors. Because some people will visit daily, some will visit a few times a month and others will visit from work, home and mobile… my gut feeling is that will be much closer to 400-500,000 people.
************************************************************
UPDATED
I have had some interesting feedback from realestate.com.au's PR department today questioning my take on how the 4.8 mill in the last paragraph is calculated. The state that the 4.8million is monthly unique browsers but the catch is I have to take their word for it for now but they are trying to find something to confirm to send me so we can clear it up.   If they were to quote the figures the way I have suggested it would be more like around 12 million. I suggested she post her response to the article.. but she declined.
For those that use Google Analytics it now shows something called an "Absolute Unique Visitor" figure for the report. If you click on that report it will show you the unique visitors for each day that make up the report but if you add up the individual numbers for each day they do not equal the total for the month of the report.
Google provides a definition though:- Unique Visitors represents the number of unduplicated (counted only once) visitors to your website over the course of a specified time period. A Unique Visitor is determined using cookies. The Absolute Unique Visitor report counts visitors to your website (counting each visitor only once in the selected date range).
Why do I think that they haved added up the unique browser for each day?  Two reasons :-
The number they quote is just unrealistic. If you start with the Australian population and remove all the kids and all the elderly then 4.8 million would have to represent close to 40 or 50%. Ask the next 10 people you speak with outside of real estate and see what percentage has used realestate.com.au in the past month. This article covers the same argument but looking at the leading newspaper sites. http://www.crikey.com.au/2008/05/26/are-nielsen-net-ratings-bunkum/
This has been discussed several times before and I have asked for more stats from realestate.com.au before on this blog and we are never provided with anything more than these huge numbers churned out by the PR Dept.
HOWEVER!!!
How the stat is calculated is actually not the main point I was trying to raise and is essentially irrelevant. Realestate.com.au uses the word property seekers which gives a misleading impression that 4.8 million real people visited the site.  No matter what the answer turns out to be it will never represent 4.8 million people.
Why do the do that?.. The excuse offered was because the stats were "dumbed down" for agents. Despite the terminology used I dont have a problem with dumbing down of statistics as long as the essence remains the same same.
Just so its crystal clear Realestate.com.au is number one by a clear margin. I do not dispute that and I dont think anybody would. They simply do a far better job than anybody else right now, but that does not mean I have to accept the job they do nor any statistics that they quote.
The relative relationship between the traffic of the top portals is probably represented pretty accuratly by the Neilsens figures. No dispute here at all. But whether you dumb down the data or not suggesting 4.8 million people viewed the site over the period of a month is misleading. They should quote their stats and not make them out as something they are not.
The method the data is collected has severe accuracy limitations. Those limitations would apply across all portals of so a common error factor would mean that the relationship still remains the same. ie. realestate.com.au is kicking butt in most markets.
Why are the figures not accurate? In 2005 Jupiter Research found that 34 percent of "newbies" said that they've deleted cookies themselves, with that number reaching as high as 60 percent for experienced users. How does Neilsens track people.. through cookies!
How this relates specifically to Neilsen NetRatings statistics is discussed in more depth here
http://www.siliconvalleywatcher.com/mt/archives/2005/04/the_emperor_has_1.php
In short.. the Jupiter report found that "17 percent of consumers delete cookies weekly, 12 percent monthly, and 10 percent daily — behavior that "cripples sites' ability to track users and make critical marketing measurements."
Whats interesting is that Neilsen's own report on the issue found a cookie deletion rate that ranged between 7% to 50% with the average visitor to Google deleting at a rate of 25%.   It's even worse than that as the cookies that are targetted the most for deletion by antispyware and antivirus solution are specifically tracking cookies… exactly the type Neilsens use.
So the company that realestate.com.au dumbs down stats from to create a "property seekers" number admits that it is up to 50% of its visitors could be counted more than once, and an external company believes the rate could be as higher as 60% for some user groups and that in a worse case scenario a person could be counted every single day (10% that delete daily) and antispam and antivirus software is even in more wirespread use today than it was back then.
The stats can be used to compare against other companies in the same report.. but you cannot convert them into "Property Seekers" because it sounds good from a marketing perspective. It just does not work that way!