3
minute read
I recently wrote about using Google Insights to compare the relative strength of each real estate brand in Australia. I showed how you could compare each brand against each other and how you could also see the strength of each brand across the states.
When I shared this, it was in fact the second way I had found to independently compare the major brands around Australia. As I chose to explore the first option a bit more before writing about it I shared here about the Google Insights method.  It's now time to share the first method I found which uses Google Maps Real Estate and approaches it on a completely different basis.
Realestate.com.au and Domain will have you believe that Google has only a small percentage of the total number of listings.  From my experience that is not the case and Google has far  more listings than domain and much closer to Realestate.com.au. Back in August I actually spent a bit of time analysing the matter for an article on our agency blog about the subject. In our area at least the numbers were very close.
The one group of real estate agents that  are all featured on Google Maps are the major real estate groups. Now using Google Maps, or even the maps sections of any of the portals you could always view all the properties in an area, but there was no easy way to determine which listings belonged to which agents. Ideally each agency should be in a different colour much like different coloured pins on a large wall map.
In a little know addition to Google Maps you can now plot multiple searches on the one map.  To show you how to do this I have created a video comparing some real estate major brands first in South East Queensland and then scroll  down to the  southern states.
Very soon to be released on the market is a free online tool that will take this concept to a local level and allow you to plot individual offices against each other. You will be able to view the property your agency has in one colour and listings for sale each of your competitors have in other colours.
*****UPDATE*****
I was just sent this update on the mapping service I referred to above. This will go down to the local agent level and allow  you to identify hot spots and opportunities and will provide excellent market intelligence for the agents that use it right.  I believe the service will be free with possibly some advertising on the side and your settings can be saved so you can look at it live any time you want.  More details when it launches and I think that is goign to be early next week.
In case your interested we (Nerang First National) are the green, LJ Hooker Nerang is the Red and Ray White Nerang is the blue. There are about another 7 other agents in the area but ourselves and Hookers are the dominant market players.
---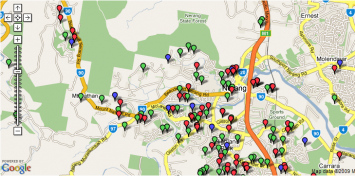 ---