4
minute read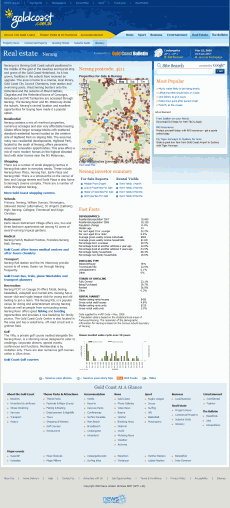 Although the Gold Coast is not a capital city it is still the 6th largest city in Australia. The Gold Coast Bulletin is a daily News Ltd Newspaper that services the city. The weekend real estate section is the cash cow for the Bulletin and every saturday it dwarfs the rest of the paper combined. At its peak it can be close to an inch thick. This real estate section is cobranded Realestate.com.au in print just like many other News Ltd papers around the country.
Unlike Brisbane, Sydney and Melbourne we do not have a network of a regional or community based newspapers who focus on real estate providing pressure on the Gold Coast Bulletin. The southern end of the Gold Coast does have an independent in there providing competition but in the central and Northern parts of the Gold Coast the community newspapers are owned and operated by the Gold Coast Bulletin themselves. As you can imagine they provide virtually no market pressure to their parent company.
The Gold Coast Bulletin use to operate the website www.gcbulletin.com.au but in recent times they acquired the premium domain www.goldcoast.com.au which they have setup as portal. News features heavily on the site as you would imagine but there is also a substantial amount of other content such as locality guides, tourist information, accommodation bookings and much much more. The www.goldcoast.com.au website is clearly labelled "Copyright 2009 News Limited" and branded with the News Digital Media logo.
The portal also features a suburb profile on every Gold Coast suburb complete with suburb description, demographic information and property statistics. Included on the pages is a Google Real Map displaying properties for sale on Google Real Estate. There is absolutley no mention of the RealEstate.com.au connection at all on these pages. In fact links on the page to "All Properties For Sale" are linked to SuburbView.
The lack of Realestate.com.au branding on the site is really confusing considering their alliance and the fact that News Limited is a major shareholder in REA. Google Real Estate Maps on a News Limited website is a perfect example of how Google is making inroads into the industry because the top two portals are stuck in their old ways of doing business.
The web designers naturally wanted to add rich content for their website showing off property for sale in each suburb of the Gold Coast and realestate.com.au (or domain.com.au for that matter) dont offer any tools, widgets or api's for websites to integrate their data, even sister websites in the same stable. But Google does so rather than have nothing they chose to use Google!
Gold Coast subscribers to Realestate.com.au who dont have their properties on Google Real Estate should be more than dissappointed.
Red faces all round I bet!
This again highlights the necessity for the top 2 portals to stop being so myopic and provide widgets and api's for other websites to use which is something that we talked about a lot over the years here at Business 2.  Real Estate Agents, community websites and other local businesses would appreciate the opportunity to integrate property information into their website using these sort of tools. As far as I can see everyone is a winner in this sort of relationship which is why it is has been so popular with a range of websites including US real estate portals like Trulia and Zillow.  Apparently some News Ltd web designers would appreciate the opportunity as well!