3
minute read
Disclosure upfront – for over 10 years now I've been running a niche real estate portal and web development business. During that time, I've often pondered how much money was being collectively wasted on real estate print advertising. I believe that figure (in Australia alone) is now over $1 billion.
According to IBIS World Research (July 2009), real estate advertising will this year (2009/2010) reach $1.56 billion in Australia. That makes it the second largest advertising sector after fast food ($3.3bn), and is greater than auto industry ($997m), banks ($966m) and supermarkets ($774m). Now, every time I turn on the TV these days (which admittedly, is less and less) ads for burgers, cars, banks and supermarkets abound. The 4 great necessities of life I suppose. I'd imagine these guys to be spending big time.
I'd always known real estate would be spending lots too, but to see them firmly in second place (above the other named high ad spenders)?
Moreover, when you consider the fact that 55% of all property enquiry now comes from online advertising (Macquarie Bank, Real Estate Report, Nov 09) then there is something seriously wrong.
If we take the 55% as an average across the country – most of my clients tell me it's more like 70 or 80% – then at least $850m should be spent on online advertising. However, the best guesstimate I can make is it's actually $240m. (Frost & Sullivan's 2008-2012 Report suggested 15% of total real estate ad spending is online). If realestate.com.au takes in $150m or so, Domain $50m and the table scraps are being picked up by the rest ($40m), this also suggests a $240mn total.
So if 55% (or more) enquiries are coming from less than 20% of the spending, where is the other 80%+ of spending going? I think we all know the answer to that one – print.
Now I know that advertising is not only about selling, it's also about branding, differentiating and getting new listings (in the case of real estate), but how can the remaining $1.3 billion be justified if it is not creating the business enquiry of a spend one quarter of its size? (I'd also argue that branding and the rest can be done online too.)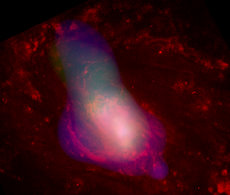 When posed the question, most real estate agents tell me it's because their sellers expect print ads. Even if told it is a waste. Perhaps the sellers need educating. Perhaps some agents also like to see their name in lights (well, the local rag made from dead trees anyway) and it's a competitive forces ("they advertise all over it, so we have to be there"). How much business would be lost if they (collectively, or even unilaterally) halved their print spend? How much money would be saved?
Yes, the print spend is falling (slowly, but inexorably). However, more than a decade into the new economy I can only see justification for maybe an equal split of offline and online ad spend – say $250m each or so on each – and that still leaves a $1 billion dollar black hole.
Please excuse me while I go and have a quiet sob in a darkened room.
Photo credit: the Torus Black Hole, NASA 2003