5
minute read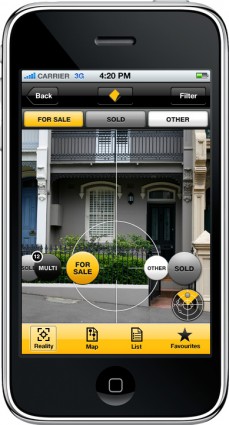 Augmented Reality is when you combine a live view with a computer generated view in real time. The concept itself will not really be all the new to anybody because you have seen it in the movies and video games for years.
The processing power of handsets has risen dramatically and 1ghz is the current sweet spot. That processing power allows modern smartphones to offer augmented reality in the palm of your hand and real estate is one of those ideal applications for the technology.
The Commonwealth Bank has released what they are claiming as Australia's first Augmented Reality using data from Realestate.com.au and RPData.com.au.
I am not one to post whole press releases so you can read it in full here although be warned it makes the same tired old claims befitting any technology launch. In one sentence they squeeze "taken to a new level" and a "revolution" with the following paragraph:
"The new iPhone application will take property search to a new level, revolutionising the way home buyers search for a home allowing them to make smarter property decisions with virtual reality insight in to any Australian home anywhere, anytime."
One of these days somebody will put out a release thats says, "hey what we are about to launch is not new, some others beat us to it but we reckon its cool and that our version is heaps better and we hope you like it".
We first discussed Augmented Reality back in June last year when the Layar program was released which is now available for Android and the iPhone. Layar allowed third parties to easily creating an AR solution by providing "layers" of data that could be accessed through the program. Using Layar there have been other AR solutions serving up Australian real estate but because of their data sources they have only ever offered a fraction of the available properties.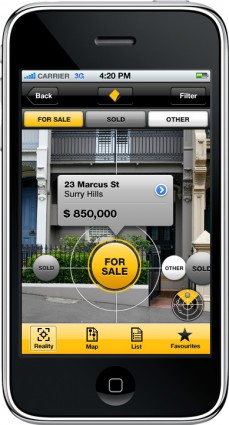 The CBA's solution will be the first dedicated application for the task and this means it can bring a functionality to the handset that a Layar solution cannot. Of course access to the realestate.com.au listing data to drive the site means it only rival for sheer coverage is realestate.com.au's own mobile site.
The application will initially be a strictly an iPhone application however an Android application is apparently on the banks radar for future development. I thought the use of the term quite entertaining because when you use an AR application it is very much like sweeping the area with your own personal radar to discover whats out there. In this case property information.
Smartphones use an internal gps and digital compass to know exactly where it is in the world at any given time. It can even tell which way it is tilted and where it is facing. It's this "awareness" of it's exact location in 3 dimensional space that makes makes Augmented Reality possible.
The application will allow you to point your phone at any existing property currently for sale and it will overlay information on the property over the top such as price, bedrooms, bathrooms, car accommodation, photos and land size.
You can even use the application to search for property surrounding you location. Fire up the application and move your phone around and property for sale will flash up on the screen.
You will be able to access last sales information on all properties but it will be limited to a price range only unless it has been sold recently when the accurate sales details will be available. Consumers will of course be able to get the exact past sales details on any property for a fee thanks to the RPData connection.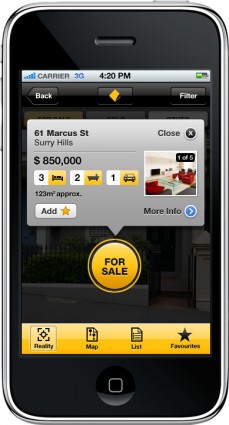 The program will be available in the Apple App Store sometime in June as they wait for Apple's official approval.
I would have thought that this sort of solution would have been a better fit for realestate.com.au themselves but the Commonwealth Bank is obviously trying to leverage home loan leads by being right their in the consumers face during the research phase as they look for property.
As you would expect users can click to call a lender or complete a form to get a call from back from the Commonwealth Bank. The application will pull data live from the Realestate.com.au mobile site so I can only assume that it will still add to realestate.com.au property views which they certainly need right now.
Of course when a company release a media release before its actually available it gets a little hard to give a full and proper opinion but it looks the goods from the screenshots and the iPhone certainly has the power to pull it off. All you iPhone users will have to let me know what you think when it launches because I will have to wait till they get around to an Android version.
I reckon the application will be a hit with real estate agents and may get some of the realestate.com.au junkies away from their computer and back out into the community.