4
minute read
I remember the day our new, NSW sales manager started work. He was tall, lean and looked tough. When he smiled, you realised that –underneath his gruff exterior– he was a genuinely nice guy.
Our employer was realestate.com.au and we both worked in the office on William Street, in Sydney, just down the hill from Kings Cross.
One of the first things this state sales manager told me about how good real estate agents succeed is that they focus. They pick an area and dominate it.
They don't spread themselves across a large region like too little Vegemite on too big a piece of toast.
The sales manager was talking from hard-won experience. Now, a new study from the American Journal of Real Estate Finance and Economics backs him up with hard data. It was just reported in the Wall Street Journal.
The study looked at 8,085 real-estate transactions between July 1999 and May 2009 in southern Virginia, USA. Of the agents involved in these transactions, 42% concentrated on an area averaging about 13.7 square kilometers.
Here are the key conclusions. For properties priced above the median price of US$150,385, focused agents:
• Were 4% more likely to sell the home than agents who took listings over a large area.
• Sold faster, in 5.5 fewer days.
• Obtained higher prices, 1.71% above the average.
"Sell in expensive areas and localize," is the advice that professor Bennie Waller, one of the two who carried out the study, has for agents. "If you're going into a neighborhood where you have six or seven properties listed, you'll be able to do it faster, more efficiently and at a cheaper cost. Your transaction costs go down."
Waller says that working in a small area enables you to be more knowledgable, better understand clients' needs, establish a reputation and make contacts.
Waller doesn't mention it, but it's also true that for each home you sell in an expensive area, you earn more.
The Wall Street Journal Reporter who covered this story, Sanette Tanaka, did an excellent job. She found a very successful agent in Manhattan, Debra Stotts, who focuses almost entirely –not on a neighbourhood or block– but on a single building.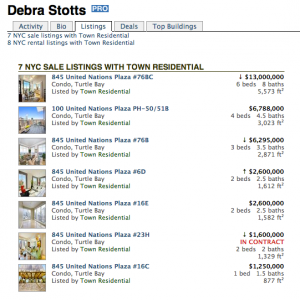 Her marketplace is Trump World Tower at 845 United Nations Plaza (see photo at top), where a three-bedroom apartment sold in April for US$4.2 million.
"I know just about every building being in this business 20 years," says Stott, "but not like I know this neighborhood, and not like I know this building."
In Australia, "focus" is a relative term. Parts of the Lucky Country are so sparsly populated that agents may find they have to stretch their focus much further than an agent in a densely populated part of Melbourne or Sydney.
Tanaka gives us the example of Vicki Kruse, an agent with Century 21 Affiliated in a rural area of the USA, who lists homes priced from US$25,000 to US$1 million in a 50-mile radius.
"If I limited myself to a small area, it really limits my financial income," Kruse told Tanaka. "The more area, the broader the income could be."
Having written this blog post, there are two questions I'd like to throw out to the Business2 community:
Why do so many agents choose to work in suburbs with low average prices, where their possible income is limited?
And, why don't more agents focus on the country's most expensive neighbourhoods, and compete for a slice of the richest pie?