6
minute read
The lead generation site OpenAgent has come up with a somewhat unique point of difference to attract potential sellers but have they crossed the line and gone too far?
Most lead generators follow the simple principle of let us contact 2 or 3 agents in your area but the benefit for the potential seller is a little murky. You see them advertise on the real estate portals and on google and include such sites as www.ozhomevalue.com.au, www.homeguru.com.au, www.myhousevalue.com.au
OpenAgent does it a little differently. If you as a potential seller visits OpenAgent you are tempted with the sales statistics for salespeople in your area. Instead of trying to decypher the dozen or so claims of being number one in your area, you will now be given the insider information of just who is selling what properties in your area. No more guesswork, now sales spiels, just the facts. They will list all the agents showing you how many properties they have sold in the past 12 months, how many in the past three years, testimonials if they have them on file. They provide the photo and name of each person, although interestingly, not the office so if a salesperson changes offices their sales stats remain with them.
I actually think that is a pretty powerful point of difference. When asked to recommend an agent in an area where I dont know anybody I always do a similar sort of analysis and look for the individual or office making the sales, not the lunchtime legends claiming they are making the sales.
For this example I have used Parramatta in NSW. I dont know anybody there but always use it for examples.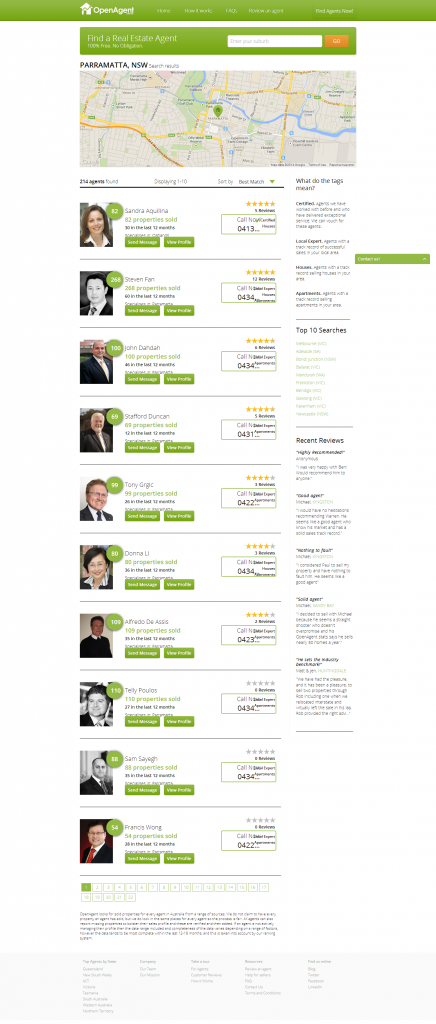 (Click image to enlarge)
From this page I can see that if I was wanting to sell an apartment I would want to speak with Steven Fan, John Dahdah and Sam Sayegh as they all have great results and specialise in apartment sales in Parramatta.
This sort of transparency is great and it has the potential to catch out so many self proclaimed legends as wannabees. I have used it to answer a few questions on some of these legends I have come across online and only one has the stats to back up there claims. I am not sure of their source but I reckon they must be scraping listing information from realestate.com.au and cross referencing the sales data out of each state.
So where is the problem??
The problem is that OpenAgent can only hope to earn money by referring you to a local agent in that area. What is to stop you as a potential seller using the information they provide and contacting the top 1 or 2 salespeople in your area.
Why do you need OpenAgent?
You dont… OpenAgent provides you the phone number of each salesperson as well as a contact form to send a message. That's handy !!!

So whats the problem then ????
Steven Fan's mobile is really 0411 885 168
The phone numbers provided for each salesperson is not their phone number and any message you type in the send message option is never received by them. The mobile phone numbers are controlled by OpenAgent. All contact is actually intercepted and sold on to the salespeople as a lead.
Pretending to be somebody for a financial gain is misleading at best and I would like to think would trigger passing off have to think
A quick google on "Passing off" gives me Sweeny Law who explains on this page far better than I can but here is an extract from that page with my underlining and bolding for emphasis.
Passing off is a common law action, which protects goodwill and reputation built up by the use of a trade mark or business name of a product or service.
The elements of the passing off action must satisfy:
a misrepresentation

;

made by a trader in the course of trade;

to prospective customers of their ultimate consumers of products and/or services;

which is calculated to injure the business or goodwill of another trade;

which causes actual damage to a business or goodwill of the trader by whom the action is brought.
Some types of passing off include:
a misrepresentation that one person's goods are those of another;

a misrepresentation that one person's goods are of a particular class or quality;

a misrepresentation that a connection exists between a person's goods and those of another where there is no actual connection;

using images or representations of a character or person to suggest an endorsement or a connection between that person or character with the goods where there is no actual connection and/or endorsement.
Essentially, passing off actions involve situations in which a representation is made in the course of trade, which deceives or causes confusion amongst customers either online or in the real world.
Ok.. so I am not sure if this could apply or not, maybe a solicitor can comment but by placing an incorrect phone number down for each salesperson as well as providing a contact form that is never sent to the salesperson they are intercepting and interferring in that salespersons business even though they "may" have helped that consumer identify that agent as being the one to contact.
So what happens when someone tries to contact you through the site and when OpenAgent calls with their hand out you say no. Do you think it will stop there or do you think that contact made off your success, photograph and name will be sold to one of your competitor as a lead?
If you want to see the results for your area replace the /nsw/parramatta/2150/ with your state, suburb and postcode from this url. Give the phone number they have for you a call and see what happens.
http://www.openagent.com.au/find-agents/nsw/parramatta/2150/1/best?ch=3&ref=10&oam=95988f81-9323-4fab-acb2-a4e92797c965
If you have a two word suburb then put %20 in between the two words. This will save you signing up getting all the followup emails.
so for Richmond Victoria the address would be
http://www.openagent.com.au/find-agents/nsw/parramatta/2150/1/best?ch=3&ref=10&oam=95988f81-9323-4fab-acb2-a4e92797c965
and for Canning Vale in Western Australia would be
http://www.openagent.com.au/find-agents/wa/canning%20vale/6155/1/best?ch=3&ref=10&oam=95988f81-9323-4fab-acb2-a4e92797c965
Has open agent gone too far?? Let us know what you think in the comments.