5
minute read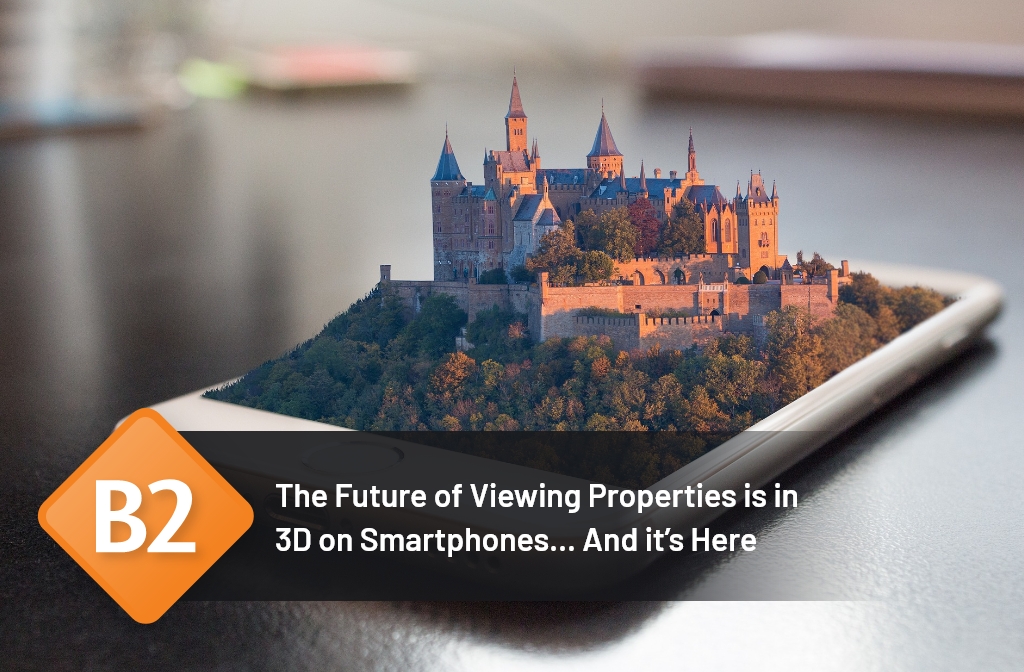 Imagine being able to show potential buyers a home, walking them through it in 3D, presenting them exact measurements and providing accurate spatial orientation through an interactive 'dollhouse' view without having to leave the office – or even physically be with potential buyers.
Well, the technology is here and, as a tantalising cherry on top, it can all be done on smartphones.
US-based firm Matterport, a pioneer of 3D imaging with a vision to digitise and index the built world around us, is beta testing exactly this technology for the real estate industry with a full-scale launch expected early this year.
Traditionally, to achieve these kinds of images required expensive camera equipment, software packages and a meticulously trained photographer and editor. However, with the new technology, anybody with a smartphone can create immersive 3D property viewings.
So how does it work?
THE TECHNOLOGY
Matterport 3D Capture for Smartphones utilises cloud-based image processing software and harnesses the power of Cortex, an advanced AI engine, to generate 3D experiences that provide a comprehensive view of a property.
In doing so, Matterport developers have used Cortex to engineer a method to transform standard 2D panoramic pictures into 3D images, effectively turning smartphones into 3D capture devices. Plus, you don't have to debate over iPhone or Android, as it will be available on both.
To achieve all this, Cortex was essentially 'trained' to construct what Matterport calls "3D twins" from traditional 2D images. Billions of datasets from Matterport 3D scans were used to educate Cortex to develop and subsequently apply three-dimensional intelligence to any physical space with an inbuilt understanding of rooms and the items and features within them.
The technology is then able to identify and segment rooms within a home, acquiring and presenting dimensions on all axis while calculating space and volumetric-based information. With this spatial awareness capability agents will be able to examine floorplans, wall lines, doorways and windows automatically.
HOW IT CAN BE USED
Virtual Tours – Agents will have the ability to guide people through a house with a realistic indication of dimensions, the natural flow of the property and identification of any and all features of note. Prospects will even be able to determine how furniture fits and its ideal placement within the home. 
Providing Accurate Dimensions – Not only will agents and prospective buyers have more insight into the space, but builders, tradespeople, contractors, interior designers, stylists and even insurance adjusters will have direct and constant access to documented dimensions via the Matterport Showcase app or a downloadable API.
Easier Renovations – Homeowners will be able to show builders the intricacies of their property, giving tradies the ability to draw up plans for renovations without having to invade the space for hours on end. When combined with 3D rendering software, renovations or updates can be modelled and displayed to the client digitally on any device at any time.
No Distance Restrictions – Whether a potential buyer or investor is based down the street, on the other side of the country or even internationally, they will be able to have full, unrestricted access for property viewing. This makes it vastly easier for people to make purchasing decisions no matter where they are – and it's more detailed, comprehensive and safer than buying a property off the plan.
Engaging Social Media Content – The role social media plays in real estate is growing constantly, with many agents adopting social strategy into their overarching marketing campaigns. Virtual 3D tours would constitute the ultimate in immersive posts, and it is a safe bet that it would generate significantly more genuine leads with conversion potential than a static 2D picture and caption.
US based real estate business Realtor.com has been using Matterport's 3D Capture for Smartphones to conduct virtual tours with great success. Here is an example of how they leverage the technology to show potential buyers and investors the potential of a property:
These are just a few of the applications for the technology as it currently stands. As it evolves so too will the uses real estate professionals and tradespeople identify, meaning the value in its utility will continue to develop and grow.
COMPETING 3D TECHNOLOGY
While Matterport presents a compelling proposition with their 3D Capture for Smartphones, three-dimensional imaging is spreading rapidly throughout the real estate ecosystem – especially in America.
The Zillow 3D Home Tour app enables virtual viewings, however there are anecdotal reports that images generated via smartphone are of a poorer quality than the camera option they tout – the Ricoh Theta 360° camera, which can cost agents up to USD $1,000 to purchase. In addition, it doesn't provide the measurements and spatial recognition that is part of the Matterport system.
Fellow PropTech start-up Asteroom has jumped on the bandwagon and has released a 3D home tour solution that can be driven via smartphones as well. However, their technology is based on a smartphone attachment they have labelled a "Pano Kit" which comes at an extra cost, plus it requires a monthly subscription fee
FINAL WORD
3D technology has the potential to revolutionise many systems and procedures that real estate professionals are conventionally bound to. It's value as an instrument in the selling process is, at this stage, incalculable, but the concept of having a 3D home tour as part of a digital sales proposal will have many in the industry clamouring to adopt the technology, and will help those in the market make informed purchasing or investment decisions without having to do multiple physical inspections.
Ultimately, if the technology makes it easier to sell homes, you can bank on real estate professionals integrating it into their toolkit.