8
minute read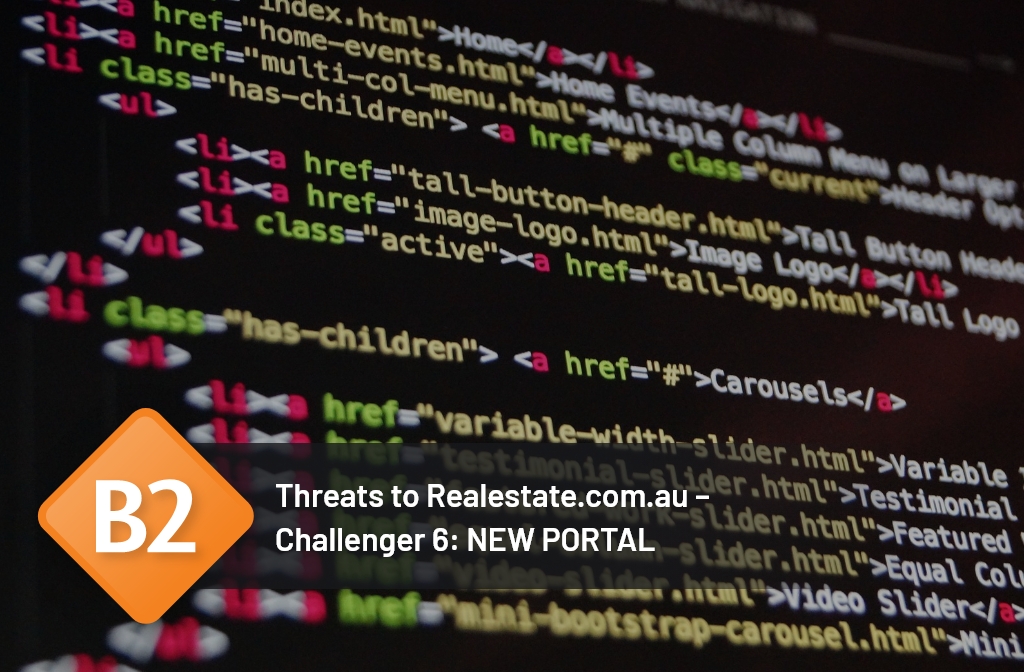 We continue our series on the challengers to REA's throne as Australia's most colossal real estate portal by taking a look at one of the most direct threats they could face – the launch of a new portal with the size and scale to give REA a run for their money.
It would be a herculean task and almost certainly a long-term proposition, but here we examine what it would take for a new portal to establish itself as a legitimate rival that could steal the top spot off REA.
CATCHY DOMAIN NAME AND BRANDING
Recent history is littered with real estate and PropTech companies and products with eminently forgettable, poorly chosen and just straight out bad monikers and weak branding. The list is long, but here are some of the worst ones we still cringe at:
Homely – Ranked by SimilarWeb as the 535th most visited site in Australia with a bounce rate of nearly 70%, it hasn't exactly set the world on fire with its results. 
Onthehouse – SimilarWeb positions Onthehouse at number 330 on the list of most visited sites in Australia. Highlighting their struggles as a portal challenger, users spend an average of just two minutes on the site and view an average of two pages per visit. 
Squiiz – Coming in at position 25,249 in terms of site views in Australia, Squiiz is perhaps the best example of how poor branding and a questionable name can sink any venture regardless of potential. 
VOLUME OF LISTINGS
No new portal can reasonably expect to challenge REA without an immense number of listings. But with REA so well established, how could a new portal ever hope to attract the number of listings required to be a legitimate threat?
The key here is the cost for agents to list their properties.
Both REA and Domain have subscription models with significant costs to list. Domain is the cheaper of the big two, with their rates set at $660 for an 8-week sales campaign and $770 for 12 weeks. REA goes to significant lengths to keep their listing prices private, but are known for aggressively pushing add-ons which are designed to act like boosts for listings. Thanks to Cubbi, we have heard of homes being upgraded to the "premiere property upgrade" for as much as $5,000 extra for 45 days!
If a new portal were to offer free listings to agents, over time they would accrue a stable of properties to view that rival the larger portals. This would reduce costs for agents, reduce marketing spend for vendors, and provide a strategic point of difference over all other portals, with the added bonus of winning the hearts and minds of agents Australia-wide.
CONTENT IS KING AND THE AGENT IS QUEEN
Operating a portal is about more than just having a huge number of listings. High quality, non-property content is crucial to the underpinning strategy of any decent portal. Unique content not only will help a portal rank higher in SEO metrics, it will also give people a reason to keep returning to the website.
The reason for this is the property buying lifecycle. CoreLogic reports that, on average, Australians transact real estate every 11 years. Therefore, most of us are in the 'active buying phase' for roughly 1 year and are considered 'passive buyers' for the next 10.
Generally speaking, people only visit the portals when they have a compelling reason (i.e. finding their next property). In order to attract those same people to the portal at various points over the next decade during their passive phase, the best strategy is content.
ACQUIRE PROPER FUNDING
Many of those who tried to establish a portal and failed did so because the capital they raised did not sustain them beyond the design and construction phase. The outdated "build it and they will come" mindset is most definitely flawed and doesn't take into consideration branding, content and the constant growth of listings required to operate in the upper echelon.
Any portal that competes with REA needs to be well funded so that it can function while the inventory of listings is being nurtured and grown, ideally to a market saturation point of at least 80%. It is at this point that marketing towards consumers' needs to become more targeted and much more visible, and this of course requires budget.
GIVE IT TIME
Any business that decides to enter the portal landscape thinking they will become a dominant force and achieve overnight success is going to struggle.
Having patience, planning and preparing properly, defining a vision, articulating strong strategy, assembling a team of the right talent and having funding to back up stepping-stone initiatives all contribute to the viability of a portal.
Based on this, a legitimate portal challenger should be prepared to enter the market and work hard at fostering growth for a period of at least 10 years.  
IDENTIFY BATTLEGROUNDS
Any new portal – especially during initial growth phases – needs to be selective about where it attempts to directly compete with REA.
As an example, trying to compete with REA on the battleground of tech is not a wise move. A portal may be constructed on some outstanding technology, but no matter how unique or visionary that foundation is, REA's team of well over 100 developers will work to replicate it within months at most.
To truly be a challenger, a new portal must find their competitive advantage within their business model.
BE THE "AGENT'S PORTAL"
The concept of profits first, everything else second is not going to work for a new portal.
However, by flipping things around and placing the emphasis on providing high levels of service to agents by understanding their business and delivering them benefits that actually add value, many in the real estate industry would gravitate away from REA and towards a portal specifically geared towards the interests of the agent.
GIVE BACK
Expanding upon the concept of being the "agent's portal", a wise move by a new player would be to leverage the distrust agents have for REA even further.
The best way to achieve this is to recirculate funds generated from advertising and other site initiatives back into the agent's business, further negating the need for them to reach deep into their pockets.
From an agent's perspective, the entire purpose of portals is to generate leads. By taking profits made by the portal and redeploying them to cover the costs of large-scale, national marketing campaigns that bring more people to the site, leads will be generated organically for agents.
GROWTH HACKS

REA is a truly enormous entity and, like giant ocean liners in the sea, are not agile and cannot change directions swiftly. Due to the scrutiny they are exposed to, they also do not have the luxury of being able to cut any corners.
However, where a listed company is restricted in the moves they can make, a portal created by a PropTech start-up is lean, agile and can implement hacks to get ahead and facilitate growth via a variety of innovative methods.
Growth hacking techniques could have significant utility and quick impact for a challenger portal. Examples include a double-edged referral program (refer someone to the service and both parties are rewarded) and also collaborating with social influencers or personalities like, for example, a popular contestant on a real estate or renovation themed reality show.
AGENT EQUITY
In the past, certain start-ups have launched off the back of giving agents equity in the business. The rationale behind this move is to give agents skin in the game so they have a vested interest in making the business work and helping it achieve early milestones.
If a new portal were to attempt to try this approach, it is imperative that shares are distributed evenly and everyone has an equal opportunity to succeed. This is where the likes of Homehound, FollowIt, MyHome and Squiiz all made notable mistakes.
FINAL WORD
Of all the would-be challengers to REA that we have explored so far, a new portal is certainly one of the more intriguing. However, for it to work and for a new player to have any chance of giving REA a run for their money, having time – and capital – up their sleeves is central to success.
Ultimately, learning from history and the mistakes of others then subsequently delivering measurable benefit to agents should be the focus for any challenger hoping to take a shot at the title.
In our next article on the threats to REA's dominance, we take a look at new and evolving search methods and how they could potentially shift the balance of power away from portals.