3
minute read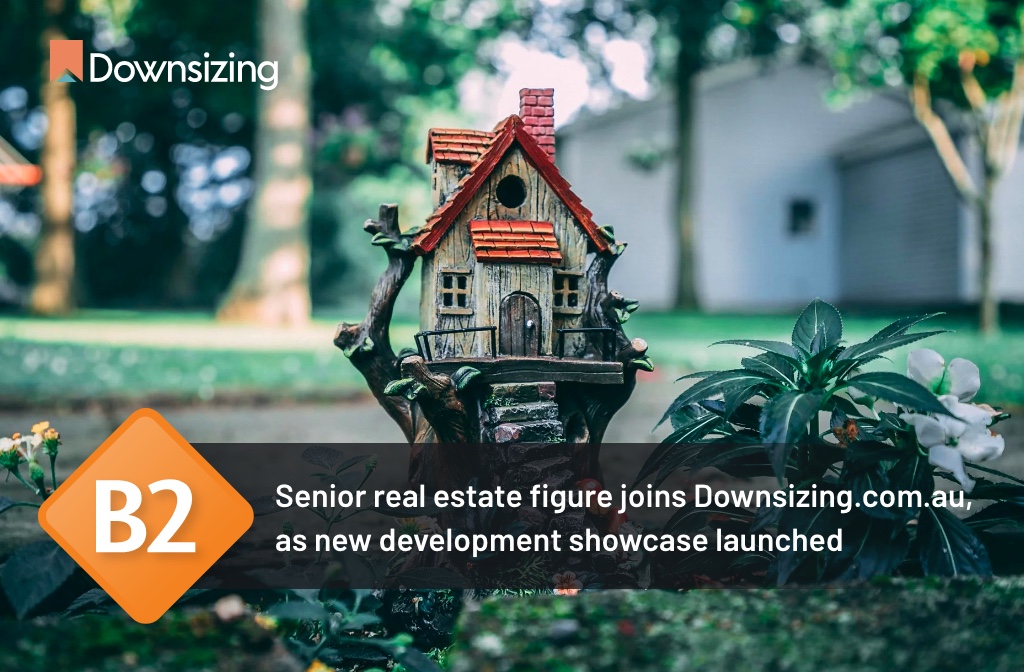 Australia's leading over 50s real estate portal today launched a major new website feature to showcase new downsizer-friendly housing projects, as it also announced a significant appointment to drive partnerships.
Downsizing.com.au has launched its New Developments website section, which lists off-the-plan and newly-built residential and retirement property projects.
Each development project featured in this website section is supported by a premium-level listing, which is effectively a micro-website profiling both the overall project and individual dwellings.
In addition, the projects featured in the new section benefit from audience amplification – co-ordinated by Downsizing.com.au – across a range of digital platforms.
"With Australian real estate values rising strongly – particularly in the big population centres of Sydney and Melbourne – downsizing is very much back on the agenda for many over 50s looking to cash in on their home equity," said Downsizing.com.au co-CEO Amanda Graham.
"A new younger generation of baby boomers and empty nesters, who may have deferred selling up during the market downturn, are now back in the game."
"This is a prime time for retirement living and residential developers to target downsizers, who are looking at shifting from their suburban family home and moving into a more convenient and low-maintenance home."
"This new website section specifically caters to these developers, by allowing them to showcase their project in the best possible light and promote it to their target market, to help generate qualified leads."
Ms Graham also announced that Lisa Hutchinson had been appointed as Downsizing.com.au's General Manager – Partnerships. Ms Hutchinson was previously the Head of Sales at Domain Media (2000-2014).
"We are incredibly excited to have someone with Lisa's extensive experience, knowledge and enthusiasm to join our team," Ms Graham said.
"The fact that someone with Lisa's pedigree and background has joined our company illustrates the current strong market and tremendous growth opportunity in the over 50s housing industry."
Ms Hutchinson said she was already developing new partnerships and products to help drive mutual revenue and audience growth opportunities.
"Downsizing.com.au is in the right place at the right time, when it comes to Australia's changing demographics and real estate market," she said.
"The company is doing a great job servicing the new generation of Australians who are entering their pre-retirement and retirement years and want to find a great home, secure their financial future and celebrate life."
"We are keen to partner with the real estate industry and other commercial providers who are keen to service this new breed of retirees and the baby boomer market."
Ms Hutchinson's appointment, and the New Developments feature, comes amid the release of new analysis and statistics which underline the strength of Australia's downsizing market.
In early February, Downsizing.com.au released its website statistics report for 2019, which showed that listing page views grew by 81 per cent and website visits jumped by 53 per cent across the year. In addition:
The Property Council of Australia's quarterly industry sentiment survey released in January revealed that the retirement housing industry has the healthiest 2020 capital growth outlook of any property sector.
Independent global property consultancy Knight Frank released a report in February which said the strong demand from downsizers seeking easily maintainable prime properties close to city centre locations was one of nine global trends
Market analysts in January said that rising demand for detached homes and excess new apartment stock means downsizers are entering 2020 in a commanding market position.
For further inquiries about Downsizing.com.au, please email [email protected]