9
minute read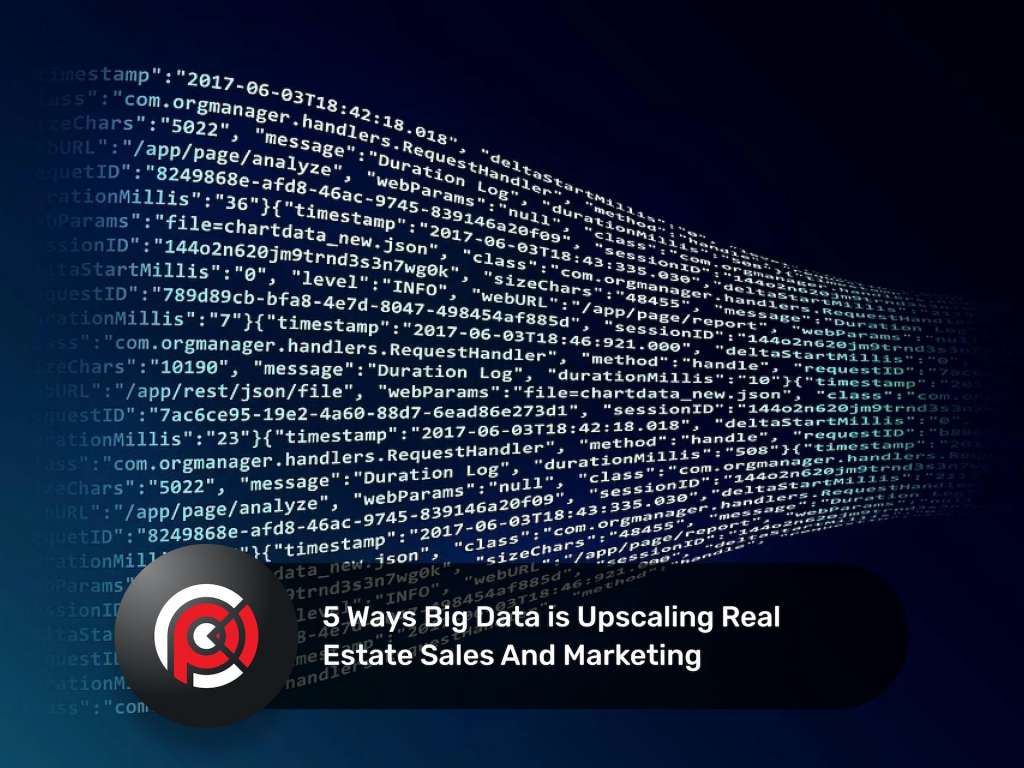 The amount of information available to humankind these days is immense. There is data available about almost anything. And it's accessible, too. It's just up to industries to know how to use it effectively.
Big data refers to the vast amount of information generated daily in our connected world. It is changing business models in industries from finance to tourism. It is also hitting real estate – a huge sector often known for its reliance on tradition and intuition.
Real estate has traditionally been a late adopter in tools and technologies. But more recently, the value of large data sets is being used by the industry. Awareness has been raised for putting data and analytics to work alongside people.
Big data has transformed the realm of the real estate industry in lots of ways. There is a growing list of companies that are now seeking insights through big data sets.
Big data involves the processing of large amounts of data and applying algorithms. This finds trends in user behaviour, predicts future outcomes, and gains business insights. The data sets can be analysed to make precise and accurate business decisions. Data technology is used to process, analyse, and identify insights from the data.
These insights can then be used to power Artificial Intelligence tools. The generated knowledge is starting to underline vital real estate decisions. Decisions such as what property to build, how to price a for-sale residence, and how to reach buyers.
Source: Big Data Made Simple
In this article, we will look into five ways that big data is upscaling real estate sales and marketing.
Improving Decision Making
Real estate decision-making used to be mainly based on intuition and first impressions. Now, big data is one of the main drivers in decision-making practices.

Purchasing or renting is made easy with the internet. Big data covers information that is available through apps, websites, and online platforms. Data innovation makes seeking information easy.

The assortment of data from multiple sources facilitates the selection process for customers. It can combine information from websites of land brokers and property management companies. It can source client reviews from social media platforms. It can even get information from educational institutions.

Data analysis provides precise forecasts about risk and market trends. Big data is changing the real estate landscape into a precise game of information.
Personalising Customer Interactions and Marketing Strategies.
Big data is a great source of information to create an online marketing strategy. Marketing managers can create reports and obtain key insights into various demographics. Knowing about the target audience and their behaviour makes creating promotional strategies easier.

Developing solid relationships with potential buyers is what eventually leads to a sale. Personalising the message to fit the buyer's needs is important for success in real estate. And having access to large amounts of data makes this much easier.
Source: Vedia
Let's look at an example. Many home buyers surf the internet in search of a house. The wants and the needs of a buyer are matched with features of a property mentioned in an advertisement.

A customer will visit a website knowing exactly the type of house or apartment that fits their needs. After browsing through several choices, the potential client leaves the site. At this point, they probably won't have set up a meeting with a real estate agent. Big data will show the information to the commercial property manager. It can show details of the visitor's age, their dialect, country of origin, and many more things.

This information helps business owners and property managers to know their potential clients. It can help them understand their behaviour and needs. They can also analyse why they quit the website without setting up a meeting or call. All this information helps to develop the business strategy. It also improves service quality based on the needs of the potential customer.

Behavioural data is an opportunity that can be used to make a captivating search process. Results can then be personalised to the client.

It is then up to the salesperson to follow up, and manage any sales objections. While they can't be avoided, they can be overcome. A 'no' or a 'maybe' can be turned into a 'yes'.
Improving Social Media Connections
No business can afford to ignore social media. Thanks to social media, people relate to brands in a whole new way. Social media engagement must form a vital aspect of any customer journey mapping. To keep customers engaged and expand your customer base, social media is important.

Many advertisers use social media sites to source useful marketing data. It's one of the best ways to access the younger demographics. Access to big data helps with this, too. It's easy to target the key audience by region, age, gender, interests, and preferences. This ensures optimal engagement.

Getting social media customer service right can deliver substantial benefits for any business. It can keep existing customers coming back. It can also give new customers the reassurance of ongoing good and attentive service.
Source: Oberlo
Informing Customer Profiles
Big data can help to understand the customer lifecycle. This helps with personalising the process and understanding what the customers want. It makes it easier to get into their heads and give them what they need at each point.

It can help to make a buyer persona, which can be built based on real-life insights. It's a representation of a typical member of your target audience. You must first define the typical characteristics of that audience.

You can do this for any types of campaigns, such as email or mobile. It's great for avenues designed to drive sales based on a more personalised approach. And these days, people expect their buying experience to be personalised to them.
Source: Oberlo
Big Data and AI
A recent study looked into communication methods and preferences within real estate. Only 17% of homebuyers want their agent to communicate with them by telephone. Yet, 51% of them reported that their agents used the telephone to reach them. 29% of these homebuyers preferred text message communication. However, this was accommodated by only 5% of their agents.

The survey also asked homebuyers about their expected response time from their agents. 44% of the buyers wanted an instant response. Fewer than 15% reported that their agents complied. Only 16% of the buyers were willing to wait an entire business day for a response. Yet only 10% of the agents managed to get back to them within that time frame.

Homebuyers have requirements from real estate agents. But it appears they're not always getting what they want! It can be hard, of course. With all of these communications coming in, it's difficult to keep up with the influx. Not to mention doing it in a way that the potential customers prefer.

Being a real estate agent requires time-sensitive attention to a number of variables. Big data can help narrow things down, then AI can use this information to make the process easier for all.

Let's briefly look into the CPaaS meaning, and how it can work for real estate. Communications Platform as a Service (CPaaS) automates and streamlines communications and processes. It's a great way to provide clients with information along the way. So many questions that come in will be common. Instead of replying to them over and over, these responses can be automated.

There are lots of options to utilise automation. Like building communication flows triggered by certain events during the buying/selling process. Or sending out FAQs to customers to help them with various stages of their journey.
Source: Automizy
In case a potential buyer phones up, IVR can help to manage the process. What is IVR? Interactive voice response or IVR is an automated business phone system feature. It interacts with callers and gathers information by giving them choices via a menu. It then performs actions based on the answers of the caller.

The choices of the caller decide the actions of the IVR, so it makes callers feel in control. It can provide information or route callers to a human agent who can better handle their needs.

A hosted PBX can also have important features for the real estate industry. It offers complete mobile integration, business SMS, and online meetings with screen sharing.

You might have heard of Broadvoice. It is a solid PBX provider, especially for small businesses on a budget. They're an affordable, no-frills cloud phone service. They tout flexibility and scalability, with a generally happy base of customers.

But there are Broadvoice alternatives that give more features or reliability. For example, advanced call routing, integrated video conferencing, and call recording options. Make sure you're making the most of all these useful options available to your business.

Project management software can also help to bring this all together. It can help with gaining overviews of all processes and managing workloads. It can also promote collaboration, which is the key to success in any industry.
An agent who uses big data to determine the best sales, incentives, marketing, and deals is ahead of the game. Nothing beats the expertise of the knowledgeable agent with numbers on their side. Don't get left behind – start using big data to upscale your real estate sales and marketing!