4
minute read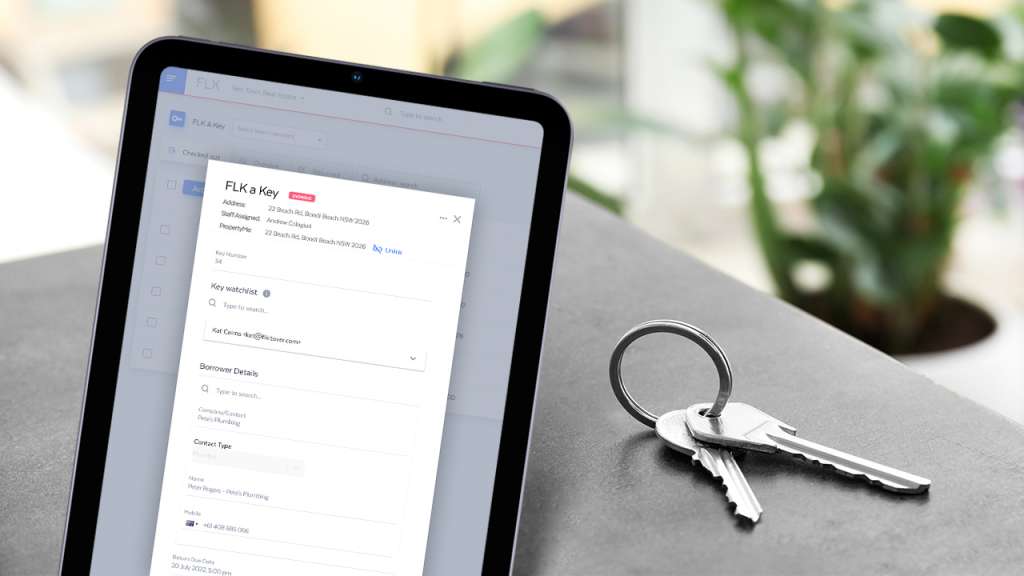 A week manning the reception desk to cover Covid staff shortages led FLK IT OVER CEO and Founder Andrew Colagiuri to create a new system for property keys, which he believes is a game changer for property managers.
"During Covid when lockdown was introduced for select Sydney suburbs eleven of my fourteen staff were affected, so I chose to man the reception desk and experienced first hand how outdated the check in and out system for property keys is," says Mr Colagiuri. 
"Like most businesses at the time, there was no option but to roll up the sleeves and do whatever was needed to keep the business going, this meant spending some time on reception," said Mr Colagiuri. 
"After some research we found most offices still using a checkout book, or excel spreadsheet so there was definitely an appetite for an updated system that not only tracks keys, but works seamlessly and delivers a great experience for their trades who often hold keys and return when they are back in the area,  not knowing the urgency ." 
Trades are busy, and on the road a lot so writing messages or answering their phone can be tough which leads to a lot of unnecessary back and forth, but with our smart sms conversations it's so quick and efficient for them to keep the agent informed and updated."
"FLK A KEY is an extension of the e-document signing tool FLK IT OVER, that enables keys to be logged and photographed in the platform and an overdue section enables managers to quickly see what keys need to be followed up." 
"When keys are overdue a text message is sent to any trades or tenants to notify them their keys need to be handed back, FLK A KEY has an automated conversation on the agent's behalf via sms. It then emails this conversation to the agent. It's all about using technology to deliver efficiencies ." 
"It enables those with the overdue keys the ability to respond with the touch of a button explaining the delay or date of intention for returning the keys."
"This puts an end to chasing the return of keys with endless phone calls and the technology makes it very simple to see who needs reminding to return the keys."
"Chasing 10 outstanding keys can take upto 30min of phone calls and back and forth, now they can let FLK A KEY do that for them and move on to dollar productive activities."
"When keys go missing, it costs time and money (and sometimes the client) so we want to make sure we remove all three issues for agencies." 
"If the agency has 300 rental properties and uses this technology rather than manually updating the traditional spreadsheets and endless phone calls they usually have 20-30 keys out at any time so the time save nature is massive, plus it's a great customer service experience." 
"If agencies want to increase profits they will need property managers to manage more properties and the only way they can do this is through improving efficiencies by using the latest technology." 
"Since its launch four years ago over 500 real estate agencies are actively using FLK IT OVER, including ASX listed McGrath Estate Agents, translating to 100 percent year on year growth with six figures a month in recurring revenue." 
"Over 4,500 active property managers are logging in every month to use the system with around 13,000 real estate documents a month."
"FLK A KEY is available now for property managers to use in conjunction with the FLK IT OVER software."