2
minute read
This article maybe a little boring, but I do believe it is important. Everyday I find myself writing articles, filling in forms, preparing documents, or researching real estate agent and portal websites.
One thing I do notice is that property listings on the Internet have many spelling mistakes. Firefox has many features that I think make life easier for front office staff. Not the least being the ability to edit multiple pages in one window through tabs, but my favourite is the spell checker (English Australia version of course).
[Firefox is a web browser just like Internet Explorer]
Here is an example of how it works: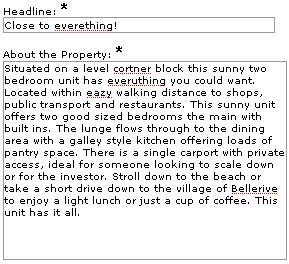 Basically it underlines everything it thinks is spelt in-correctly with a red line. It is not perfect but you can quickly build your database. All you need to do is right click over each red line and choose from the various word options.
Now this product (English Australian Dictionary) is what Firefox calls an add-on. You download Firefox and then you can choose from thousands of free add ons to suit your needs.
The add ons I have installed are:
Web developer (checks all sorts of code on sites)
Forecast Fox (gives me up to date weather for today and forward forecasts)
Firebug (tool box for developers)
Linky (allows me to open multiple links in tabs at once)
Password Exporter (great for travelling – and taking all links and user names and passwords)
Google Toolbar (search and tools from Google)
Bookmark Extensions (an extension to normal book marking- adding to favourites – saving to pc etc)
This is not to say that Internet Explorer 7 is not a fine product, it is I think Firefox is just so much better for what we do. IE7 also has add-ons but I do not find them as useful at this stage.