15
minute read
For years there was a rumour that Google was going to release their own mobile phone but when the full truth came out reality was a little different. Instead of a Google Phone they had actually developed a mobile phone operating system called Android. The HTC Magic which has just launched in Australia uses this Android operating system.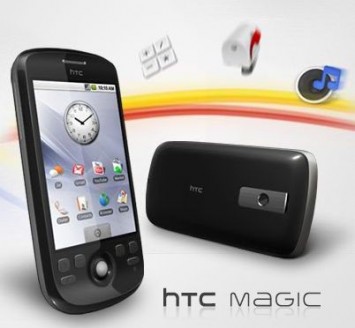 Mobile phones are similiar to personal computers and they have an operating system that provides the phones with their core functionality and that runs on specific hardware and you can install software to your phone. Again in a very similiar way to computers,  the mobile phone hardware manufacturers are often different from the makers of the operating system.
Apple is the standout exception to this rule as in both their computers and their mobile phone they manufacture both the hardware and the operating system.
It is only natural to compare the Magic to the Apple iPhone but that is not as easy as it first seems because there are three different hardware versions of the phone with only the last two officially offered offered in Australia. With the latest iPhone 3Gs only just released it now comes with a greatly updated operating system which fixes many of previous issues and introduces new features that bring it much closer to the HTC Magic.
Of course the iPhone community has been going for a lot longer and there are more than 10 times the available add on applications  and many websites have developed iPhone specific websites.
What is Android?

This review is as much about the Android Operating System as it is about the HTC Magic handset.
Android is a Linux based operating system for mobile phones and mobile devices. Reports are coming out with media players, GPS units, photo frames and even desk phones that use Android. Whilst Google originally developed the Android operating system it has handed over the continuing development of the OS to the Open Handset Alliance which is a collection of 50 companies that are now responsible for its development.
On top of Google the list of those involved with Android  includes mobile phone heavyweights HTC, Motorola, Samsung, LG and Sony Erricson and and major players from the computer and allied industries including Intel, Texas Instruments, Toshiba, Garmin, Asustek, Acer and Nvidia.
This pulls together a huge amount of the mobile phone market on one project and apart from Apple the obvious industry stand out missing from this list is Nokia. If Google can pull it off they can do for the mobile phone operating system what Microsoft did for the PC. the difference is that Google built android up to what we see today after buying the original company who developed it, and then handed it over to the industry for the greater good releasing most of the code as open source so the alliance could develop it further.
The next 12 months will see an explosion in the number of android based handsets as manufacturers release new models. I have read somewhere that there are 19 different versions due for release prior to the end of the year.
The HTC Magic Handset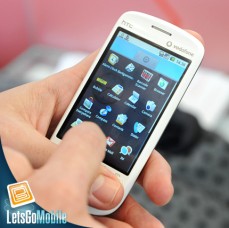 The HTC Magic is available through Vodaphone and Three. I am not going to get into the finer specifications of the phone but if you want them they are available on the HTC website. Opening up the package I was pleasently surprised with what I can only call a sleek black handset. I always felt the iPhone was just too big and heavy but the Magic seems a good comprise. It is only just smaller than the iPhone in size but it it fits my hand size perfectly.
The screen quality is simply amazing and it has the same resolution as the iPhone although in an ever so slightly smaller screen size. There is nothing worse than clicking away on a mobile phone and you have to wait till the phone catches up. The responsiveness of the Android operating system to commands is the best I have used and can probably only be matched by the very latest iPhone model which I have yet to have the pleasure of playing with.
Smartphones traditionally are a bit kludgy to operate and the first two iPhones suffered a little with this. . What I mean by that is if you click on a button there is that pause before something happens and sometimes it seems like an eternity. The Magic on the other hand feels and reacts quickly, very quickly.The latest iPhone version adds an "s" to the model to denote the extra "speed" in this new version to differentiate this new model from its slower predecessors.
Most of the commands are done on the touch screen but there are key buttons at the bottom for specific functions, namely Home, Menu, Back, Search, Answer and Hangup. The magic also provides a tiny trackball which gets occassional use acting as a small mouse on the screen when your fingers are just too big for the finder adjustments.
Because the operating system was designed by Google its integration with the Internet, Google programs and websites in particular, is amazing. When you start up the phone you have to enter your Google Account information or create one on the fly.
Whilst the camera on the phone is a fairly decent 3.2 megapixels, you wont be buying this or any mobile phone for its photography skills. Leave that to a dedicated camera, but for outdoor emergency shots at least, the HTC Magic is going to give you a reasonable photo.
Like all smartphones battery life is going to be a challenge. When you are running quite a powerful mobile computer with bluetooth, wireless and gps functioning it sucks power and the HTC magic is no different. Forget any talk time statistics that you read on the web, because that is with all the connectivity features turned off and if that's really what you want to do then why are you buying a smartphone. Expect to be charging the phone at least at the end of every day and putting it on charge at your desk or in the car if you need to throughout the day to keep it topped up.
The Good
The android market operates very similar to Apple's  and allows you to add any one of thousands of features to your phone in seconds. What is addictive is looking through all the available programs to make sure your not missing out on anything outstanding. At the moment there is under 4000 options but before long it will be approaching the huge numbers available to the iPhone users.
I got the Three version of the Magic primarily because of the higher onboard RAM. The onboard Microsoft Exchange sync that it also features can be added to the Vodaphone version through the market.
Internet functions are a dream and the inbuilt web browser handles everything I have thrown it so far. I can even do secure banking natively in the browser. We had our "boys day out" deep sea fishing yesterday and I authorised all bank transfers and the pays right from my phone as we moved from one fishing spot to another all while surrounded by water and with the Gold Coast in the distant.
Unlike the iPhone the Magic and Android combo handles multi-tasking beautiful. Listen to music while you browse the internet and then quickly check on a new email or sms that came in. Switching between programs is easy and natural. The iPhone on the other hand does one thing at time in a very linear and static mode. That always amazed me given Apple's pedigree with their computers.
The lack of a physical keyboard cuts down the weight and the onboard keyboard is remarkably easy to use. After a couple of days use I only very rarely make a mistake on the keyboard now.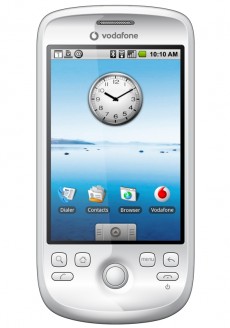 Because of Google's heritage Android is not as restrictive as the iphone from a programming perspective. This allows some very unique add on solutions. The Locale application allows you to predetermine a number of the phones settings based on several criteria such as your physical location, calendar item, battery life, time of day or contact calling. You can program any of these triggers to change a range of the phones settings including wifi, bluetooth, ringtone, screen brightness, ring volume and a few other things. I have a range "situations" in my locale settings but one of them is based one when the phone detects I have arrived at work it will change my ringtone to something more acceptable within an office, it changes my wallpaper, increases my ring volume level, bumps up the brightness of the screen and turns on wireless networking if it was turned off.
I have another situation that triggers at midnight and runs till 7 am where it turns the volume of the ringer right down and drops the brightness of the screen. The ringer volume of a phone during the day can wake the whole household if it goes off at 4am and a bright screen is very hard to focus on when you just open your eyes up. The situations you can build seem endless and this features whilst technically are within the iPhones abilities are locked out because of the restrictions enforced by Apple.
Google runs its own database of wifi access points around the world and when combined with mobile phone towers it allows your phone to have a low power way of knowing fairly accuratley where it is without even firing up the GPS. Android will detect those access points and transmit the location of them back to the database ensuring it is kept up to date. Locale uses Google's location database as well as another source which allows you to submit access points you regularly connect to or at least that your phone identifies.
The Bad
The battery, the battery, the battery. Smartphones are just mini handheld computers with a dialer built on to them so they do a lot of processing which eats battery life. All smartphones have the same problem and the HTC magic is certainly no exception. Having had a smartphone before I am use to it, but those who are use to charging only a couple of times a week on less powerful and basic phones are in for a surprise. The HTC Magic can be charged from the either the included wall charger or by plugging in to any usb port with a standard mini usb plug. The same plus that is used for digital cameras and lots of other peripherals.
Whilst Google Maps is fantastic as of today there is no actual commercial turn by turn navigation software available for Australia. The CoPilot version for the US and Europe has just been released and they have confirmed that the Australian maps are due out next month.
Whilst multi-touch capability is built into the hardware it is disabled in the operating system until the issues with Apple and their claim to an over riding patent is dealt with. Multi touch is not an Apple invention but try and tell them that! I have read different accounts as to when this feature is suppose to be officially unlocked but everyone seems to agree that it will be and sooner rather than later.  There are dubious ways to get this working, but for my mind waiting until it is official will be the way to go.
Because you are always connected to the internet and there is background data happening all the time make sure you have a good data plan on your phone.  Three provide all owners with a 50% discount on all data packages which means that a 1gb or 2gb data plan is quite reasonable and should be considered as a minimum.
HTC Magic and Android for the Real Estate Agent
The operating system is easy to use and understand and if you are in the market for a smartphone to assist with selling real estate then this has to be up for serious consideration. In fact I would go so far as to say that it is one of only a handful of contenders that are worth looking at right now and they include the iPhone, the latest Blackberry and possibly the Nokia N97 which has only just been released.
Browsing the mobile versions of  real estate websites like REA and Domain is a breeze and because of the screen size and brilliant built in browser it is still fantastic for non-mobile versions.
Google Maps integration is brilliant and Android even allows you to use the "My Maps" feature on your handset for future attention. You can even conduct voice searches for hands free searching.
Syncing emails, tasks and calendar items with your Microsoft exchange server works perfectly and you are presented with a full html version of your emails unlike Nokia's exchange syncing which provides a cut down text only version.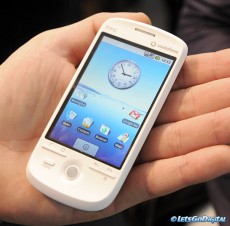 The HTC Magic and Android combo handles viewing pdf and Microsoft Excel and Word documents with the included copy of Quickoffice. The android market includes a huge array of additional software to customise your phone to your heart desires. Some of the other apps suitable for an agent include mortgage calculators, Twitter and Facebook integration, conversion tools, compass and Twilight which is a fantastic application to show the best time for twilight photography.
You can even get VNC clients to control computers in your office and a full RDP client is about to be released. There is a a number of instant messaging clients for all the major instant messaging services and there is even a Jabber client which will allow me to connect to our office's instant messaging service.
The Google Latitude service allows you to share your location with anybody you authorise.  This allows location sharing amongst the sales team and property management team.  Before you start thinking Big Brother there are very good ways you could use this application and every person involved has full control of whether they are sharing their location with everyone else or not.  They can turn it off or they can even manually send a location (let your team mates thinking your visiting the Trevi Fountain in Rome for the afternoon).  One of the most valuable ways this could be used though is for personal security. The dangers involved in the industry especially for female staff have been highlighted in recent years. Allowing the office to know the location of all staff, but particularly the females has a real security benefit.
The android market provides you with an endless amount of customisation. If you deal with overseas clients a lot, then you can have a live currency converter application on hand.  If you use permission based marketing like  Twitter and Facebook, then you have a range of applications to keep your fans and followers up to date. If you do your own property photography the Sunrise/Sunset application will make sure you know the best time of day for those amazing twilight shots. Access an application to convert hectares to acres, metres to feet, or etc etc.. the list seems endless.
Conclusion
The HTC Magic is truly an incredible phone that has seriously impressed me. Its not perfect by a long shot but nothing available is.  There are very few phones that can even come close to it on a feature for feature basis and since most of the people who want an iPhone already have one its biggest competitor, at least in the short term will probably be other Android phones soon to be released. Its a stylish phone, but it's not something you buy to be trendy, rather it is  something you buy because it is so functional.
8.5 out of 10
Resources
The Google Experience on Android
Android Application Reviews at www.androidtapp.com