3
minute read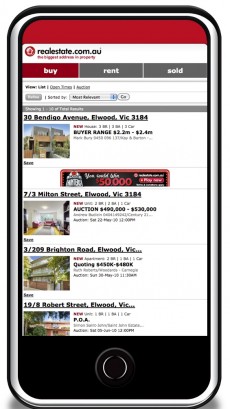 In their latest press release, Realestate.com.au have just announced some enhancements to their mobile site…
Henry Ruiz, General Manager Consumer Marketing for realestate.com.au indicated the new mobile website features will allow obsessed property hunters to access important property information, at the touch of a button.
"Given the heightened activity in the property market realestate.com.au's enhanced mobile site means property seekers can now access open for inspection and auction times in chronological order while on the go, so they can maximise the time spent on the property hunt," he said.
"The site even allows house hunters to save notes on properties to their mobile and then access that information via their myrealestate account from their computer later on," said Henry.
Since launching the mobile website in early 2009, realestate.com.au has experienced significant growth in traffic, up by 213 per cent(2) during a 12 month period.
"We have had a phenomenal response since launching to market last year with a high proportion (73.6 per cent) (3) of our users accessing the mobile website site via an iPhone handset," said Henry.
"Our data indicates consumers using our mobile site prefer to call an agent directly from their mobile rather than sending an email. In fact 71.3 per cent(4) clicked to call an agent directly, reinforcing the high level of engagement and immediacy in response wanted by property hunters," he said.
Other benefits of the mobile site include the new find an agent feature and ability to share property information via popular social networking channels such as Facebook, MySpace, Delicious and Twitter.
It will be interesting to see how popular the enhanced REA mobile website will be with users.
Mobile visitor traffic is only going to keep increasing as more and more people become used to using their phone for browsing the web.
This upgrade also coincides with Commonwealth Bank's announcement to provide a mobile solution via CBA Combine Realestate.com.au Data into iPhone Augmented Reality Solution as reported here on Business2 last week by Glenn Batten.
The statistics for the Press Release were based upon:-
(1)     20 per cent of people indicated the ability to view properties via a mobile can help manage the mania of inspecting properties without getting stressed. Source: Independent online survey conducted by Longergan Research of 1,028 respondents for realestate.com.au, March 2010
(2)     213 per cent growth in unique visitors during a 12 month period from April 2009 to March 2010 Source: Omniture Site Catalyst
(3)     73.6 per cent of unique visitors to the realestate.com.au mobile site came from iPhone handsets. Source: Omniture Site Catalyst
(4)     This is based on total leads sent to agents by mobile users. 71.3 per cent of unique visitors clicked to call an agent directly via the realestate.com.au mobile website, rather than those who emailed (28.7 per cent) an agent during the month of March. Source: Omniture Site Catalyst