2
minute read
Rent.com.au is consolidating its position as Australia's #1 rental property website, indicating in a December press release they have achieved 300% growth in the number of agency listings on their website since February 2011. They also indicate their portal has over 40,000 residential and holiday rentals now being listed by agencies across the country.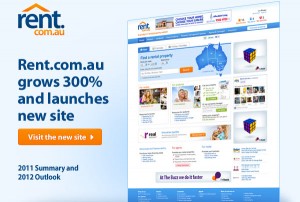 In the press release Mark Woschnak (CEO Rent.com.au) goes on to say some of their growth can be attributed to principals paying more attention to their rent rolls in these trying times, but other key factors include:
The unique traffic audience rent.com.au gets whereby over 40% have not been to REA and over 50% have not been to Domain. This provides an effective and genuine additional and growing target market to what most agencies get via REA alone.
The rent.com.au listing package offers excellent value for all agents, providing genuine rental enquiry and strong branding.
The specific range of services on rent.com.au that is purposely designed for property managers, including the unique property management lead generation services.
The high organic and natural online benefits of the domain name and branding that exists amongst the younger 18-39 year old renter community. Most importantly the brand that rent.com.au has developed as a rental solution stands proudly and clearly apart from all home purchaser focused sites.
The extensive national coverage of listings which continues to grow.
In mid December, Rent.com.au underwent a long overdue makeover. The site has a very fresh and almost fun feel, appearing as though they borrowed ideas from US based portals and social networking sites. Mark Woschnak on the recent upgrade:
Our recent site upgrade in early December, provides a much smarter and faster search engine, more flexible and detailed search options, improved tools for renters to keep track of their properties of interest, enhanced social media communication options and the largest photo display of any major portal, all of which provide an excellent user experience.
Rent.com.au has been around for a long time and its great to see them start receiving some reward for their hard work and persistence. We look forward to their continued success!