2
minute read
Niche property portal Watersidepropertysales.com.au yesterday announced it had expanded into holiday accommodation. Managing Director, Vic Del Vecchio: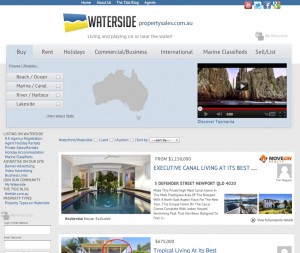 Keeping true to our NICHE vision www.watersidepropertysales.com.au has expanded its site to include holiday accommodation and tourism activities ON or NEAR the water. We have long believed that holiday accommodation owners and Tourist operators, particularly the small owner/operator, do not have a low cost alternative to the major sites that enables them to be connected directly to the person wanting their service. This is what differentiates us from the majors: cost and personalized service.

The company has acquired www.watersideholidays.com.au and is now displaying content provided by the Australian Tourism Data Warehouse (ATDW) under license. Some 20,000 accommodation listings around a waterside location and tourist related activities together with area information and special events are currently being displayed on the site. www.watersideholidays.com.au will benefit immediately from the traffic to their sister site www.watersidepropertysales.com.au
He added,
In addition to holidays, the site is looking to provide classified marine ad section for the sale and purchase of consumer goods for use on or around the waterways of Australia, such as boats, jet skis, surfboard, fishing gear et.
This sounds like a natural fit for Watersidepropertysales as holiday and marine activities compliment the waterside property sales business. With Australian's love for waterways, this will continue to be a growing industry which we're already seeing spill over into the real estate industry through the likes of Ray White Marine.
About Waterside Property Sales and Waterside Holidays
Australia's Real Estate and Holiday site for listing waterfront homes, beach-front houses, water-view properties and all types of coastal real estate and holidays, land, businesses and homes for sale, rent or lease.