9
minute read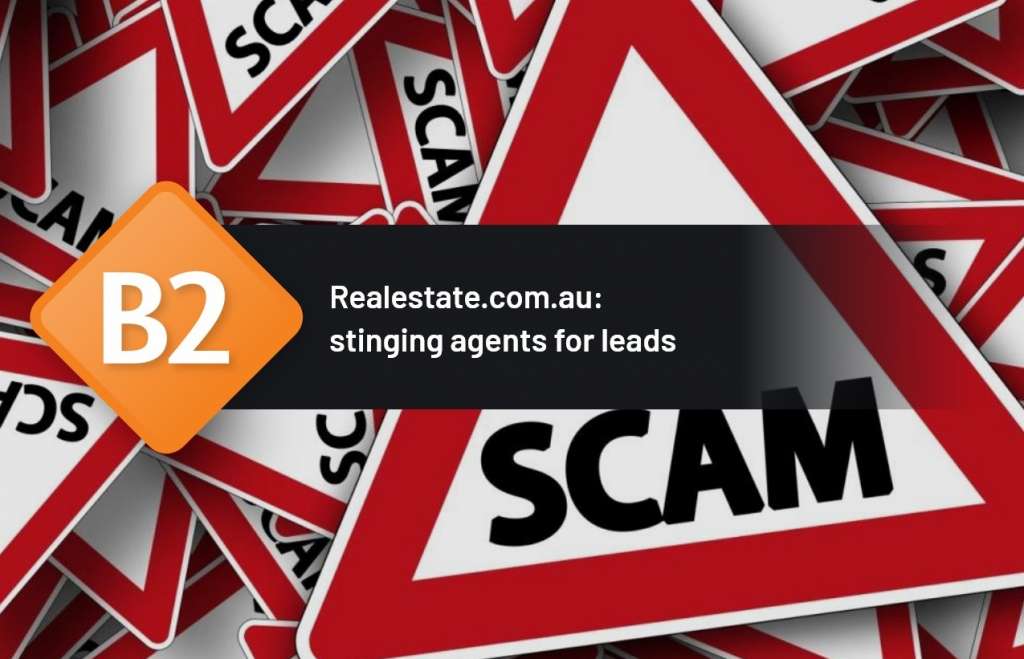 As one of the two giant real estate portals in Australia, REA is currently sitting in the driver's seat, happily lining their pockets with money from consumers while also finding multiple ways in which to make agents pay for leads – despite the fact that generating leads is the primary function of the site from the perspective of agents.
REA have seemingly adopted a Zillow-like model of shaking down those in the industry – and the repercussions for not blindly handing over more cash are potentially severe in an agent's own territory.
THE ZILLOW MODEL
Whether it's Premier Agent, PA Forward or Premier Broker, American-based real estate company Zillow has no qualms about creating "products" that are essentially designed to ask agents to pay for the same leads repeatedly.
The very premise of the portal – any real estate portal in fact – is to offer consumers a critical mass of listings that agents supply. Signing up to list properties usually costs agents a registration fee, which many will swallow based on the notion that they will get some leads out of the exercise.
But then Zillow engineered different tiers of agents, based on which packages they were prepared to pay extra for. This automatically put those who either couldn't afford or refused to pay multiple times for leads at a disadvantage.
Under the old Zillow model, what happened if you didn't pay to be a Premier Agent?
All potential leads were given to agents operating in the same geographic area who were prepared to pay the extra amount, instantly positioning those who weren't as lower quality operators in the minds of consumers.
They took consumer leads, qualified them via a phone call, and then connected them with Premier Agents in the area of interest. If there were no Premier Agents, they sold the lead to any agent who would come up with the cash.
Zillow claimed the additional services were aimed at agents who are more proactive in their area, citing that 49% of consumers who register interest for a valuation via email never hear back from an agent and that paying for quality leads would correct this trend. However, the qualified lead model was dropped based on feedback from agents and unprecedented levels of agent churn. Now Zillow refers unqualified leads to agents while is also testing a 35% commission share option in some markets (more info further down the page).
So US agents voted with their feet and won.
But the fundamental problem with the Zillow model, and of chief concern for Australian agents, their programs and those of REA aren't just about giving the lead to an agent who is willing to pay extra – it's about giving the lead to EVERY agent who is willing to pay extra, which is obviously just creating yet another battlefield for agents to squabble over. All while the consumer is blissfully unaware of the turmoil going on behind the scenes.
HOW REA IS HURTING AUSTRALIAN AGENTS
In a move that is specifically designed to eat into agent commissions and force them to pay multiple times for leads or be cast in the role of 'shonky operator', REA has employed the Zillow model of surreptitiously creating tiers of agents based on the willingness to pay for leads. If you want to avoid being on that bottom tier of agents not to be trusted in a given geographical area, you better cough up.
REA has created 'value add' programs labelled as "Agent Elevate" (aimed at boosting an agent's profile by giving them greater coverage and enhanced presence) and "Agent Match" (designed to connect people interested in selling or buying with agents in specific geographic locations). Neither of these initiatives are based on adding value or on merit – they are based on how much extra an agent is willing to pay to be portrayed in a positive light on REA's enormous portal.
They also have "Premiere All", a service in which they place agents and their listings at the top of search results and in effect position them as what could be seen as a type of 'gold service provider'. But the jabs for extra cash don't end there.
THE APPRAISAL SWINDLE
Agents have worn the growing costs and the convoluted schemes dreamed up by REA, but their latest appraisal scam has gone a step too far, with many agents voicing their concerns and challenging the enormous real estate portal to play fair or face a large scale revolt.
When an interested party decides that they want an appraisal of a property, they simply tick a box forming part of an agent's profile – a box which agent's have no say in, it just appears as part of their profile on the website. Positioned as a "free appraisal" for consumers, agents are forced to pay up to $199 for the lead – that's in addition to registration and listing fees.
But here's the kicker…
If an agent doesn't pay the fee, they are not given the lead. The real problem here is that agent's who do not pay this extra amount are, in fact, never provided with the contact details for these consumers, so in turn these agents look like they are ignoring the appraisal request and are not interested in the consumer's business.
As agent Troy Holmes from Belle Property Narellan points out:
"Despite revenue growth of 64.41%, REA are now charging agents up to $199 for appraisal leads – not listings, but appraisal LEADS, which have no guarantee of listing their properties or even proceeding to actually booking an appraisal. You pay to receive their name, number, email and address"
As another kick in the guts to agents, every operator who does opt to pay the $199 is given the lead. Thus, theoretically, every agent in a given area could all pay $199, be given the same lead, and still have to fight for consumer mindshare.
Adding insult to injury, its reported that REA actively tells consumers "requesting multiple appraisals can give you a clearer picture of your potential sale price".
So, if you as an agent pay for the lead, it is not handed to you in good faith. You must be ready to fight for it. If you don't pay for the lead, you must be prepared to be overlooked.
This highlights two fundamental questions that every agent must ask of REA's model:
What is the benefit to the agent of the pay-per-appraisal system?
Do I have to be an ATM that REA constantly withdraws from in order to get the basic services I signed up for?
FIGHTING BACK
As Mr Holmes elaborates:
"REA are now charging for leads if you are not a member of Premiere All (until 1 July 2020 at this stage). With this new pay-per-lead model, if someone does select me and I don't accept/pay for the lead, then the potential seller is going to think that I'm ignoring them or don't want their business. This is patently untrue, and is essentially blackmailing us into either joining 'Premiere All' or paying for each and every lead."
Leading the charge in standing up to REA's cash-grab tactics, Mr Holmes explains that despite paying registration fees and remaining loyal with his listings for years, that loyalty is not being returned. Giving an insight into the customer experience of agents, he states:
"REA have given us as agents a button telling the consumer that we will accept a request an appraisal through REA and provide a free market appraisal, this has been set up as a mandatory function without our permission. They will charge everyone who is not a member of Premiere All who accepts the lead – regardless of if you get the business or not. And if you decline to pay for the lead the client will receive a call from the REA customer call centre informing the prospect that you have chosen not to accept their request, without disclosure of a payment being involved."
This creates obvious issues, and, as Mr Holmes points out:
"Market appraisals are an attraction business, and if people want an appraisal I much prefer if they come to me directly. REA are not allowing me to remove this button or remove myself from offering this service via their site, and it's only going to cause further problems between agents and consumers".
Highlighting yet another flaw in the system, Holmes identifies that:
"If someone requests appraisals from five agents in an area and none of those agents are on REA's Premiere All package, REA will hit all five up for $199 each for access to the one prospect. That's nearly $1,000 REA is making off the one lead".
COULD REA BE AFTER A SHARE OF AGENT COMMISSION NEXT?
In late 2018 Zillow trialled charging agents a percentage of sales commission on seller referral leads to agents. They received good feedback from agents and in 2019 to scale their Premier Agent program, they changed their business model to a generous commission split, collecting 35 percent of the sales commission on every successful referral from its massive consumer distribution. With Zillow's success here, the question begs, will REA start exploringing this option and attempt to dig into the pockets of real estate agent's commissions? We've long suspected this is the next step for REA and sources have confirmed this is definitely on the radar of REA with internal REA emails suggesting this step is seriously being considered.
THE FINAL WORD
The longer the industry allows itself to be backed into these corners, the more financial haemorrhaging we will see from agents who are merely trying to gain a competitive foothold in their local market. Learning from the failed Zillow experiment, the portals will listen to the agents, but the agents must band together and, in the event of resistance on REA's part, need to be prepared to pull their listings and go with another portal if REA are to understand the consequences of inventing new ways to charge for repackaging of the same services.