5
minute read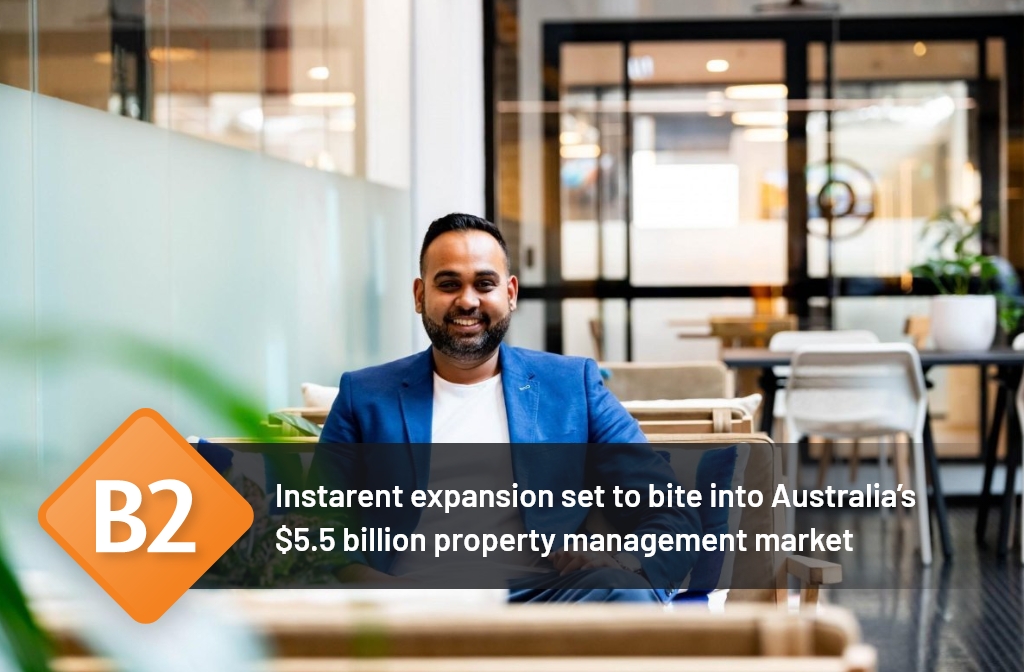 Hailed as the first fully integrated online solution for property owners to manage their own investment properties, Instarent, is gaining serious ground in the Australian market. Launched only twelve months ago, the Instarent platform already hosts over 500 properties and is adding 100 new properties every month.
The Australian property management market is currently worth $5.5 billion dollars and Instarent founder, AJ Chand, would like to capture up to twenty percent of it. To assist with this ambitious expansion plan, Instarent is embarking on an equity crowdfunding raise with Birchal, the brand behind Shebah's recent three million fundraise, to fund its marketing efforts and build its team.
"Since launching, our app has grown rapidly with property owners moving across from real estate agent property managers to our Instarent platform with ease," AJ Chand said today.
"Instarent not only provides property owners with a simple and easy to use tech platform that digitises and secures all of their property data and property management processes, it saves them money because they no longer have to pay the exorbitant property management fees."
An end-to-end solution for property management, Instarent manages and facilitates the entire property management ecosystem by automating the process for tenants, agents, landlords and tradespeople.
"The Instarent platform solves the major issues in the property management marketplace by putting the power back into the hands of the landlord to manage their own rental property," Chand added.
"Instarent can advertise properties, manage digital documents, accounts, inspections, repairs and notices and facilitate communication between tenants and landlords, order and track repairs and maintain data for dispute resolution processes.
"All of these key stakeholders have encountered a multitude of inefficiencies and lack of transparency in the current real estate agent property management model. This has led to lack of trust, friction and high expenses, ultimately impacting the asset performance of rental properties. Instarent solves these issues."
The rental market has exploded on the back of the rising property prices, putting home ownership out of the reach of many Australians. Managing these properties has traditionally been an expensive proposition for landlords, many of whom fork out as much as $8,000 a year for a property manager to handle their investment property. This puts a significant dent in rental yield for property investors.
"The other issue for property owners is that in some parts of the country, the market has cooled and so have rents," Chand added.
"This means that property owners are receiving less rental income while property managers are still managing to take high fees. For many property owners, taking on the property management themselves is essential in order to generate a reasonable return from their property. Instarent enables property owners to self-manage with ease and pocket the funds they were paying to the property manager."
Chand worked in property management for years, admitting he was buried in piles of documents. He also worked in tech for Telstra, Optus and Vodafone in his career.
When he bought his own investment property and was seriously let down by his property manager, Chand took over management of his property, keeping a track of payments in a simple spreadsheet. This inspired him to build the tech that allowed others to also manage their own property.
"The reality is that most property managers are overloaded with too many properties to manage, meaning the landlord doesn't always receive the level of service they've paid for. Meanwhile, tenants are being forced to spend their weekend trekking between properties and applying to rent it in a process that is both demoralising and time-consuming," Chand added.
The Instarent team set out to digitise all functions of property management to enhance the user experience in real time and access all property data related to accounts, inspections, repairs and notices, he explains.
It launched with a freemium model, charging for add-on services such as background checks on tenants, photography packages for properties and end of year financial support.
"Instarent's app based technology digitises all functions of property management to facilitate real time access to all property data related to accounts, inspections, repairs and notices. All users are connected via chat to improve transparency and enable quicker response times. Our support also ensures property owners receive the help they need to manage their own properties."
The platform includes live notifications to keep both tenants and landlords informed in real-time, while there is also integration with multiple strategic partners including Realestate and Domain so landlords can promote their property when it's vacant.
"Intelligent algorithms do most of the work for you, and we have property management experts available 24/7, 365 days a year. Our business model has been developed so that we can rapidly expand to ensure we have the critical mass available to satisfy our fast-growing marketplace," Chand said.
"Timing is everything, and Instarent has launched at the optimal time to capture not just the changed markets of today's property management ecosystem, but future markets as the progression of technological know-how propels our technology into the hands of landlords and tenants wanting to cut out the middle person once and for all."