4
minute read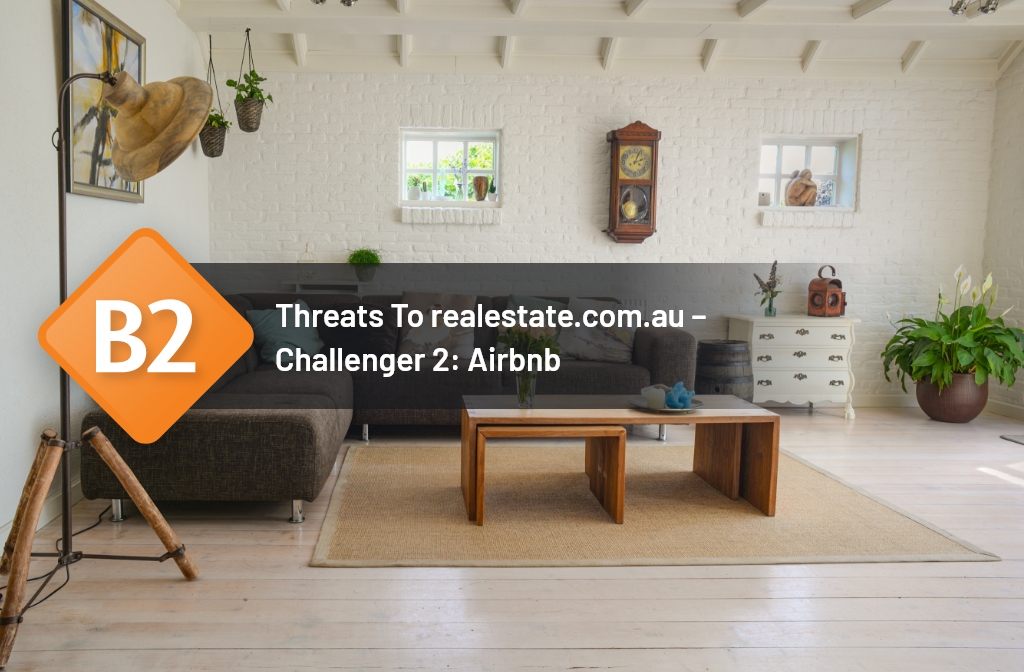 The next challenger in our series of articles on businesses that pose a threat to REA's market dominance is Airbnb.
With the emergence of the sharing economy movement, Airbnb has risen to amazing heights as the dominant short-term rental (STR) provider worldwide. They have made such an impact that they are now poised to attempt an even deeper foray into real estate by making moves to enter and take a healthy share of the long-term rental (LTR) sector (despite some countries having legislation in place that prevents them from servicing this segment of the market).
Here's how they could potentially disrupt REA and in turn loosen their stranglehold on the Australian real estate industry.
OWNERS TRANSITIONING FROM LTR TO STR
When an owner decides to rent their property out as an Airbnb instead of a traditional lease offering it is essentially taking an LTR option away from the REA portal. As such, Airbnb provides a legitimate alternative as a resource for renters and agents.
The more people use Airbnb to find LTR's, the more agents will view it as a worthwhile investment in cornering the market of people looking for a lease. With the scale of Airbnb properties increasing daily, this could well destabilise the rental segment of REA's business.
SHARE OF RENTAL MARKET
All over the world, Airbnb has grown from strength to strength, and this is reflected in the number of properties they have on offer through their portal. Highlighting this, Airbnb report that they have in excess of 150,000 properties available all over Australia.
But it isn't the volume of properties that poses a threat to REA. It's their overall share of rental housing stock.
Research from UNSW and Swinburne University of Technology shows that, in Sydney and Melbourne, commercial Airbnb properties account for up to 15% of all properties for rent. That's around 1 in every 7 rental properties available.
With their foot already in so many doors, Airbnb are well positioned to move in on the LTR market. Through some savvy strategy, they have also engineered the required capacity to make strong inroads, and in the process steal some significant mindshare from REA.
GROWTH BEYOND AN STR PLATFORM
Well established as the primary player in the STR booking platform space, Airbnb have started to grow their service offerings via JV's in various global centres. They have formed some strong partnerships that will set them up nicely to test the waters in different corners of the real estate market.
These initiatives include:
Backyard – A new brand under the Airbnb umbrella that develops prototype house designs.
JV with Niido – Partnering to construct Airbnb branded buildings that will serve as STR hubs (a move which is disrupting the hotel industry as well as real estate)
Partnership with Century21 in Paris – This enables them to bypass regulations so that they are able to sublet rentals, giving them another platform they can use to promote their properties and assists with professional property management.
If these enterprises prove fruitful, expect them to continue to partner with big names to extend their influence in the real estate industry and to enter more international markets, including Australia.
FUNDAMENTAL INGREDIENTS FOR ENTRY TO LTR MARKET
Probably of greatest concern to REA is the fact that Airbnb has amassed vital elements required to make an impact in the LTR market, such as:
Strong volume of rental inventory.
Infrastructure capacity including rental portal / booking platform, payment gateways, etc.
Property management services to ensure quality of dwellings offered.
A thoroughly engaged audience specifically looking for rental properties.
In some localities, they have agents actively promoting Airbnb properties as part of their own listings.
Essentially, Airbnb have put themselves in a position from which they can expand their offerings from STR to LTR, giving consumers looking for rental properties another large scale portal where they can find listings with terms that are a good fit for their lifestyle.
FINAL WORD
As restrictions ease and Airbnb has more freedom to enter LTR markets worldwide, it is a safe bet that they will be throwing their hat in the ring and fighting for their spot on the ladder of Australian real estate.
By providing an alternative for those seeking a rental property and, in some instances, winning listings away from REA, Airbnb are well and truly on the radar as a threat and potential challenger to REA's dominance.