7
minute read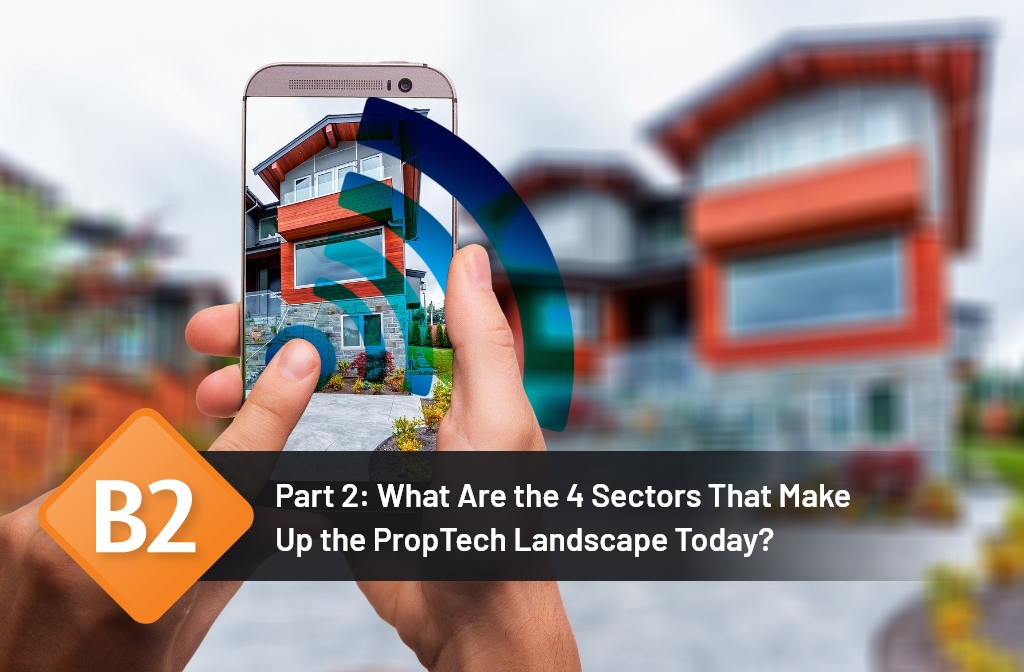 In our previous article on the four sectors that make up today's PropTech landscape, we considered the Urban Planning and Design and Construction industries and how they are forming the bedrock of the Non-Core PropTech category (also known as RealTech or Construction Tech).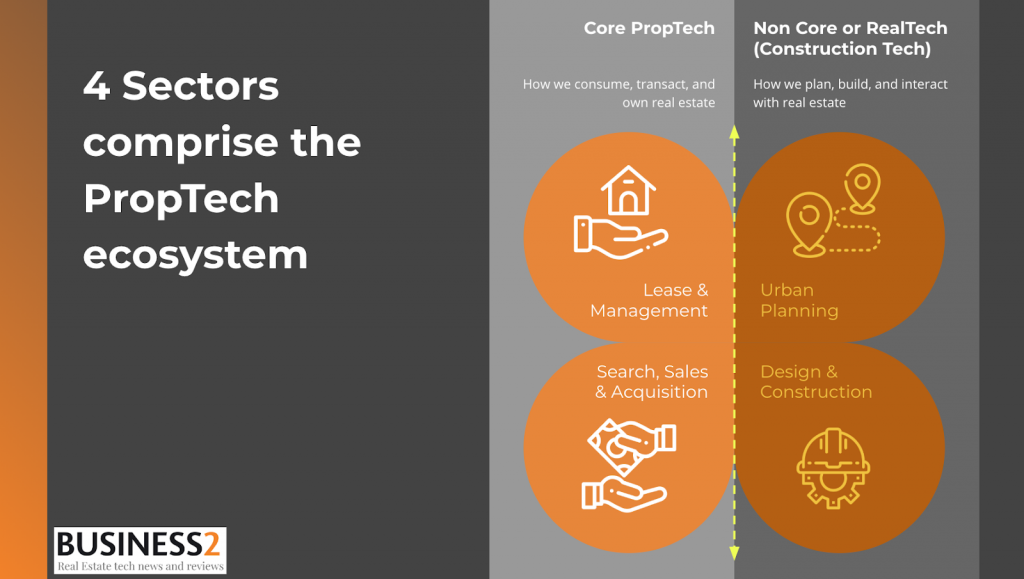 This article examines the other two key sectors currently leveraging PropTech to make life easier for agents and to increase consumer accessibility to the real estate market: Leasing and Management practices and the Search, Sales and Acquisition cycle.
These sectors are less focused on the construction process and more on the consumer experience, hence they come under the category of Core PropTech.
In our 2019 Australian PropTech Ecosystem Map where Business2 compiled a list of key PropTech companies that list focussed on this area of Core PropTech.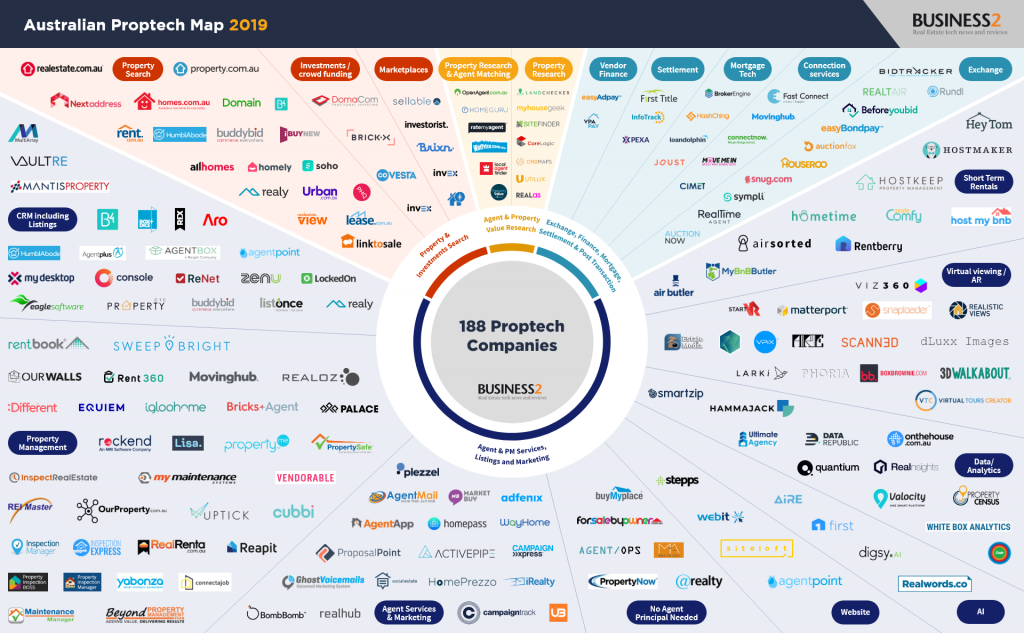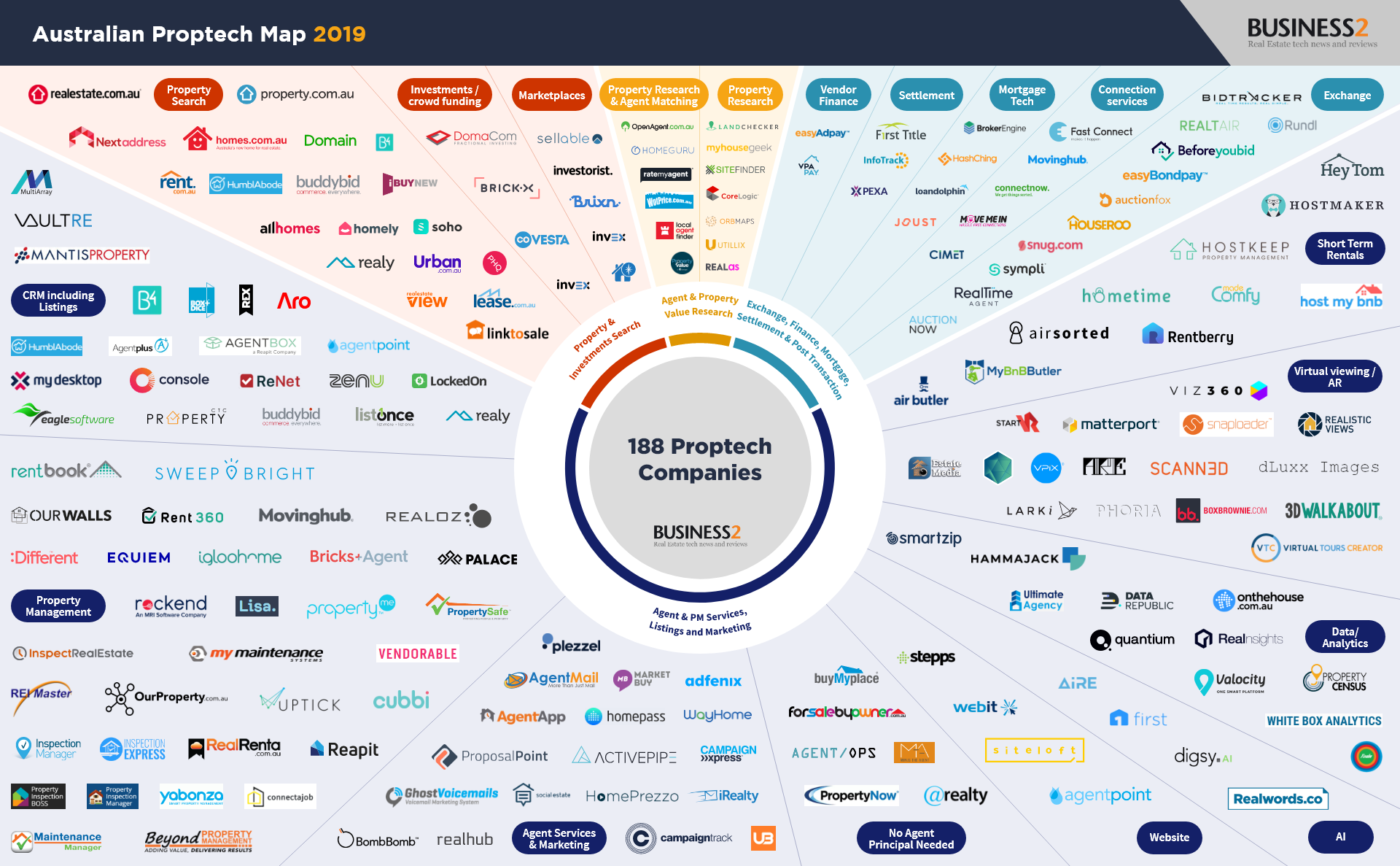 CORE PROPTECH
SECTOR 3: LEASING AND MANAGEMENT
With the rate of owner occupiers dropping and the number of renters ever-increasing, leasing and management services are of vital importance for the future of city living. Adding to this, it is predicted that 66% of the world's population will be city-dwellers by 2050 (source: Swinburne University), meaning it is of paramount importance for agents to be ready for the demands that will come with so many people living in rentals.
KEY TECHNOLOGY:
As discussed in a previous article, Artificial Intelligence has had a huge impact on the real estate industry over the last couple of years, and it is well and truly making its mark in the rental sector. AI is particularly useful in collating and using data captured in huge volumes, helping to inform sales and marketing initiatives.
It will clean databases and identify any holes in datasets, actively searching for the correct info to plug it. By integrating with a CRM, AI automates the sorting of data and coordinates communication with property owners and seekers, feeding renters properties available for lease based on their identified info, like price range, number of bedrooms, suburbs of interest, etc. This boosts agent lead conversion rates and increases efficiencies via automation, freeing agents up to focus on fostering relationships.
Big data is the term used to refer to the massive amounts of data – both structured and unstructured – that floods businesses daily. When properly collated and analysed with the assistance of AI, it improves the accuracy of predictions and breakdown of market insights.
Big Data is helping agents identify trends and forecast when they may reoccur or what has contributed to them. This increases the effectiveness of real estate professionals, helping them to anticipate client needs and what will appeal to prospects. All of this makes it easier to manage properties and drastically improve the leasing experience by eradicating traditional pain points for renters like wait times for repairs.
Blockchain is the technology that cryptocurrencies are built on and as discussed in our previous article on its application into the real estate sector, it essentially acts as a super-secure database that captures and processes transaction info, creating a shared, distributed and unalterable ledger for recording any type of transaction without the need for central authority from governing bodies like banks.
To date, Blockchain has been used to great success in creating Smart Contracts, designed to circumvent the lengthy list of links in the chain that must review any real estate transaction, including leasing. They digitally facilitate, verify and enforce contractual agreements without interference from any external body. It is also being used to increase the speed with which transactions are processed and lowers costs by removing the fees imposed by middlemen in the traditional rental process.
When it comes to leasing and property management, the IoT is currently primarily deployed in order to optimise maintenance and repair processes. Based on data that is accumulated within the IoT, property managers and agents can enable predictive repairs which can identify and resolve issues before system failures occur.
IoT can also be used by agents to acquire valuable insights that can be used to improve lead conversion. The data collected can be utilised for an in-depth, predictive analysis of the factors impacting property values so there is greater accuracy in valuations and asking prices for rent, helping consumers to make informed decisions in an accelerated manner.
SECTOR 4: SEARCH, SALES AND ACQUISITION
From a consumer perspective, the PropTech revolution of the search, sale and acquisition process is the most readily identifiable positioning of tech in the industry. On average, when people purchase property it is an 11-year cycle: they are enthusiastically looking for opportunities and trying to sell for one year (the active buying phase), then retaining the property for ten years (the passive buying phase) (source: CoreLogic).
PropTech has created a market teeming with those in the passive phase, effectively keeping them connected to the real estate industry, and has also made the purchasing of property much more time and cost efficient.
KEY TECHNOLOGY:
Permeating all areas of life, the power of social media is also being harnessed to make life easier for real estate professionals whilst also boosting their performance.
Facebook, for example, has built a marketplace in which rental properties are being listed with success. The huge advantage here is that people only use real estate portals when they are in the active phase of buying – but the overwhelming majority of people representing the target audience for any given real estate business age and income-wise use social media daily.
Facebook also has their targeted ads system, which essentially allows you to customise marketing initiatives directly to core demographics and users who have shown specific interest in buying property within the geographic area.
LinkedIn is a great tool for agents to boost their profile so that they are viewed by their network as the go-to real estate professional within their given area. Instagram is another visually dynamic social media platform that can be of benefit for real estate agents. Both are still developing as viable channels and are definitely spaces to watch over the coming 12 months.
MERGING OF FINTECH AND PROPTECH
Real estate is a natural choice for the vertical integration of technology used in finance because at the heart of both ecosystems are transactions. In fact, FinTech can be used to perform a variety of services relevant to property markets including leasing agreements, rental payments, acquisition processes, mortgages, management of underwriting and other contractual requirements, and creation of detailed financial models for property financing.
One of the primary areas in which FinTech is having a sizable impact in real estate is the availability of granular level data, which has increased in line with the digitisation of records. Critical data points can more easily be accessed, including title documents, history of property ownership, ownership costs, mortgage and insurance info, and the list goes on. This wealth of data has helped with the evolution of AI in real estate.
In addition, the wide expansion of platform offerings in real estate are increasingly looking to handle the end-to-end transaction. This enables an improved customer experience with an unprecedented level of efficiency and transparency with FinTech being embedded within platforms, solidifying, centralising and securing sensitive transactional data.
FINAL WORD
The four primary sectors that currently comprise PropTech – Urban planning, design and construction, leasing and management and the merging of FinTech into real estate technology – are helping with the rapid evolution and adoption of new solutions that are all precipitating the improvement of the real estate experience from vendor to renter.
If you haven't explored how the world of PropTech can amalgamate with your business to drastically increase business outcomes and user experience, the time to act is well and truly here.