5
minute read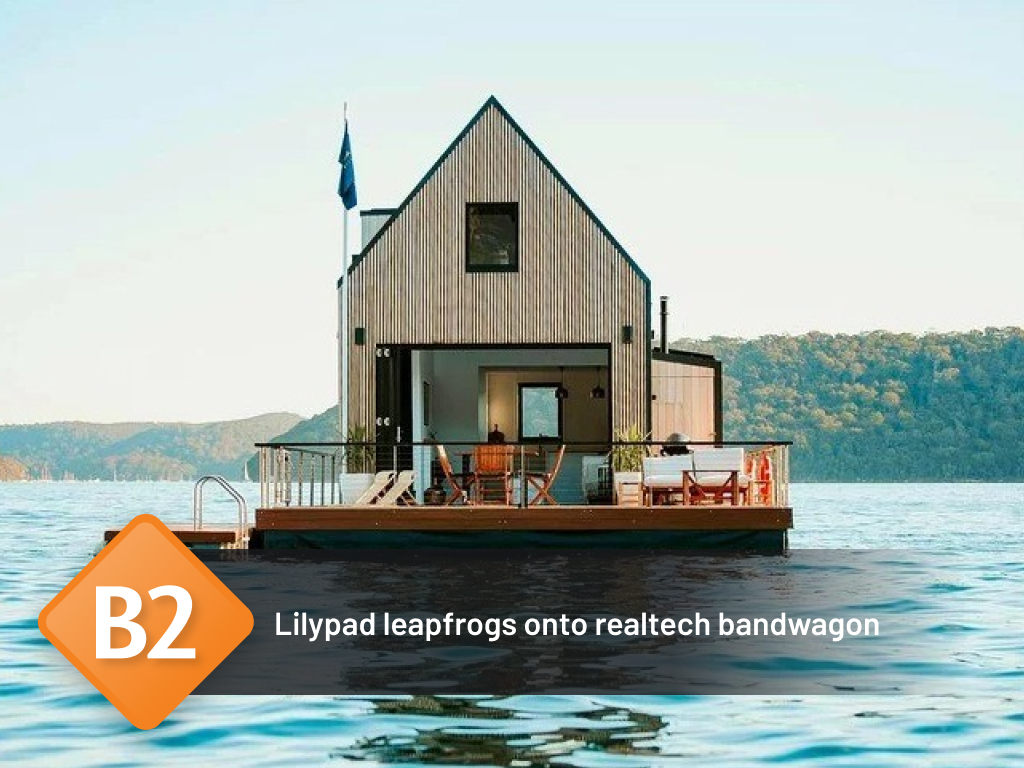 Realtech has changed the way we view our built landscape in recent times, from new smart design concepts through to the way we manage rental properties. But it's also enabled the growth of a new type of real estate.
What is Realtech?
You can study up on realtech in detail by reading this article What Exactly is Realtech?. In essence, realtech is a new wave of tech innovation that impacts the way we live, work and play. It refers to any new technologies that positively impact the real estate sector and our broader built environment.
Julian Kezelman, Program Manager for the Realtechx Growth Program, says that "rather than creating new digital spaces, realtech improves the physical world that we live in today by embedding technology into how a place is imagined, created and operated".
The Lilypad model
The creator of Lilypad and director of Little Mill design studio, Chuck Anderson, has well and truly nailed the brief when it comes to incorporating realtech into his structure. The designer himself says that Lilypad is "somewhat of a world first".
He says that although "Europe has similar projects that have been sources of inspiration, Lilypad is certainly one-of-a-kind".
Having been fortunate enough to complete a metal fabrication apprenticeship under a true master craftsman, Anderson worked on luxury homes and classic boats from the age of 19.
He notes that working in a traditional workshop that was modestly resourced meant that he had to employ creative and unique processes in order to produce high quality results. This skill set, later combined with a marine engineering degree, has provided the necessary platform for blending craftsmanship with convenience. The end result is stunning.
Located on one of the most spectacular mooring locations in Australia, Lilypad is a high-end floating villa that offers picturesque views and stunning accommodation. It's entirely run by solar power yet doesn't compromise on luxury or function.
It took Anderson years of research in order to gain an understanding of Australia's complex marine laws. He then had to reverse engineer a design that didn't just meet the benchmarks of operating a commercial vessel within Australia, but exceeded them on all levels, including safety, design and structural requirements.
Anderson recognised that no matter how grand a traditional boat may be, it's always constrained by certain design features that ensure the integrity of the hydrodynamics are maintained. He says that although bathrooms and bedrooms are cleverly designed to fit the available space, it's still like being on a boat.
"I wanted to break the mould and have people experience all the amazing things that come with being on the water, but not skimp on the fit-out and finishes of the interior."
This has been achieved by building a shape that is more 'villa' than 'boat'. It's less efficient for travelling through water, but then you don't need to. Essentially, you skip the hard parts of boating and get straight to relaxing at your destination.
The journey to creating what is really a floating 5-star hotel room has been long and expensive, but far from wasted. Anderson says that he's "managed to create a beautiful space that aesthetically exceeded my expectations, whilst also exceeding the requirements of the harsh marine environment".
By incorporating innovative engineering, traditional aesthetics and modern technologies, Lilypad offers a somewhat surreal experience. Being on the water surrounded by breathtaking views with huge bi-fold doors, exposed hardwood rafters and an array of modern luxuries is described as "quite breathtaking…somewhat of an island feel".
Premium access to shared assets
Realtech will continue to become firmly embedded into our everyday lives. As such, it offers huge benefits to consumer experience whilst simultaneously making use of previously under-utilised assets.
Shared asset models are where technology giants are now aiming their innovation capabilities by building premium co-living facilities that offer residents private spaces in addition to access to luxury shared amenities.
Although Lilypad is not specifically a 'co-living' facility, it does operate on a membership basis. Private access is only given to these members, with very limited public access at other times. Members can entertain anyone from friends to clients during the day by utilising a host of luxury inclusions such as a private tender service, on-board masseuse or even a gourmet chef.
As Julian Kezelman adds: "Being able to flexibly rent just the right amount of space for the right length of time is a huge boon for the modern consumer. Lilypad is an exquisite example of how this is becoming a reality for some."
FINAL WORD
Although in an everyday context, consumers may be largely unaware of the presence or impact of realtech, the benefits it delivers are now almost an expectation across the board. It goes well beyond technology in our homes and extends to how we shop, send and receive goods, as well as live within our cities.
In Australia, realtech presents opportunities beyond simply marketing and selling online or streamlining business processes through digitisation. For small-to-medium entrepreneurs, realtech will help them have a different relationship with their customers, employees and spaces within which they operate.
Lilypad Palm Beach is certainly one of the more unique examples of how this can play out in reality. Sustainably designed and sitting atop the water, innovatively engineered below the surface, and luxuriously appointed inside, it's sure to have membership applications and bookings aplenty…all lodged using streamlined online booking software of course!