4
minute read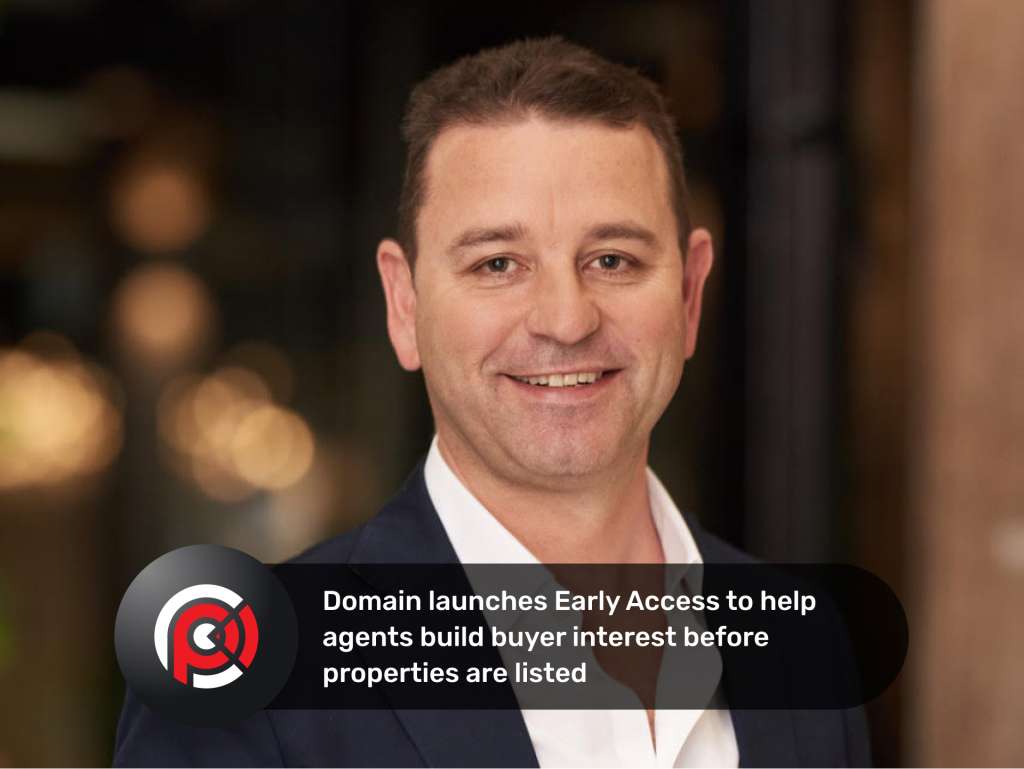 In an Australian property portal first, Domain has launched Early Access, a new tool to help agents build interest and demand for their vendor's property, before it's even listed.
Early Access matches high-intent property seekers with off market properties in close to 30 minutes after a sales authority is finalised and all required documentation has been uploaded, acting as an additional touchpoint to the traditional sales process. It works to remove the down time between when a property is signed with an agent, and the weeks before it is officially listed.
For agents, Early Access ensures vendor properties get before potential buyers sooner to drive competition, build early momentum and test market interest. It also works to instill vendor confidence, allowing potential sellers to list their property with minimal marketing investment, while also gaining valuable market insights on buyer demand and interest, which can be used to inform an agent's marketing strategy moving forward.
"One of the consistent challenges we've heard recently when speaking to agents is the ability to market properties faster. Early Access brings forward demand for a property to the very day the vendor commits to their selling agent to put more momentum behind the property from the very first step of the selling journey," said Domain Group Director Commercial, Tony Blamey. 
"The current market conditions have brought with it unfamiliar territory but Domain's mission to be a property marketplace partner and inspire confidence, stands firm. We're laser focused on providing continued value to our agents and their customers. Early Access helps agents market properties more efficiently to reduce days on market, enabling more sales cycles each year."
Blamey also noted that Early Access plays a big role in inspiring vendor confidence. "Agents and vendors can gain good quality price feedback in uncertain times by instigating high intent property seeker interest early. These insights then play a crucial role in understanding the market conditions to inform the broader marketing campaign once the property is officially listed."
Joe Ledda, Director at Hocking Stuart has already seen the benefits of Early Access and is positive about how it will help the Victorian agency and their clients.
"Early Access helps us reach buyers we haven't been able to reach before. We've used it on a few properties already and one received 10 enquiries, and that's even before it was listed," said Ledda. 
"It really helps us open discussions with vendors around demand, as it allows all of us to see what the appetite is like before we actually go and market it. This really helps to alleviate vendor concerns around low buyer demand, which have been particularly strong during COVID-19."
"We have a lot of properties that we've signed up but aren't ready to be marketed because of the pandemic, but we're planning on using Early Access for all our listings. As soon as we list it, our first stage will be to put it on Early Access and see what the feedback is before we start a full marketing campaign," Ledda added. 
How Early Access works
Agents can create an Early Access alert by simply adding the property address, price, a short description and completing a few additional fields online. The alert is then matched and sent to high-intent property seekers who have indicated an interest in similar properties in the form of an Off-Market Property alert. Property seekers will be guided to a page showing the property location, attributes and prompts to contact the agent.
"The big advantage is that Early Access is easy to use and agents can reach active property seekers well beyond their existing database. This is a strong proposition for agents," Blamey said.
Domain Early Access is now available to agents of Domain in Victoria, NSW and Queensland.