6
minute read
Earlier in the year realEstate1 launched mobile versions of their residential (www.realestate1.com.au) and commercial (www.realestate1commercial.com.au) web sites. I missed publishing the press release at the time (sorry guys) but after just finding the email I thought it would be worth while looking at which portals currently have mobile sites and why those that don't should invest in building them.
The aim of mobile sites, is to offer an extremely fast and simple user experience for browsers accessing the sites via mobile phones or tablets. As web traffic from mobile devices is increasing rapidly, it is now more important than ever that portals offer a fast and effective experience for mobile users of their portal.
The view of Geoff Luff, Managing Director of realestate1 is:
"We are seeing a steady increase in mobile usage when accessing our sites so by offering this type of experience, we're allowing users to find property and make enquiries in a more streamlined and simple fashion."
"This is a value ad service for all our agents, there are no costs associated with being listed on both our mobile sites."
But if you look at the major portals and who has a mobile versions you will see many of them do not. Here are the portals with mobile versions (just type the url into your phone browser and you will be directed to the mobile site).
Here are the portals who don't have a mobile version:
Should all portals have mobile versions of their sites? If you look at the market research on mobile phone usage then most definitely they should. When you have time you should read this report prepared by Mary Meeker, famed Internet analyst turned leading US Venture Capital fund Kleiner Perkins partner.
A few key slides from the report:
Look at the growth of mobile traffic as a percentage of total internet traffic. It has increased from 1% in Dec, 2009 to 4% in Dec, 2010 to 7.5% in Dec, 2011 and in May 2012 it is already at 10%.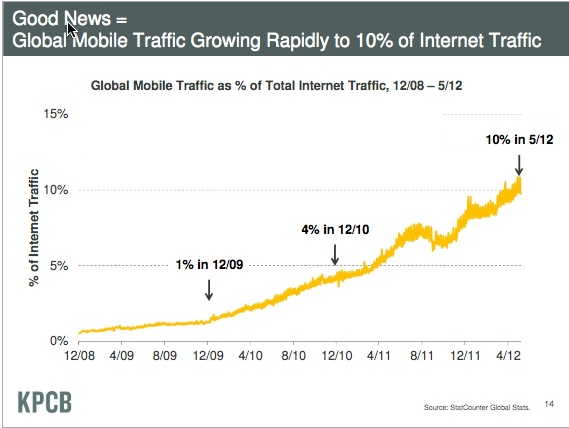 Most interesting, look at how mobile internet usage has surpassed desktop usage in India. Could this happen in developed countries like Australia? Probably not as most Australian families own a desktop computer but I think it is trend.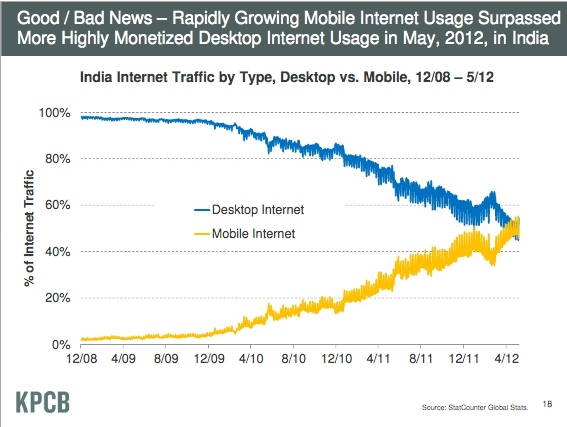 Lastly, I just wanted to throw this in to highlight the rapid growth of Android devices.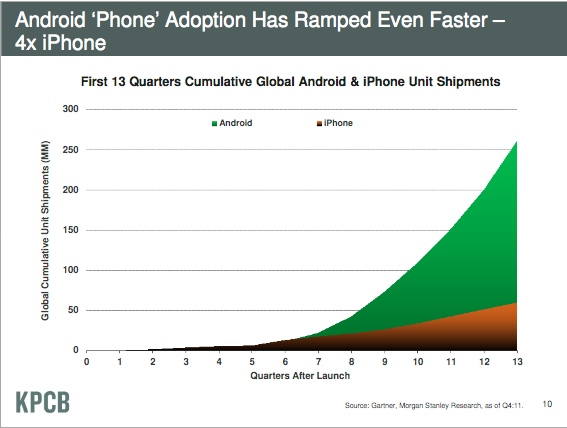 Can we relate this general mobile usage to the real estate industry? Well, I for one will never search for properties via my mobile device, I will always perform this via laptop, desktop or Tablet devices. But what I will do if I require more info about a listing, is take an image of a QR Code or type in a property url into my mobile (if I'm at the sign or looking in a newspaper or magazine). I'll also read emails on my phone and if I'm subscribed to property alerts then I'll click on links to properties that I receive via email. So from a property seekers perspective, although you won't search for property via a mobile I believe you can end up viewing listings through a mobile device.
So why then do so many Australian real estate portals dismiss having mobile versions of their sites? A few reasons could be; due to the resources needed to produce and maintain them, issues with displaying 3rd party advertising, mobile sites traditionally only display a limited amount of content, or is it that they believe their existing sites provide a good enough experience to site users. I think it is possibly a combination of all four but have a feeling the last point has the most weight. Looking at existing mobile offerings above, I think REA provide the best user experience while the other portals provide a solution which is a lot less visually appealing then their original portal.
Why portals do not come up with beautiful mobile solutions surprises me as often individual real estate offices and network groups (with much smaller budgets) have far superior mobile solutions. Here are a few samples of real estate offices:
So what's next with mobile solutions?
There has and will continue to be an explosion in mobile phone applications. Some we've seen already include augmented reality apps, qr codes, new image coding apps as discussed in this article about Fairfax's Airlink,  LocalScope app as discussed in this article and many other apps not covered by the site. To be fair to Onthehouse, they don't have a mobile website but they do have a iPhone data application. There is certainly a need to have mobile applications but a problem is, you're discriminating against users who do not have that type of device. Onthehouse would be missing out on all the non iPhone users (eg Android) who can't download the app.
I believe the next step for mobile is to have mobile optimised websites that are not located on mobi domains and m.subdomains but instead are the original portal optimised for all devices. To illustrate this, look at this Ray White Projects website www.raywhiteprojects.com through a tablet and you will see the content re-formats to optimise to the size of the tablet. If you then view it through a mobile device, it will reformat again to suit the mobile device. This means all site content is visible through any device something which the traditional mobile solutions can not achieve.
We are going to see continued growth in this mobile space and we should be excited about the technology which will follow. Feel free to report or write about any cool real estate mobile solution you've seen or are launching.
Disclaimer: some of these mobile sites including Ray White Projects were produced by Agentpoint