4
minute read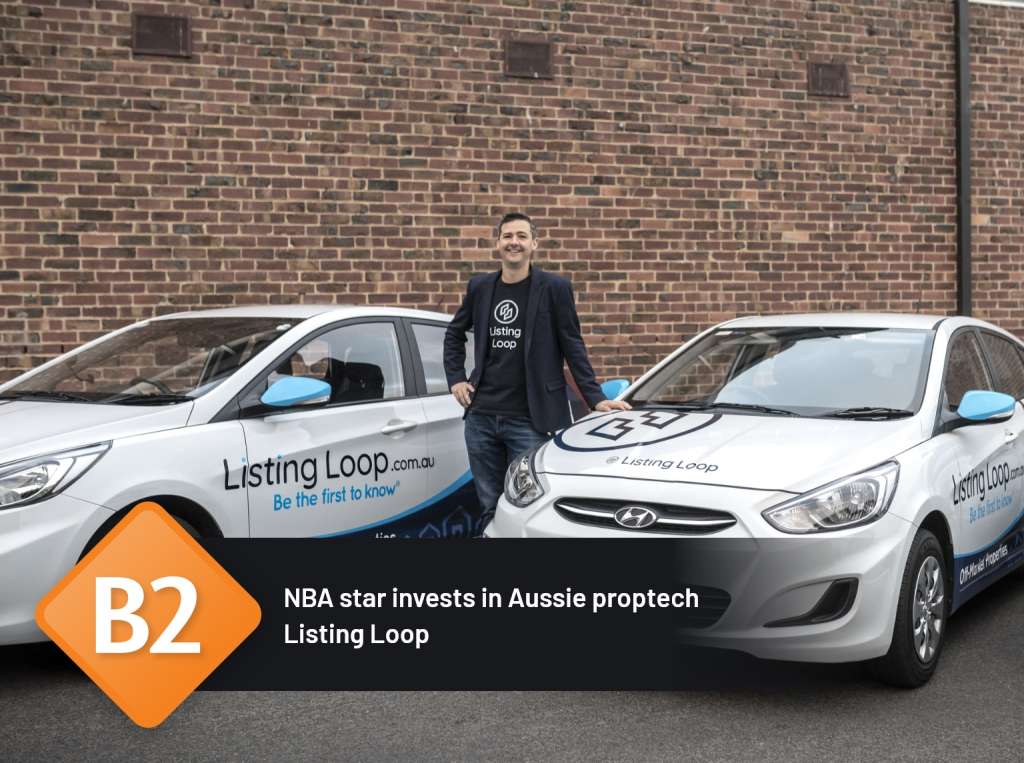 One of Australia's biggest basketball stars, Andrew Bogut, has thrown his support behind Listing Loop, a marketplace that brings together "just listed" and off-market property listings from leading real estate agencies, by signing on as an investor and ambassador of the first-of-its-kind proptech start-up.
Bogut will support Listing Loop in its mission of creating a real estate model where everyone wins and by educating consumers on the option of buying and selling properties "off-market". The high-profile NBA and NBL star has a keen interest in real estate and is an enthusiastic tech investor, a passion he nurtured from being part of Silicon Valley circles while playing for the Golden State Warriors.
"I enjoy getting in on the ground floor with companies I believe are going places. Listing Loop is transforming real estate for the benefit of everyone as it's the only platform designed for buyers, sellers and agents to all come out on top. From first-hand experience, I see that off-market property sales are growing and Listing Loop fills a gap by centralising off-market properties into the one convenient location," Bogut said.
In addition to Bogut, Listing Loop has caught the attention of other experienced tech and property investors with the company raising $3.3 million in its initial capital raise.
Listing Loop's definition of off-market properties are properties that are for sale but for whatever reason, may not be advertised through the standard mainstream channels.
There are three main reasons why a property may be listed off-market.
Pre-market: This refers to properties which are literally "just listed", meaning the agent has just signed the listing authority with the seller. It can potentially take up to 10 days for an agent to produce the marketing to advertise the property on the major real estate websites. This is precious time where a serious buyer could be made aware of this property.
Affordability: Some sellers may choose to sell off-market due to budget reasons, avoiding the upfront costs associated with property marketing. As an example, the average cost of running a property marketing campaign in Melbourne is $6,500 – $8000.
Privacy: There are sellers, such as high profile figures, that seek a more discrete approach to selling, or they don't have an urgency to sell. They may choose to sell off-market with no advertising campaign and rely on the agent's network of buyers. All the other buyers out there not registered on this agent's database typically don't know about this property, despite it fitting their buying criteria.
Listing Loop brings together off-market properties for sale from leading real estate agencies – not just the one agency. For buyers, this means they can get access to these off-market properties in the one central location without the need of having to be on multiple databases. Buyers receive first access to just listed (or pre-market) properties, helping them to discover their dream home before everyone else.
Sellers, through their agents, get to sell their properties through Listing Loop with no sale, no charge and therefore, no risk advertising. Listing Loop is the first real estate platform in Australia to offer a no sale no charge fee structure that does not require a seller to fork out substantial upfront marketing fees to advertise their property for sale.
For agents, Listing Loop is an advantageous tool to win more listings, while helping to sell properties faster by providing access to a vast network of qualified buyers.
Listing Loop CEO, Rhett Dallwitz, said:
"We are seeing real estate agencies in inner city areas doing anywhere from 10 to 35 percent of residential real estate transactions off-market and this number is growing. Our goal is to be Australia's number one destination for off-market properties".
"During our soft launch phase in Melbourne, more than 650 agents have signed up, uploading half a billion dollars worth of property, generating thousands of property leads for agents that has led to sales. Our sights are now set on national expansion," Dallwitz said.
The founders however wanted to make investment more accessible to more people by launching an equity crowdfunding campaign.
"For as little as $250, people can get in on the ground floor and grow with our business as it grows, reaping financial benefits along the way. Some of the world's biggest companies began with equity crowdfunding and we hope to share a similar success story," Dallwitz said.