4
minute read
You can now swipe for property just like you swipe for a date on Tinder. Jonathan Lui, CEO of SohoApp.com and co-founder of Airtasker, said Soho has launched a Property Match feature that lets you swipe yes or no on real estate listings.
SohoApp.com is a social network for property hunting and has over $2.2B worth of registered buyers looking for opportunities, 7,000 agent profiles, and more than 50,000 app downloads. Before founding Sohoapp.com, Sydney-born entrepreneur Lui co-founded Airtasker, which has 2 million users and has raised $65 million of investment, and the $20 million venture capital fund, Tank Stream Ventures, as well as the 700-member Australian network of startup co-working spaces Tank Stream Labs.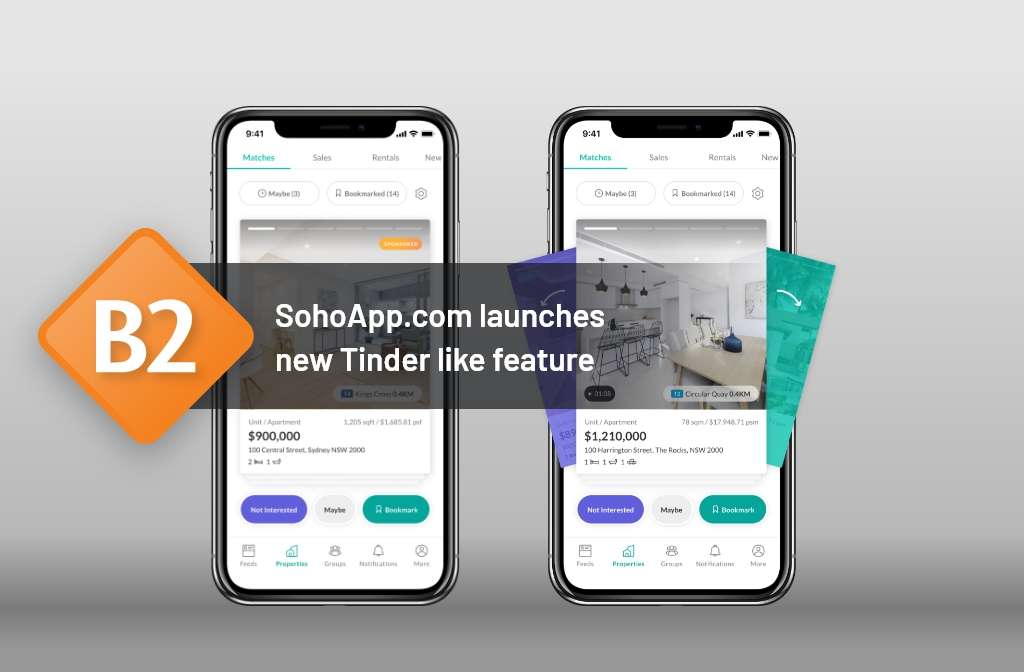 "Using the new feature on Soho's mobile app," said Lui, "buyers and renters swipe right to bookmark a listing they like. They swipe left on listings they don't like. And they swipe up or down to put a property on their 'Maybe' list. The feature works the same on the web, except that you click buttons instead of swiping."
Users can also tap or click on the property to see the full listing details and all the photos.
Lui said:
"When we tested this feature with consumers, we were blown away by how much they liked it. The number of swipes that our users make has grown 30 times in just four weeks. It already accounts for 12% of search. At this pace, it could overtake traditional search in the first quarter of 2020. It turns out Tinder-style swiping is actually the best way to look at property. It saves you time and stress, whether you are buying or renting.
"The feature is backed by algorithms that suggest appropriate properties based on your profile and preferences. It's a great way to find wonderful homes in suburbs where you might never have discovered them.
"The new feature helps vendors and agents because it gives them much more information on how the market is reacting to their listing than they can get from other portals. They get live feedback on their property. It's not just views and enquiries but also whether people like, dislike, or "maybe" the property when they view it. That is crucial information that allows vendors to decide if they should aim for a higher price, for example, if demand is high. We can also aggregate the data for individual listings to give live demand data at a suburb level. Of course, in all of this, we protect users' identities and information.
"Are we worried that the old-fashioned portals will copy this feature? Not really. They charge agents for the best positions in their search results, so to switch to something like this would cost them a lot of money.
"We will soon also release 'sponsored matches.' Agents will be able to promote properties to buyers and renters with profiles that match their listings. That will be much more cost-effective for agents. It will also ensure we only show relevant listings to property hunters."
Search by Station Sohoapp.com has also just launched its "Search by Station" feature, which allows you to search for properties near the transit stations of your choice.
Lui says, "When you see a property profile, the closest stations are displayed right on the profile photo. In one glance, you can see the listing photos, the price, number of rooms and parking, the address, and the closest station. Search by Station makes search easy."