7
minute read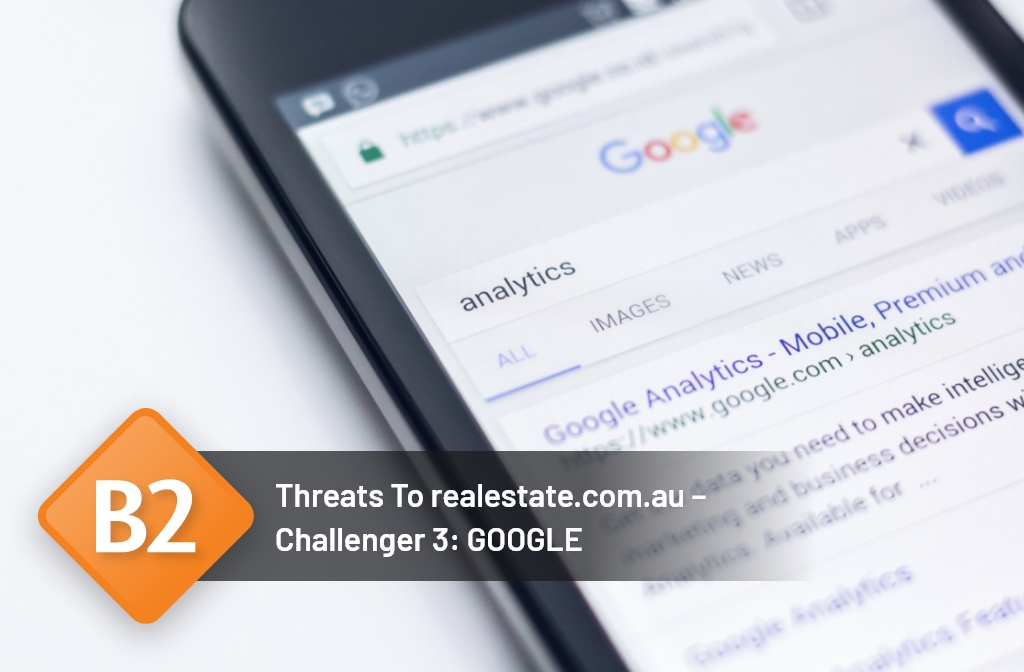 In exploring the threats to REA's dominance in the real estate portal sector, we have been profiling a series of challengers who could disrupt and change the landscape. The next legitimate challenger is Google.
Having already tested the waters of the real estate market, Google is again positioning themselves to make a tilt at the industry – and it could genuinely disrupt REA's dominance of the property portal space.
With the scale of their operations and the depth of resources they have backing them up, Google looms as a serious problem for REA. Here are some of the ways in which they can take a big bite out of REA's business.
SEARCH STRATEGY & GOOGLE ADS
The way Google connects you with local businesses can have a huge bearing on which agents you reach out to and ultimately engage. If you search "real estate agent near me", the top of the page will reveal an ad to help with finding an agent, followed by the Knowledge Panel with its map and top three local business listings matching the search criteria.
It is only after these elements have appeared and effectively grabbed your attention visually that the search options generate results for REA, among which are pages for agents that are not within proximity or results for pages full of listings that have not been qualified via any of your actual property preferences.
However, a search for "rental properties near me" will return results with Domain and REA at the very top. The way for Google to combat this is to actively work with agents and connect to their CRM and lists of available properties and associated features.
AGENT API
In the event Google is able to access the data held by agents, it could completely change the game. Partnering with agents and connecting with their CRMs or datasets regarding available properties will generate desired search results that are instantly actionable directly within Google.
As an example, if you are in a suburb and search "houses for sale", the results could generate a Google Map with all the listings pinned for agents that have signed on with Google. Alternatively, the search results would point directly to the pages of local agents who utilise My Business and who partner with Google's real estate initiative.
This is a reimagining of their initial exploration of the real estate market a decade ago when they launched a free listings service. When a user entered search terms that included the words "real estate" and a suburb name, available listings were then visible on Google maps.
These listings were sourced by either:
Google taking them directly from portals, or
Vendors uploading their properties directly onto Google themselves
Google's initial strategy was to get REA and Domain on board so they had access to a critical mass of properties, however neither were inclined to cooperate. Instead, both threatened to stop buying advertising and paying for key search terms.
This didn't eventuate, but Google's real estate bid still underperformed, largely because people were already conditioned to search via portals and because Google didn't do enough to let users know about their real estate service.
With REA once again unlikely to play nicely, if Google can integrate smoothly with agents and agencies and maintain a free listing methodology, it is a very real possibility that agents would consider listing directly with Google as opposed to paying for limited space on the REA portal.
Alternatively, if one of the smaller portals made the decision to open their database up to Google, it could skyrocket them up the list of go-to Australian real estate search providers.
GOOGLE MY BUSINESS
Most people are across it, but any agents that haven't registered with Google My Business need to do so immediately!
My Business gives agents the ability to load their profile with contact info (address, website, phone number, etc), photos, content posts similar to Tweets, FAQs and more. The profiles appear as pins on Google Maps and garner consumer reviews, which are now a primary source of inspiring consumer trust. This is extremely valuable because, as the 2018 ReviewTrackers Online Reviews Survey highlights, Google has quietly made themselves the most reliable review source on the internet.
Essentially, it is a virtuous circle whereby consumers get the info they are after in a quicker timeframe, small businesses can increase their exposure, and Google has another business to market their ads to.
It is mainly agencies that have taken advantage of My Business for the real estate vertical, but that may well change very soon. This is because Google knows that when you work with an agent to sell a home, your experience is not defined by McGrath or Stone – and especially not by REA. The majority of the experience is defined by the agent themselves.
This is incredibly beneficial for agents that are independent contractors as opposed to agency employees. In fact, agents should be less concerned with websites, Facebook, Twitter, Instagram and all the now standard elements that comprise the status quo of an online presence. Google My Business is evolving to be the most important content in a real estate agent's digital footprint.
By digitising the real estate agent marketplace, agents will get more traffic and leads directly to their business and less traffic hijacked by REA.
SUCCESSFUL SHORT-TERM RENTAL MARKETPLACE MODEL
Google has used everything discussed so far to help their entry and early success in the short-term rental (STR) sector. This has primarily been achieved through the Google Trips service, via which you can select hotels and compare prices from hotel portals directly on the platform – basically replacing the need to search through sites like hotels.com.au and trivago. It also indicates the location of hotels and apartments within the existing Google Maps ecosystem.
While this is currently being applied to the holiday marketplace, the structural framework would be easily manipulated to encompass all rental properties, with functionality for homes for sale or auction easily built in as the service evolves to offer full-spectrum real estate search.
EXISTING GOOGLE TOOLKIT FOR AGENTS
While they are poised to add an array of real estate focused services, Google already offers functionality that agents can immediately put to work to grow their business. These include:
Google AdWords – for effective, efficient local lead generation
Google Maps and Google Earth – Enhancing searchability of properties
Google Places – Easy way of creating an identifier and listing businesses where customers are searching
Gmail and Google Apps – Customised email addresses, instant messaging, calendars, document sharing/collaboration and video
Google+ – Competing directly with Facebook, your profile can include photos, info about your business and ways for people to contact you. You can also enable a direct messaging feature which makes life easier for your customers
The other weapon in the arsenal for Google is their ads. Algorithms on the search engine mean that search terms entered dictate what ads that will appear in future visits to Google. In addition, when a search is conducted, the very first items that appear are websites that have paid to be 'advertisers'. Based on these factors, agents could create ads for their listings that will appear at the top of searches when people are using Google in a certain geographic area or when they enter certain search terms. To consumers, this can seem like the property has just fallen in their lap, but the reality is it takes an active agent who is willing to strategically buy ad space to make this happen.
FINAL WORD
Google is definitely a purpose-driven brand, and that purpose is to connect consumers to accurate, relevant information as quickly as possible – including real estate businesses and listings. While it sounds altruistic, it isn't. It's their core business, and business is booming.
While their exact play for the real estate market is as yet unknown, the combination of having learnt from past experiences and their vast capabilities and functionality make Google a very real threat to REA's standing as the top dog in the Australian real estate portal landscape.