5
minute read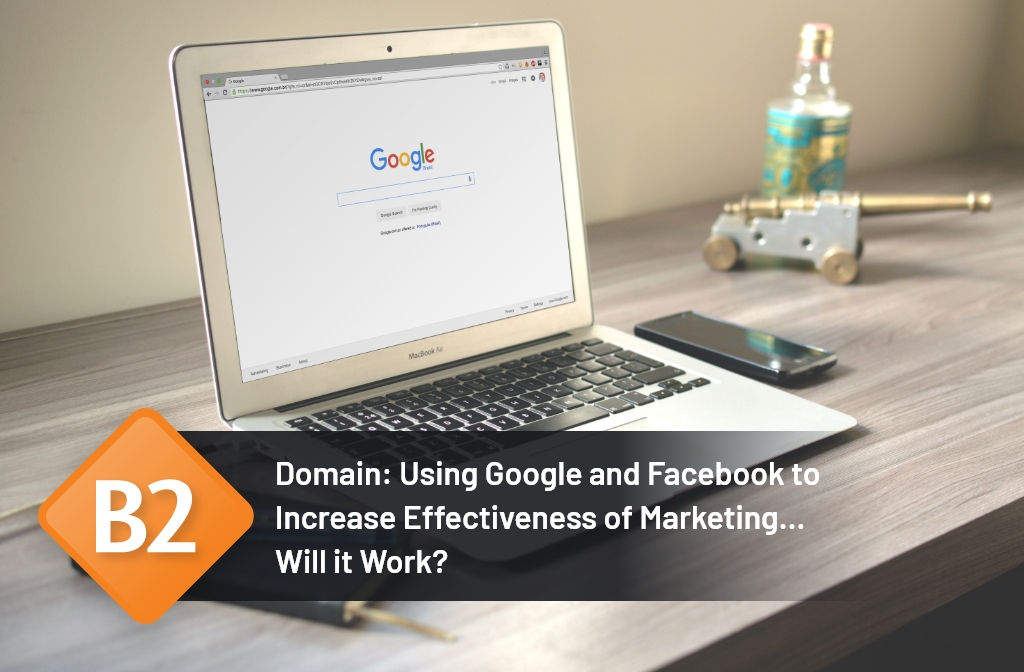 Australia's perennial runner-up in the real estate portal space, Domain, is now actively leveraging both Google and Facebook to attract more eyes on listings. But is it enough for them to challenge portal top dog realestate.com.au and will it help reduce marketing costs for agents?
WHY GOOGLE AND FACEBOOK?
Ostensibly, the reasoning behind Domain's strategy is to enhance their Domain Extend program, in turn improving the traction of listings on their portal. They know that people use multiple channels to research property, and as such are broadening the scope of their efforts to reach those channels during that phase of the property buying cycle.
This would be achieved through more effective online advertising that is specifically targeted for individual users via data Domain collects to create unique personal profiles. They take information such as suburbs of interest and style of dwelling (e.g. family home in the suburbs or inner-city apartment for professionals) and combine this with data from searches on Google and Facebook to deliver tailored content.
This content of course includes advertising on both Google and Facebook, but also YouTube and Nine, furthering the reach of marketing initiatives to get the right properties in front of the right users.
THE FACTS
Since commencing it's work with Google in early 2019, Domain states that the direct impacts of the relationship have led to approximately 375,000 views of listings and 2,600 inquiries.
While stats regarding the success of the efforts with Facebook won't be available for some time yet, it's interesting to consider data from New Zealand as to its effectiveness. Of primary interest – and the truest test of viability – is the cost-per-click generated by various channels.
Let's consider NZ's top two portals, Trade Me and realestate.co.nz respectively, as well as the Google Display Network (GDN) and Facebook. All data was sourced from a 2019 study conducted by Mike Delprete in conjunction with Tall Poppy Real Estate and all figures are in NZ$.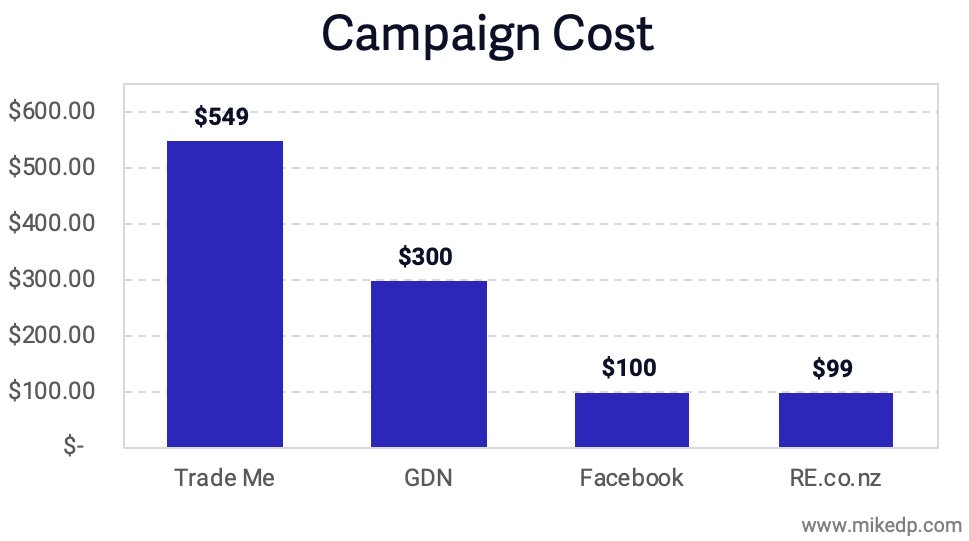 While the top portal, Trade Me, generated the most clicks and cheapest average cost per click of the four options, they are also the most expensive from a total campaign cost perspective at $549.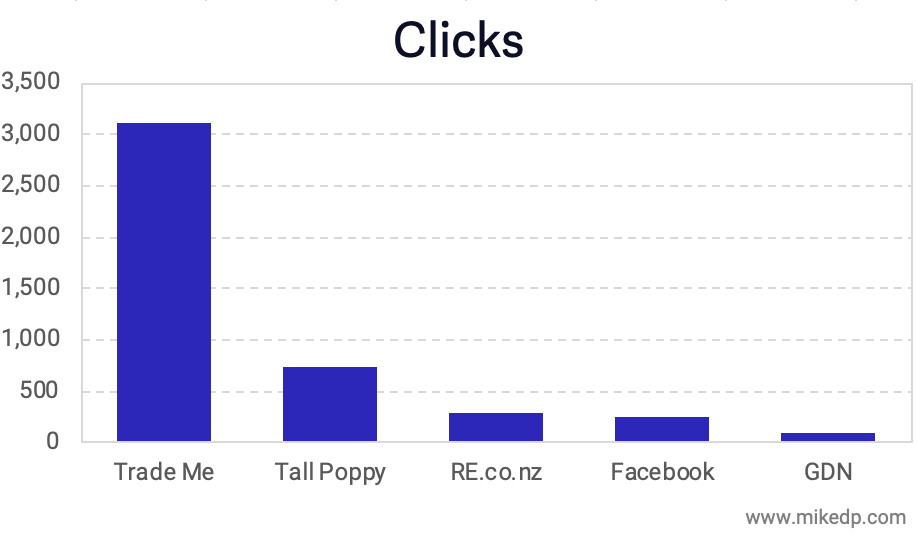 RE.co.nz had the cheapest total campaign cost, however it generated less than 400 views at nearly double the cost per click of Trade Me and the more than 3,000 clicks it produced.
Facebook came in at a respectable $0.40 per click, yet it delivered even less views than RE.co.nz with 250. Meanwhile, GDN posted a bloated figure of $3.33 per click for a paltry 90 views.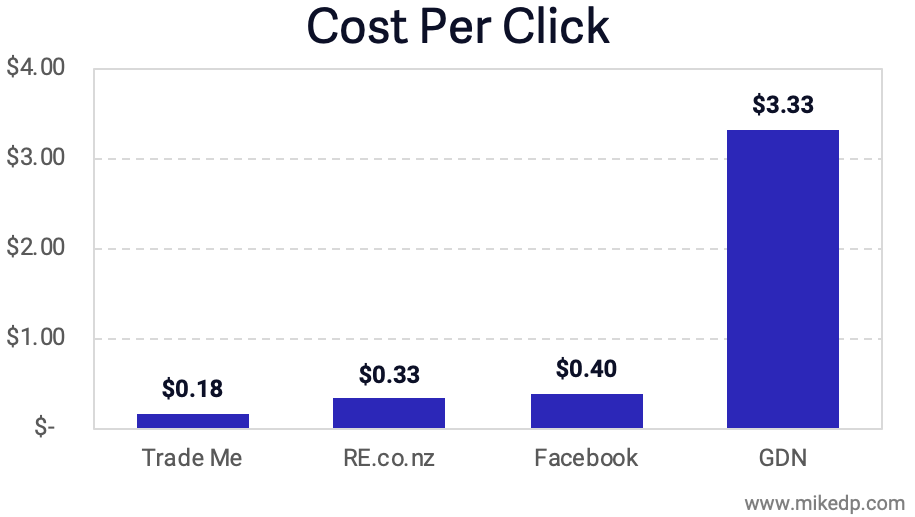 THE VERDICT
Facebook is definitely an option as a viable adjunct to the power of Domain's portal, yet whether or not they have cracked the exact code needed to harness this potential remains to be seen. If the Facebook real estate sales Marketplace grows at the same pace as the rental section, it could bear fruit for Domain. However, until figures are released, such as cost per click, the success of this relationship will remain in question.
While Google appears to be lagging behind based on the NZ survey, the influence exerted by the search engine and its many intricate algorithms is yet to be accurately channelled. Once the recipe for the secret source is identified, expect the entire industry to jump on board quickly.
Another key variable that at this stage is difficult to quantify is the quality of the leads generated via Google and Facebook. Regardless of how many clicks are generated, the breakdown of whether they are tyre kickers or buyers ready to purchase could have a considerable effect on whether this a strong strategic play or a dud move.
FINAL WORD
An admirable effort to improve the customer experience by making listings more readily visible and accessible, the true impact and whether it will help topple REA from the top portal spot will not be known for a while. Despite this, Domain Group's Programmatic and AdTech Director, Shannon Fitzpatrick is confident the benefits will be measurable for those that choose to employ Domain Extend, saying:
"We have focused on creating a seamless experience for this product… We are also able to generate automatic reports for agents so they can see how effective the advertising has been. This is part of our transparency of the product's performance and the impact it is having on the listing."
Ultimately, as with all PropTech, it is not just the channel but how you launch, utilise and leverage it that ultimately dictates success, which is why savvy agents looking to corner their local market will be integrating these options into their own marketing mix sooner rather than later – regardless of what the big portals are doing.