6
minute read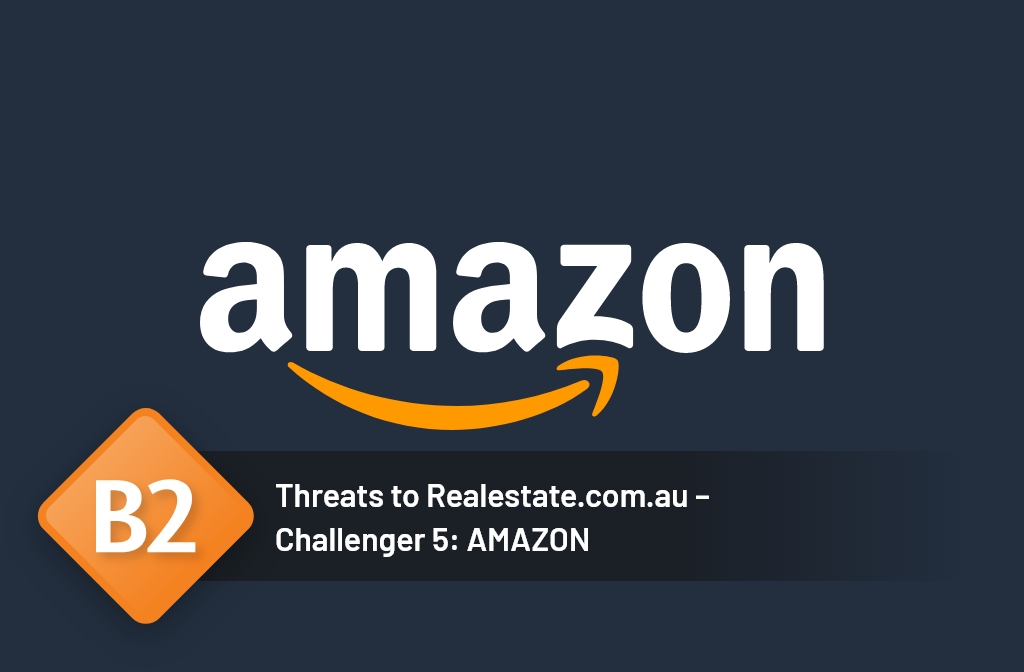 As we have been reporting, Realestate.com.au is facing legitimate challenges from a variety of diverse, tech-enabled businesses. One of the primary threats to REA has emerged in the form of Amazon.
Amazon is an on-line retailer that has turned into a global success story, acquiring an extremely strong foothold in international markets all across the planet.
From books, brown and white goods, toys, technology and a lengthy list of other products shipped worldwide – as well as an on-demand streaming TV and movie service competing with the likes of Netflix – Amazon has established itself as the 3rd largest company in the world in 2019 by market value, worth a staggering USD $916.1 billion.
But how are they moving in on the real estate market?
ESTABLISHING STRONG PARTNERSHIPS
Amazon's strategy for entering the real estate industry has been measured and spread across a very select number of ventures.
Perhaps the most widely reported of these is their partnership with Realogy, the company behind brands such as Century 21, Sotheby's International Realty and Coldwell Banker. Realogy provides marketing services, mentorship and training, general sales support systems, services and tools to some of the largest real estate agencies and brokerages in North America.
The relationship is symbiotic. Amazon gains benefit through access to the real estate market and the ability to push their stable of home services and smart products (such as Alexa and their line of Ring Doorbells). Meanwhile Realogy is able to leverage Amazon's influence to allow them to better compete with industry giants Redfin, Opendoor and Zillow.
The partnership paid off instantly, with Realogy's share price surging 35% to USD $7 immediately after the partnership was announced.
The Amazon/Realogy initiative is known as TurnKey. When a buyer is looking for a property, they can register on the TurnKey portal to connect with a Realogy agent. If the buyer ends up closing and settling on a property with that agent, Amazon rewards them with a bundle of home-focused products – including at least two Echo smart speakers equipped with Alexa, a fully-installed Ring Doorbell Camera, and credit to the value of USD $450 for home services, like painting, cleaning and furniture assembly services. All of this is valued at as much as USD $5,000 – but the caveat is that the purchase price of the home must be USD $700k or more to access the Amazon TurnKey bundle of goodies.
The dangling of this carrot has already proved immensely popular and could be enough to shift market conditions so that Realogy can compete on the same battleground as the truly upper echelon American real estate services companies.
With TurnKey currently available in 15 US cities, the success achieved has many real estate stalwarts predicting a mass roll-out across North America.
It is also conceivable that they could form partnerships with real estate businesses like Realogy in multiple international centres, like Canada, Australia and select regions of Asia, Europe and South America – although Jeff Bezos and co are keeping any planned expansions relatively close to their chests.
CORNERING NICHE MARKETS
We previously reported on Amazon's line of Tiny Homes, structures based on a micro-footprint and stressing the ethos of living with less in smaller conditions without the excess that many real estate consumers are gravitating away from.
Amazon astutely identified the growing trend and got involved in the marketing and sales of tiny home kits which they ship internationally. So, even though Amazon does not yet have a physical presence in this country, they are actively competing against Aussie property developers.
The concept of a prefabricated home that arrives in a flat pack may sound like a nightmare for some, but evolving from tiny homes to full size houses isn't a huge stretch for a company like Amazon that revels in experimentation. If this occurs, developers offering house and land packages could face some tough times and extremely stiff competition.
NEXT STEPS INTO REAL ESTATE?
Amazon has a penchant for experimenting with product viability in a dizzying array of industries. Their approach seems to be based on testing the waters of a new industry, and if they sense potential or see results, they deploy resources and go full tilt into it.
Real estate is no different.
Through their partnership with Realogy, their TurnKey platform is, in essence, a small-scale portal to connect buyers and vendors with agents. The next logical step would be to infiltrate portals with listings.
The list of options from there is huge. Taking it to extremes, they could potentially create communities of their own tiny/full-size homes and have a mass of listings they then offer via the strong American portals.
It's also important not to forget that they own and operate one of the largest e-commerce platforms on the planet and they have formed strategic alliances with agents. This opens up the option for them to create their own real estate portal, with listings being fed to them via their Realogy agent partners.
FINAL SAY
Amazon operate on a size and scale that is vastly bigger than any online enterprise domestically. So much so, that it has been reported in the Sydney Morning Herald that they are having trouble finding warehousing and corporate offices of sufficient size to set up in Australia. They literally cannot find any industrial or commercial space anywhere in the country that offers the dimensions they need to sustain their operations.
It is this immense size and the mind-boggling depth of their pool of resources that make them an instant and very legitimate threat to REA as soon as they are properly established in Australia.
Amazon has not reached the peaks of global online retailing and e-commerce by accident, and they are most certainly not a bunch of backyard developers. Should Amazon turn their hand to creating a real estate portal, REA will have a serious fight on their hands and could well find themselves up against the ropes in the early stages of the fight.