7
minute read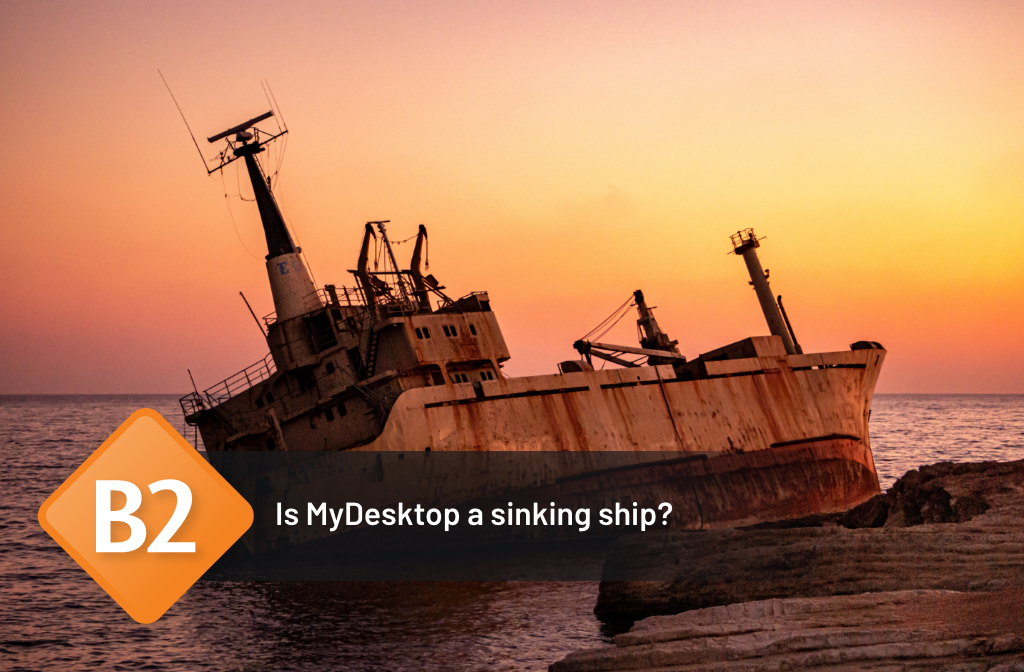 MyDesktop was once a real estate sales CRM known for its reliability, industry leading features and stamp of approval from the industries largest real estate groups. Since joining the Domain/Fairfax family over 10 years ago, MyDesktop has seen its market share diminish (we estimate by around 50%) and its position slip amongst the top tier real estate sales CRM systems.
With major network groups including Raine & Horne and Greg Hocking leaving MyDesktop in 2019 in favour of more agile and progressive CRMs and many independent offices jumping ship, 2020 could be a defining year for MyDesktop.
Brief History
Around the time Fairfax entered into an agreement to acquire MyDesktop, they were the market leader in real estate sales CRM in Australia. They were the leaders in all areas, number of real estate offices using their platform, revenue per month and importantly, the value proposition they provided agents through their feature rich platform.
The exact number of offices MyDesktop had back then and have today, is not known. But through our interactions (via Agentpoint) with the major real estate CRMs along with work we perform for leading network groups across Australia, our estimates of their client numbers are as follows;
Pre Fairfax acquisition – 4,000+ agencies across Australia and New Zealand made up of around 60% independents and about 40% network groups (RayWhite, Raine&Horne, Elders, Professionals, PRD).
January 2020 Estimate – 2,000 to 2,200 offices split evenly between independents and network groups.
MyDesktop is still the market leader in relation to the number of offices they service (a slim margin now to Agentbox) but this will change. Offices are migrating away from them at the same speed US citizens did when Trump was elected. However, we estimate that revenue per office MyDesktop receives is a lot less than other leading CRMs (Agentbox and REX). So from a revenue perspective, Agentbox is most likely the market leader in Australia.
Why Have MyDesktop Lost Market Share?
We've tracked the progress of MyDesktop since 2007 when it was a CRM superpower and CRM of choice, through to its acquisition by Fairfax and the subsequent downfall since then. We've outlined some points below that we feel are key to the demise of MyDesktop.
Old and Cumbersome Technology
The MyDesktop platform was built around the same time as the dotcom boom 20 years ago. Technology has evolved more quickly over that time than what it had in the preceding 50 years, with the average iPhone nowadays more powerful than supercomputers back in the 90's. Although MyDesktop was revolutionary at the time (in the cloud and feature rich), they haven't been able to keep pace with this change. A large reason is that they have been held back due to their legacy code, database structures and restrictions around how this can evolve.
New Agile Competitors
New competitors have popped up over the past 10 years including Agentbox, REX, VaultRE (ex MyDesktop founders), Box + Dice, LockedOn, Zenu, Eagle Software plus many more who have all eroded away at MyDesktop's market share. These competitors have had the luxury of starting with a clean slate in relation to technical and infrastructure design, learning from the mistakes of Mydesktop. Some of these new competitors have had a customer centric product development process where they build what customers want rather than what web developers think they need.
Terrible Customer Support
MyDesktop was notorious for taking weeks to deal with support enquiries. This was partly due to the massive growth they had but also due to the fact clients had limited other viable solutions to switch to. There was certainly some level of arrogance here by MyDesktop with poor strategy around a lack of focus on the customer experience. This failure to change to a customer first approach, left them open for new competitors to enter the market and provide a point of difference through exceptional customer experience.
Slow Transition into the Domain Architecture
The MyDesktop team were based in Perth while Fairfax/Domain are based in Sydney. It was always going to be a challenge for Domain to integrate the MyDesktop code base across into the product and technical teams in Sydney. If Domain had integrated this earlier, then perhaps they could have accelerated product development and evolved their CRM solution.
MyDesktop Marketplace
MyDesktop decided to pursue a 3rd party marketplace allowing web developers to build applications that work within the MyDesktop platform. This was a fantastic idea and could have helped MyDesktop with the stickiness of their product. However, the catch was, they wanted 10% to 15% of all upfront and ongoing revenues from these 3rd party suppliers. And to really stick the knife into suppliers, if a supplier already had MyDesktop customers they wanted to charge this 10% to 15% on their existing revenues.
In my opinion this was the final nail in the coffin for MyDesktop. There isn't an issue in entering into referral fee arrangements with industry suppliers, so long as it is mutually beneficial. However, in the case of MyDesktop, the structure and approach they chose wasn't in the interest of their clients nor 3rd party suppliers.
Firstly, they wanted to charge fees moving forward for existing mutual clients, this isn't cool as it just increases the cost base of suppliers with no added value to them. Secondly, referral arrangements make sense for suppliers when the referring party is a market leader and their client base in growing. This means the referring party will generate leads and then more business to the supplier. With MyDesktop this isn't the case, rather suppliers are often being contacted by MyDesktop customers directly (without a referral from MyDesktop) wanting to use their service. Invariably by using the supplier's service, the customer would see more value in continuing using MyDesktop. This may sound far fetched but is something we often experience with our customers within Agentpoint. So the question begs. Why should a supplier pay MyDesktop an ongoing referral fee for a mutual client, when the supplier generated their own lead, provides the client with a value added service and helps MyDesktop be more attractive to the customer?
In the end, this approach backfired and as a result, many 3rd party suppliers decided to focus their efforts on servicing real estate clients who are using more cooperative CRM systems. If they had a potential client using MyDesktop then most likely they were recommending them into another CRM like Agentbox, REX or Box+Dice.
So What's Next for MyDesktop
With the momentum that Agentbox and REX have and the traction VaultRE is achieving, then there is no question that Mydesktop will lose even more clients in 2020. The rate of clients leaving will slow as their numbers reduce, but if a RayWhite and Elders leave in 2020 then MyDesktop could fall below 1,000 real estate offices by the end of the year. Once this happens they will slip down to a Tier 2 CRM player and could eventually meet the same fate (and close down) like what happened to REA's sales CRM acquisition HubOnline.
What are Domain's options?
Improve the Product – Keep fumbling through their strategy to roll out better technology but as we know this is a lot harder to actually do. They've probably spent millions in the last couple of years which hasn't changed their fortunes. It could be years (and many more millions of $$$) until they have a product that can compete with their modern competitors.
Sell MyDesktop – The most viable move would be to sell MyDesktop to one of their competitors ie Agentbox, REX or even VaultRE. MyDesktop is already losing a lot of clients to these 3 companies so stitching up a deal now would make a lot of sense allowing them to cash-out at the highest (yet diminishing) value of the asset.
THE FINAL WORD
As an observer, it's been quite amazing watching the demise of one of the largest tech players in the real estate space. However, like many large tech incumbents that began at the turn of the century, if they fail to stay nimble and innovative, then they will be eaten by more progressive and agile startups.