5
minute read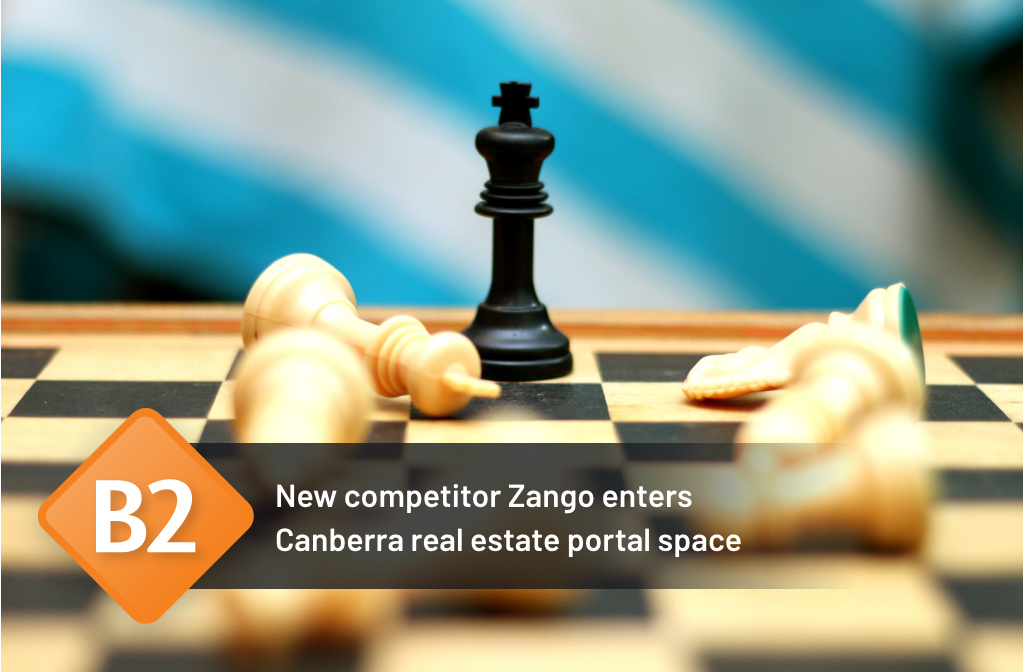 Canberra has long been a unique geographic area in relation to the competitive landscape for real estate portals. Its now set for a shake-up as the newest entrant Zango launches and plans to spend big in the market.
Zango is backed by a group of agents consisting of some of Canberra's most successful network groups including Peter Blackshaw the original founder of AllHomes.com.au. They are well capitalised and prepared to go head-to-head with Allhomes in relation to monthly advertising spend.
The point-of-difference between Zango and other competitors is that Zango is owned locally in Canberra and will work alongside local agents and businesses, rather than the existing incumbents who are wholly owned and operated by nationally focused companies.
Zango will target all key real estate stakeholders including buyers, sellers, renters, landlords and in general, anyone after rich and insightful property content.
Brief History
Canberra has always been a highly competitive real estate portal market and one of the few markets nationally where there are 3 (not 2) key competitors. Allhomes.com.au has been the market leader in Canberra followed by Realestate.com.au and then Domain.com.au.
Back in 2014 Fairfax/Domain acquired Allhomes for $50m from Peter Blackshaw and associates. This strategic move helped Domain gain considerable market share when combining the audiences on both Allhomes and Domain. Prior to this purchase, a cooperative of at least 50% of the agents in the ACT successfully joined together to launch a competing portal to Allhomes called GetRealty.
The goal of GetRealty was to halt the continual price rises AllHomes.com.au were inflicting on Canberra Agents. GetRealty was a quick success, forcing AllHomes.com.au to spend hundreds of thousands each month in marketing campaigns to retain market share. In less than 12 months from launch, Allhomes.com.au decided it was easier to acquire GetRealty than compete with them.
As history has demonstrated with both the success of Allhomes and then that of GetRealty, highlights that a new portal entrant into the Canberra market can have a significant impact.
What Makes Canberra a Competitive Portal Market
There are a number of factors that contribute to why Canberra is one of the easiest markets for a new competitor to gain traction but basically it comes down to three key points:
Small geographic area – Due to the size of the ACT, the amount of money needed to run a full marketing campaign that reaches a saturation of the audience is a lot less than what is needed in a market like Sydney or all of Australia.
Small number of real estate offices – There are less than 200 real estate agencies in Canberra while there are over 8000 in Australia. So the amount of effort needed to get a reasonable portion of them onboard with a new portal is a lot less than attempting to do this in a larger market.
Hyper local strategy – Canberraians are very proud and will get onboard with a hyper local strategy that supports their community. This is Zango's strategy and like GetRealty before them, they have embraced real estate agents bringing them onboard as equity partners in Zango. Domain knows exactly how successful a well executed agent equity program can be. They had success with both CommercialRealEstate.com.au and Domain.com.au offering agents equity in return for advertising and listing spend commitments.
Domain's Response
Within 1 day of Zango launching, Domain Group filed an injunction in the Federal Court asking Zango to cease using a variety of marketing statements. Zango chief Ian Keogh told the AFR the company is in the process of removing the statements from the identified marketing material whilst they await advice from Australian Competition and Consumer Commission (ACCC).
This could be an expensive blunder by Zango, as reports are that Zango had prepared outdoor advertising with these disputed statements including on 30+ buses in the ACT.
What's Next
Zango's launch and Domain Group's response is only the beginning. I know of another portal that is soon to launch in the ACT and then there is Antony Catalano. The Ex-Domain CEO who purchased Nine's Australian Community Media and printing arm for $115 million in April last year. What's important here, is that the Canberra Times (which is the major newspaper in the ACT) was part of this deal. The question begs, will the Antony Catalano's consortium launch a portal in the ACT during 2020?
THE FINAL WORD
The next 12 months will be an interesting time in the Canberra market as new entrants launch and spend large sums of capital to win the eyeballs for consumers. In the short term, the only winners will be the advertising industry but in the longer term, both agents and vendors could see benefits if Zango is successful in driving down the advertising prices of Allhomes.com.au