4
minute read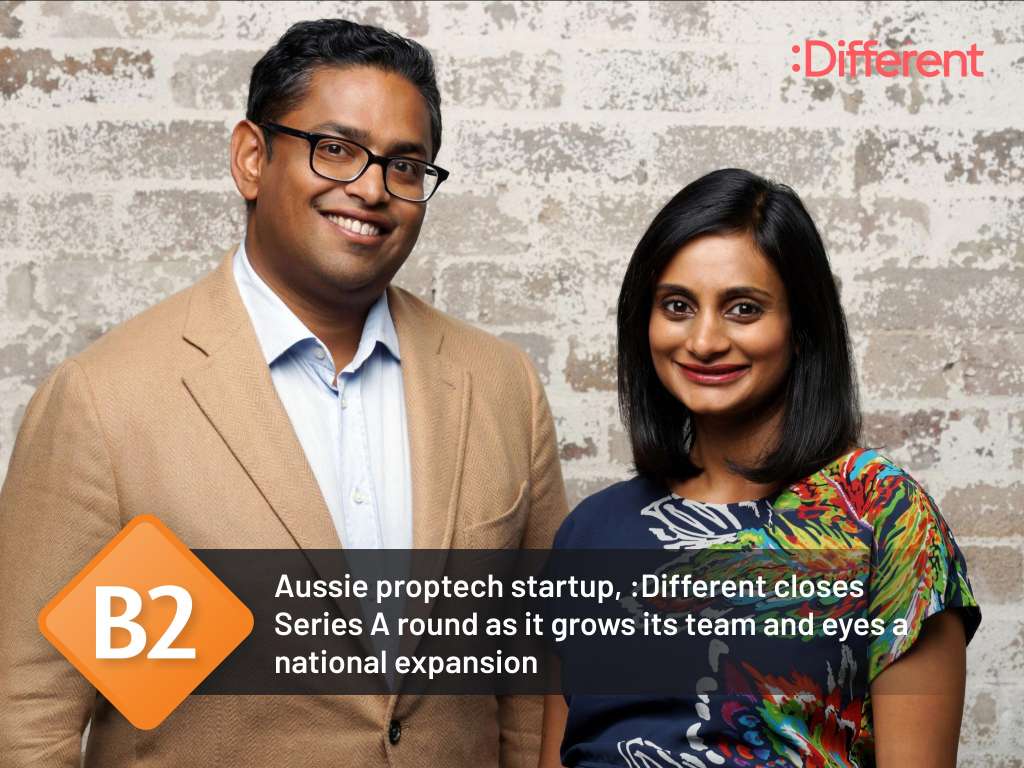 Australian proptech startup, :Different today announced it has raised $7.1 million in a Series A round from top venture capitalists including PieLAB, who is leading the round, AirTree, Spring Capital and Tim Roberts' Warburton Group. The funding will help :Different continue to grow its team, invest in its technology, and expand to new cities including Perth and Canberra.
:Different has grown quickly since first launching its full-service property management offering in 2017, with presences now in Sydney, Melbourne, Brisbane and the Gold Coast. Its team has reached 50 and has more than $1 billion worth of properties under its management.
Founded by Mina Radhakrishnan and Ruwin Perera, who both spent time in Silicon Valley at the likes of Uber and Google, :Different aims to be the assistant for the home. Focused on providing a better experience for property owners and renters, :Different combines expert property managers with technology that automates the everyday repetitive tasks for an improved, seamless experience at a flat fee of $100 a month.
"For most Australians, their home is their most important asset. Whether you're an owner or you're renting, it's a place of refuge. We want to remove the common pain points property owners and renters face, which can only be done with people who care, and technology that streamlines processes," commented Mina Radhakrishnan, co-founder of :Different. 
"Owners today deserve a fairly priced service that is representative of the work that is done. Likewise, renters shouldn't be waiting weeks for a leaky tap or broken stove to be addressed. 
"Our mission is to address these challenges head on by providing a fair and transparent service to be the ultimate assistant to the home." 
On raising $7.1M, Ruwin Perera, co-founder of :Different said, "Raising this latest round of funding, especially during the COVID-19 pandemic, is testament to not only the strength of our team and viability of our business model but a broader need for a better property management solution for owners and tenants in Australia. 
"We're lucky to have some of the best talent and venture capitalists in the country on our team and in our corner helping us achieve our mission to be the assistant to the home.
"AirTree and PieLAB have been instrumental in our growth, not only providing funds to help us invest in our product and people but the strategic counsel, partner introductions and bigger picture insights that are critical for our long term success. Spring Capital and Warburton Group are strong additions to this mix, which will help us as we enter into this next phase of growth."  
:Different's investors commented on the partnership, crediting the strength of the team and approach to solving a complex issue as reasons for backing the company.
Richard Anderson, Investment Director at PieLAB Venture Partners:
"PieLAB have had the opportunity to witness the tremendous progress that Mina, Ruwin and the team have made in building a great team of people combined with a world class, proprietary, fully integrated technology platform that brings together all the stakeholders in the property management ecosystem.  We are excited to be part of the Series A investor group and support :Different in becoming "the assistant for the home".  
Craig Blair, Co-founder and Managing Partner at AirTree: 
"Since we partnered with :Different at pre-seed stage, we have watched Mina and Ruwin translate a bold vision into a world class technology solution that powers property management for thousands of Australian households. This round validates the quality of the team and the product and we are excited about supporting :Different to shape the future of property management."
Darren Weaver, CEO at Warburton Group:
"Our investment in :Different reflects the significant opportunity to disrupt the property management sector in Australia (and beyond) through a uniquely integrated product platform, which is focused on delivering a better customer experience at a lower cost.  The Warburton Group believes that Mina and Ruwin's pedigrees and complementary skill sets will be invaluable as :Different builds scale in the market and delivers its strategy to redefine property management.  We are delighted to be a part of this great business and look forward to working with the :Different team"
Michael Chen, Founder and Executive Director at Spring Capital:
":Different's approach to solving the low efficiency and high cost paradigm caused by the fragmented local agency model, which has existed for decades, impressed me, which encouraged me to invest in the company."