3
minute read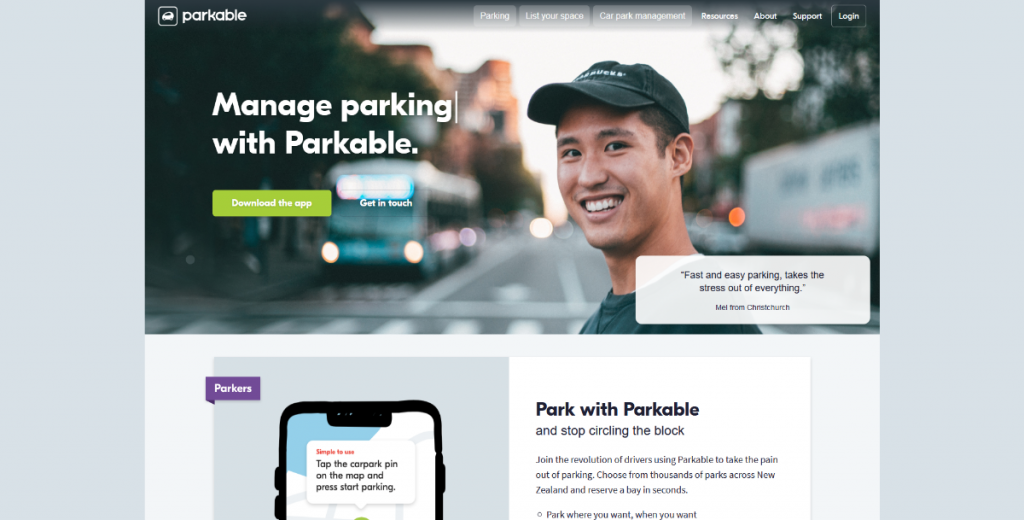 source: Parkable.com
Product Summary
Parkable's value proposition is based around the shared economy and allowing businesses to lease out vacant car spaces to staff or other commuters on a short term ie hourly, daily or weekly basis.
Founder
Toby Littin (CEO), Brody Nelson (CTO) and Warwick Beauchamp in 2016
Funding
$4.3m in funding September 2019
Sectors
Asset/Property Management
Real Estate Categories
Residential Sales, Residential Lease, Commercial Sales, Commercial Lease
Countries of Operation
Australia, New Zealand, China
Example Clients
KPMG, Pacific Island Presbyterian Church, IAG, Datacom, JLL
What Clients Say
Ross Turner, KPMG
"We want to deliver the best experience for our staff and this includes adapting to the latest technology that provides both ease of use and efficiency."
JLL Property Manager
It's a fantastic service. The carparks were all booked out within the first week of listing. Our client is extremely happy and we will definitely be looking at using Parkable for our other clients.
Core Offering
Parkable is a sharing economy platform for car parking that allows companies and individuals to rent out their empty parking bays. Parkable also provides staff parking management solutions for enterprises and small businesses. Sometimes referred to as 'Airbnb for parking', users of the Parkable app can find and pay for car parking spaces as required without cash, either on the fly or spaces can be reserved. Car park owners can also enjoy the additional income from letting out spaces when they aren't being used.
Product Benefits
Park with Parkable and stop circling the block
Join the revolution of drivers using Parkable to take the pain out of parking. Choose from thousands of parks across Australia and reserve a bay in seconds.
Park where you want, when you want
Reserve a park in advance and arrive happy
Find, park, and pay – all from your phone
Share with Parkable and start getting paid
List your spare space in a matter of minutes and start earning extra income from drivers parking at your place. Whether you have room for one car or one hundred – it's extra cash without the extra work.
Earn easy income
Share your space on your terms
Manage your space without lifting a finger (except a few taps on the app!)
Manage with Parkable and achieve your organisation's goals
Parking management just got easy – with Parkable you can:
Better utilise your space
Create happier people – staff, tenants and visitors
Cut your costs or increase your revenue
Reduce the admin pain of managing your car park