10
minute read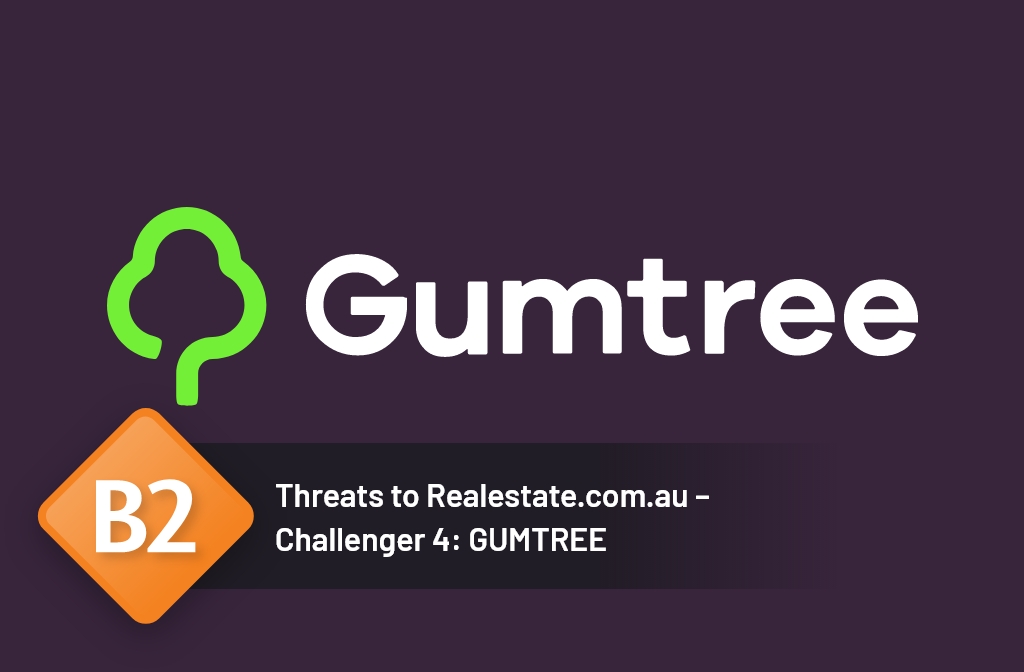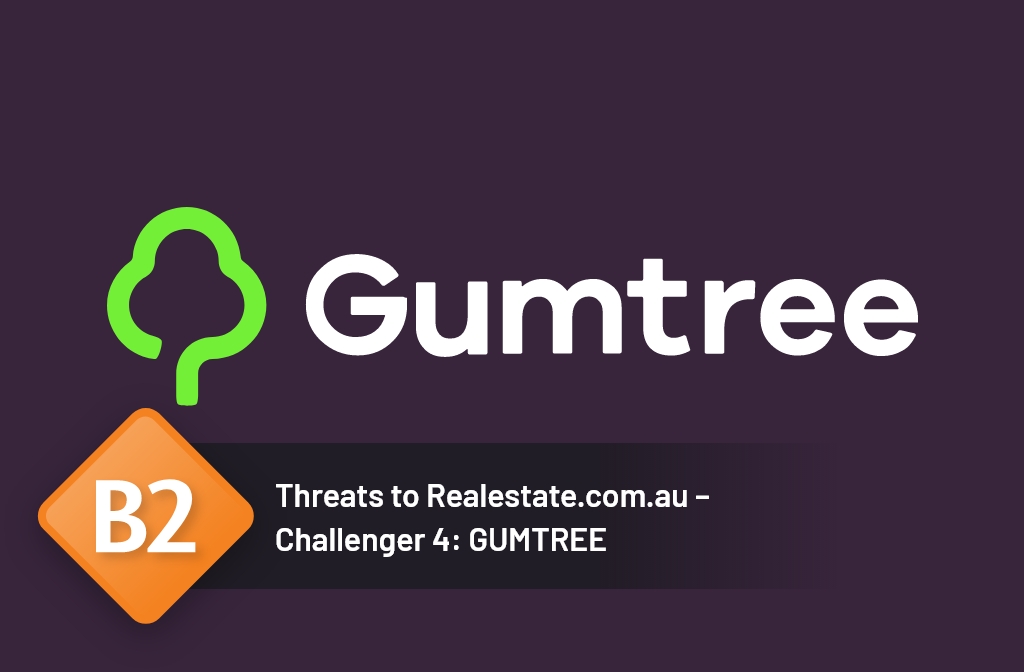 The next Challenger in our series on potential threats and disruptors that could eat away at REA's dominance in the Australian real estate portal scene is Gumtree.
Founded in London in the year 2000, Gumtree was originally designed as an online classifieds and community hub for ex-pat Aussies, Kiwis and South Africans. Since that time, Gumtree has become synonymous with the second-hand marketplace and has broadened the scope of its operations considerably, comfortably being ranked as one of the top 50 worldwide Classified Ad Platform Markets in 2019 by BusinessWire.
Against the backdrop of mass-expansion, Gumtree has evolved beyond a tool to shift used lawnmowers and old fridges.
These days you can easily find shared office space, share houses, warehouses, commercial-grade storage lock ups, tiny homes and also traditional real estate for rent or sale.
While the real estate element of Gumtree is already reasonably well established, it's significant reach and the fact that listings are free of charge give it a unique position as a disruptor in the property portal space.
AN EXISTING PRECEDENT
TradeMe, an NZ based classifieds site launched in 1999, is now the number one location for buying and selling goods in NZ and is perennially in the top 5 most visited websites in the country, with 858,000 unique daily users, according to Alexa Internet.
Subsequently, TradeMe was purchased by Fairfax in 2006 for NZ$700 million and was then successfully acquired by private equity firm Apex Partners for a cool NZ$2.56 billion, highlighting the value investors see in this type of thriving tech-enabled, commerce-driven platform.
TradeMe essentially created the blueprint for cross selling different types of products to mixed audiences that is employed by Gumtree today. This includes the lease and sale of homes, with the classifieds site confirming the importance real estate by identifying Property as one of the four primary categories on the site, along with Cars and Motoring, Jobs and the General Marketplace.
They have also invested into developing a comprehensive property search feature to access the large volume of listings on the site, plus added real estate focused content – just like REA and Domain. While it looks dated and lacks the slick aesthetics of most property portals, it is passing the true test of a real estate search service – people are using it.
THE STRENGTH OF GUMTREE AS A REAL ESTATE LISTING ENTITY
Their foray into real estate started with some bold individuals making private listings, but when they sold – and sold quickly – savvy real estate professionals and other amateur real estate moguls immediately identified the utility of the site as a support to other more traditional marketing initiatives, such as listing on the major portals.
Since being acquired by eBay in 2005, Gumtree has expanded into international centres all over the globe, including Poland, Germany, France, Canada, Hong Kong and Ireland with further growth penetrating deeper into European and North American markets expected sooner rather than later. This has essentially turned Gumtree into an international marketplace in which real estate is one of the key commodities.
Gumtree own a significant share of the used car listings in Australia with more than 150,000 used cars advertised on the site at any one time, with up to 6,000 cars being uploaded daily. Identifying that they have a position of strength in the automotive market, eBay recently purchased CarsGuide and AutoTrader to bolster its efforts in competing against Australian market leader CarSales – and in doing so win a share of the new car market to complement their extensive used car listings.
This bold move could hint at a wider strategy of acquiring businesses that allow them to compete with established portals. If their automotive strategy is implemented for their real estate interests, the property portal space in Australia could experience an unprecedented shift – and REA would be in the middle of the crosshairs.
When it comes to REA, Gumtree has a huge competitive advantage in their passive buying, selling and renting audience. Generally speaking, people usually only visit REA or Domain when they are actively looking for property. Because Gumtree offers much more than real estate alone, there are compelling reasons for people to continue to visit the site, even when they aren't in the active real estate search phase. By strategically placing ads or listings in front of passive buyers, they are more likely to return to Gumtree when they transition into this active phase.
Additionally, one of the primary advantages for both vendors and buyers operating privately is the fact that there are no expenses for marketing campaigns and no commissions to pay. There is no staging and photography is generally taken on standard mobile phones. The only costs are conveyancers and solicitors required for proper contractual agreements, unless you want to purchase a boost package as described below.
This lack of marketing can represent a huge saving when you consider that, on average, vendors spend around 1% of the value of the sale on marketing. That equates to $10,000 on a $1 million property – a significant saving by any estimation.
This lack of bells and whistles goes against the conventional wisdom in real estate that properly dressing up a property and having magazine worthy photo shoots sells the dream lifestyle and in turn the home.
Instead, buyers or renters looking for a bargain have come to see Gumtree as the perfect place to find their next home below market rates.
Property developers too have cottoned on to the fact that buying land for development without coming up with the standard national average commission of 2.5% (Source: OpenAgent) is saving them money and maximising profits on levels that cannot be ignored.
And this is where Gumtree has the potential to hurt REA the most.
FREE LISTINGS AND NO ADDITIONAL COSTS… UNLESS YOU WANT THEM
According to OpenAgent, the costs for listing via traditional mediums with an agent vary greatly, however national averages for the elements that go into a sales and marketing campaign include: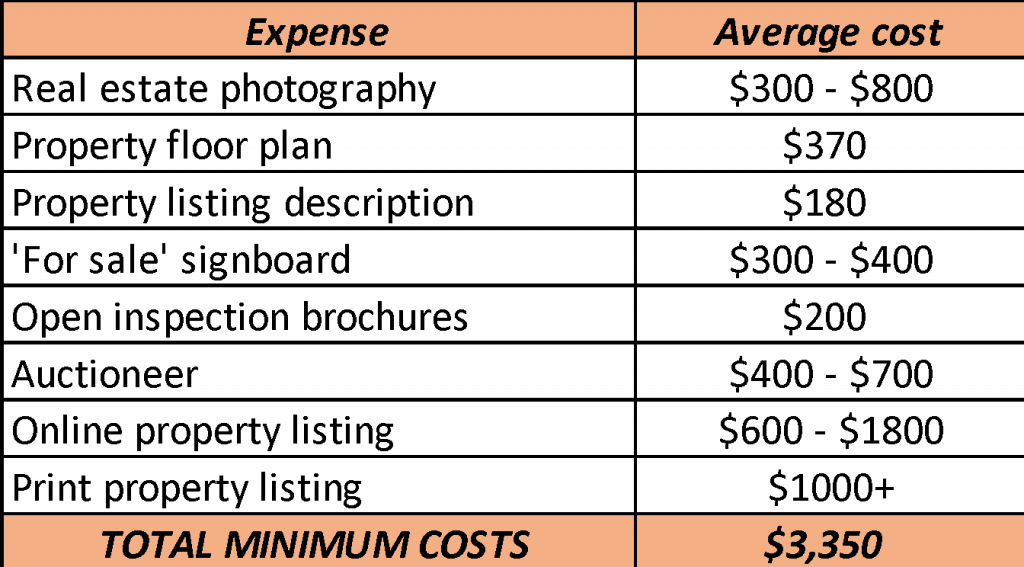 These are averages, and on the lower end of the spectrum at that. While REA goes to great lengths to protect the exact details of their costings with various algorithms creating different price points for different agents and properties, it is widely reported that agents are charged up to AUD$1,800 for a single 'premium' listing.
Evidence has also come to light in which REA have been double charging agents for valuation leads which they are also selling to other local agents – a practice designed to milk as much money as possible out of what REA sees as the agent cash cow.
With 16.4 million unique users every month with just shy of 94% of searches coming under the category of organic, Gumtree is ranked as the 18th most visited site of 2019 in Australia, 2 spots below REA at 16 and well above Domain who earned the 35th position, according to data collated by SimilarWeb.
As opposed to the extensive costs of listing on portals, you can list for free on Gumtree. However, if you choose to, you can upgrade your ad for more views and responses. The packages range from $27 for the "Plus" package which promises double the views of a free ad, through to the "Premium Package" which costs $160 for 12 times the views of a free ad, a Homepage photo gallery, three images in search results as opposed to one and also allows for an external link to a website for your home (a nice piece of bait designed for agents).
You can also add promotional features, like a highlight background to make your ad stand out for $7.69 and boost your ad to the top of the rankings for $48 – just try getting a top-ranking position on Google for that type of money!
OBTAINING A CRITICAL MASS OF LISTINGS
While many of the real estate listings are agent-free private advertisements predominantly aimed at the rental market, a large cohort of real estate professionals are beginning to see the value in leveraging Gumtree to attract views of their inventory. This is typically as an adjunct to efforts on the major portals, but as it gains traction many agents may scrap their old sales and marketing funnels in favour of a leaner, more efficient approach via Gumtree.
My real estate web development company Agentpoint was approached by Gumtree previously gathering information around uploads of agent-operated leasing and sales listings. Additionally, Agentpoint's marine division, Boatdeck, has been feeding boat listings on behalf of dealer clients to Gumtree since early 2019.
This exploration into large volume listings with a particular interest in property is a sure signal that Gumtree is preparing itself to compete harder for a nice, big slice of the pie that is the Australian real estate portal sector.
With its size and scale, Gumtree looms as a formidable foe for the property portal incumbents by capitalising on both its reach and its lean cost structure. It will be especially competitive with REA, which has positioned itself at the premium end of the pricing spectrum and in doing so has put many real estate professionals offside.
SOME CONSIDERATIONS
While there are many promising indicators that Gumtree has the capacity and capability to operate on a larger scale within the real estate industry, there have been some notable stumbling blocks. Chief among these is the proliferation of scams that have found their way into the media spotlight in recent times.
In Tasmania, scammers posing as representatives of the Australian Defence Force replicated a post from a major portal on the Gumtree real estate marketplace. This resulted in a couple placing a $2,000 bond on a property that was promptly stolen with the perpetrators immediately disappearing.
The highlights perfectly that buying or selling without an agent presents inherent risks that can place the financial wellbeing of Australian families in grave jeopardy.
However, as more agents engage with Gumtree as a viable advertising and marketplace option, you can expect to see more policing and exposure of dodgy practices and shonky operators.
FINAL WORD
While there are still some kinks to be worked out, Gumtree has evolved as a flourishing real estate marketplace – especially for rentals – that has achieved surprising growth as a result of a consumer-driven movement.
The more consumers call for cheaper options to buy, sell, lease and rent their properties, the stronger the prospects will be for Gumtree to establish itself as a genuine threat to REA.