7
minute read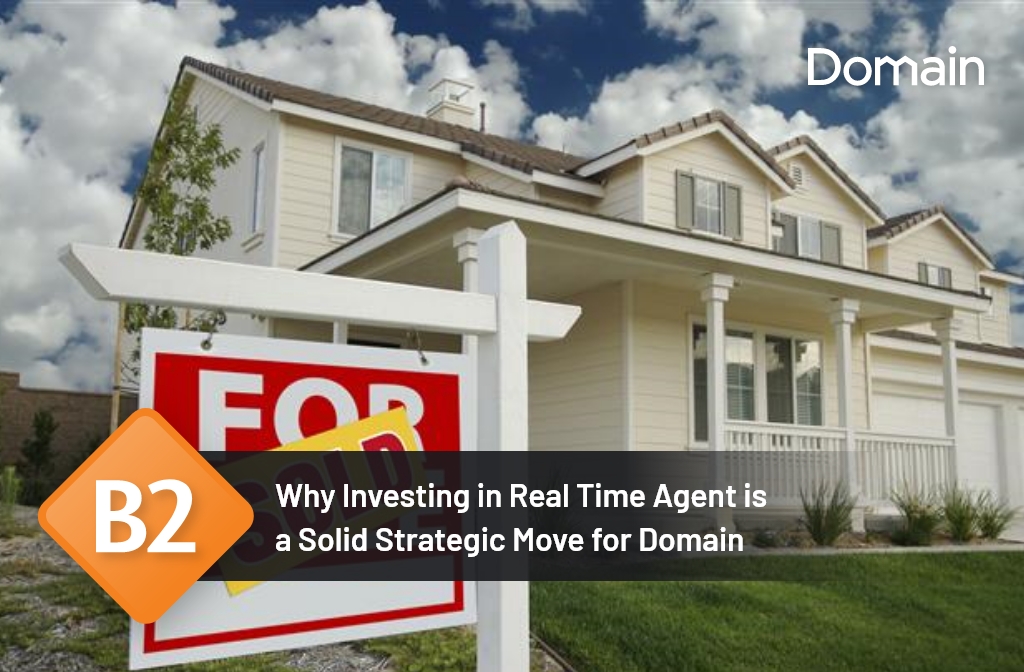 Domain recently made moves to generate revenue from other lines of business outside of real estate advertising through their investment in Real Time Agent.
The AUD$35 million venture is a strategic step towards narrowing the gap between their current interests in the portal space and their desired integration into the transaction process.
So, what are the implications of this move and is it a wise play?
CLOSING THE LOOP IN THE PROPERTY PURCHASE LIFECYCLE
By backing a point of sales technology platform that, among other things, digitises sales contracts and coordinates the transactional process between vendor, purchaser and agent, Domain are positioning themselves to close the loop in the property purchase lifecycle.
Highlighting this, the Real Time Agent investment has added to the stable of solutions Domain offers in an effort to span the breadth of purchase lifecycle touchpoints from end to end, including:
Appraisal to Listing – via Real Time Authority
CRM and Campaign Management – via MyDesktop
Property Search – via domain.com.au
Open Inspection Attendees – via HomePass
Auction Management – via BidTracker
Exchange – via Real Time Contracts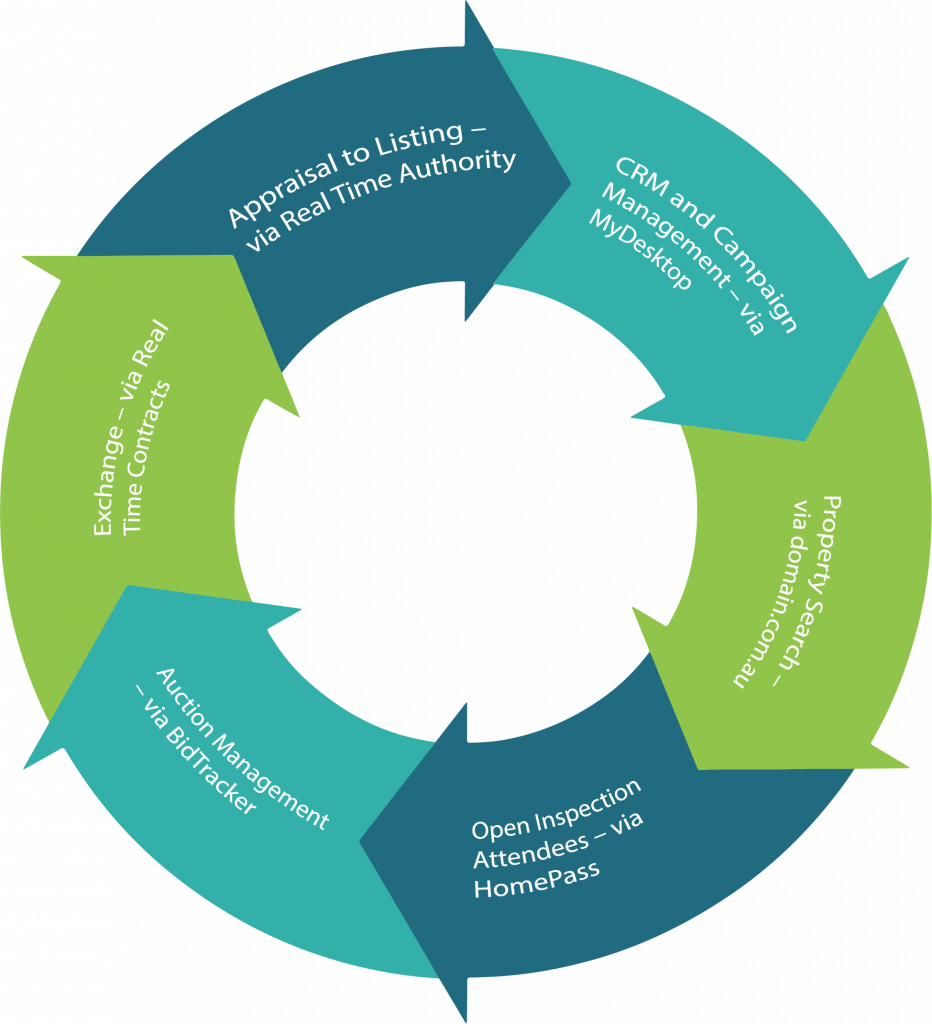 Given their heavy involvement throughout the cycle, Domain effectively has the option of vertically integrating up and down from here within the real estate sector.
To integrate down the chain at the early stages in the cycle, Domain's next potential acquisition could be a player in the digital proposal or appraisal to listing conversion space. ie tech-enabled services provider like digital proposal platform ProposalPoint. Alternatively, they could potentially integrate upwards and make an entry into transaction settlement platforms like Rundl and other players in the post-contract exchange space.
Either way, Domain is giving itself options that will see it closer to the action of contract processing and transaction settlement. This could result in them taking a percentage of funds generated by vendor sales as opposed to tactics more centred around agents forking out greater amounts of money for listings.
REDUCING PAIN POINTS FOR STAKEHOLDERS
Each stakeholder in a real estate transaction traditionally experiences well-defined frustrations. This is another key area in which the strategy informing Domain's investment in Real Time Agent will deliver benefits and come into its own.
Here is a top-line view of how Domain is aiming to reduce the tribulations faced by the three primary stakeholders involved in every transaction:
Vendors – Digital signatures for agreements so they can receive offers anywhere at anytime and give approval when they feel ready
Buyers – Digital execution of contracts for a faster transaction and settlement
Agents – Digital execution and data tracking of elements such as the past year's sales, sale-to-list price trends, vendor concessions offered and days on market metrics
With these initiatives, the mission is to make life easier for everyone involved in real estate sales and ultimately to make it easier – and faster – for vendors and buyers to complete a deal.
RESTORING GOODWILL
When domain.com.au was first launched, it was hailed as a potential saviour for the industry, breaking the monopoly realestate.com.au had on the portal space and offering lower price points on listing packages.
However, the brand has suffered some damage over recent years, with perceptions of Domain being very much akin to REA and their cash-grab tactics of generating revenue at the expense of agents.
In an effort to address this perception and win back the hearts and minds of real estate professionals, over the last year Domain have dedicated significant time and resources into executive restructuring, with the company's leadership team charged with a mandate of adjusting strategy to spur a renewed focus on providing value to agents.
It is anticipated that Domain will open up their wallet to acquire more PropTech start-ups with a focus on providing additional direct value to agents. This will further assist in providing solutions that reduce the friction of real estate deals, in turn helping agents win more listings and achieve a greater closing rate.
Time will tell if these efforts will pay off, but it at least signifies a willingness to fix a system that treats agents like cash cows, which is obviously going to be good for business.
GATHERING DATA
An additional area of focus for Domain will be centred on the collation of data and unlocking the power that comes with understanding the numbers.
By collecting and analysing datasets for every listing and every agency that is active on the portal, there is great potential to get new insights on everything from vendors at the top of the sales funnel to the profiles of bidders an agent attracts to auctions.
This data can then be deployed to inform strategies agents implement to improve the sales process and create more effective marketing programs. One such example of this would be information on auction bids which can be leveraged by APM/Pricefinder to provide market intelligence of specific relevance within an agent's local geographic area.
COLLECTIVE BARGAINING POWER OF AGENTS
This deal also signals Domain's continuing shift in placing the balance of power back in the hands of agents. History has shown that when the real estate industry bands together, Domain and Fairfax Media (who still retains 60% of Domain) can be coerced into making investments and acquisitions for the benefit of agents and their businesses. There are three primary examples of this.
Back in 2011, Domain acquired The Weekly Review in order to secure real estate print advertising contracts and revenue lost when the magazine launched a year prior in direct competition to Fairfax's publication The Melbourne Weekly.
They then turned their attention to taking over Allhomes in 2014, a strategic move to obtain a greater share of the market in the ACT and regional NSW.
In 2018, Domain invested over AUD$17 million to take a complete 100% stake in CommercialView. This was an effort to win a valuable piece of the commercial property sector and bolster their initiatives for Domain subsidiary CommercialRealEstate.com.au.
While Domain will no doubt resist the assertion that they will buckle to the desires of the real estate industry, a telling statistic will be whether they can achieve the earn-out numbers for Real Time Agent. These figures would largely be based on existing agency shareholders successfully pushing the product to vendors over the next 24 months.
FINAL WORD
While there are some questions to be answered, Domain's strategy appears to be a win for the real estate industry. As Mr Pellegrino said:
"Domain is focused on helping agents and consumers through the property journey. We aim to help agents to find and win the next listing, market and sell the property quickly and for the best possible price, and help them run an efficient and profitable business."
Just how effective this latest investment will be for Domain will not be known for some time, but in the meantime it will be fascinating to see what other investments they make in order to make up ground in the battle with REA for the lion's share of the Australian real estate market.